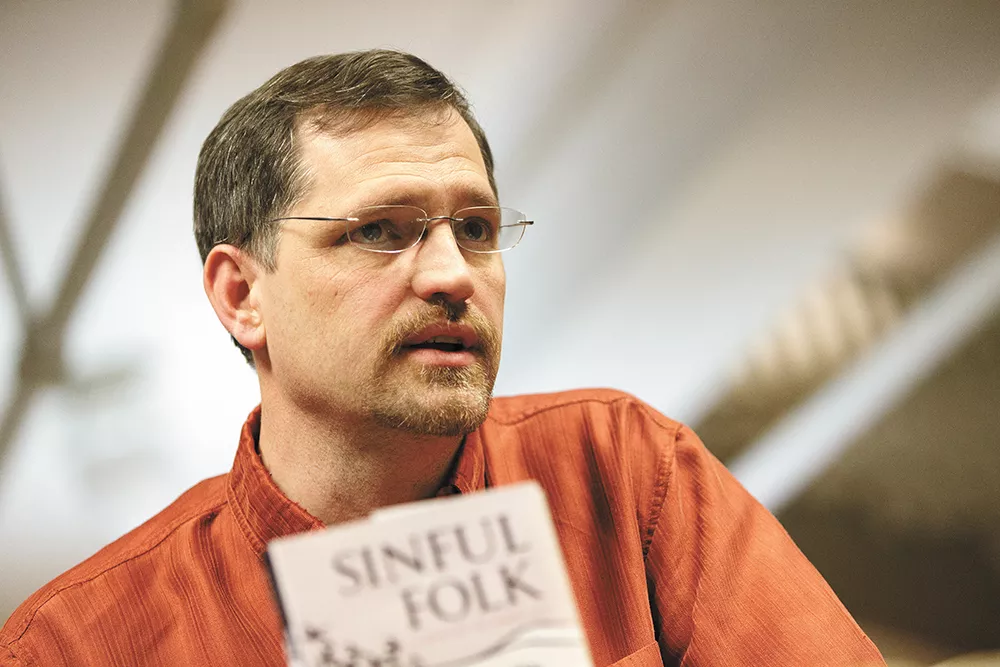 Ned Hayes does his homework, a clear sign that he's a reporter at heart.
An hour-long conversation with him about writing — in a bookstore, of all places — and I immediately realize he's well versed with anything to do with writing, from the fact that John Updike wrote in his underwear to prevent interruption, to Alice Walker's belief that ghosts were telling her their stories and she was simply writing them down, to Stephen King's immense frustration while writing Carrie — he threw his manuscript out, and his wife had to pick it up, dust it off and offer her assistance on how to write from a teenage girl's perspective.
The man knows what job he wants, and he's done extensive research to make sure he gets it right. After graduating from Whitworth University with a degree in English, he started as a newspaper reporter before making the switch to high-tech. He now makes a living as a writer masquerading as a strategist at Intel in Seattle.
But old research and reporting habits die hard. His most recent digging around has led to the publication of Sinful Folk, a novel based on a real-life fire in 1377 in England that killed five young boys, and the subsequent quest to find their killer. It's a mix of fact and fiction, and Hayes says that was the best part of writing it: There's a lot of freedom in the capability as a novelist to take a real history and jump off from it and invent things. But as a result, he doesn't think he'll ever be able to return to the start: journalism.
"I don't think I'll go back to journalism because it's a very different set of skills and a different medium," Hayes says. "I think I've destroyed some of my capabilities in that area, because now I just make stuff up." That came with a steep learning curve, though. Hayes says he had to learn to write from different characters' perspectives, and write about characters who don't necessarily have anything in common with him. Sinful Folk's protagonist is a woman, who — although she disguises herself as a man for years — doesn't have very many shared experiences with Hayes, if she has any at all.
"I just had to take one character and show her backstory. I didn't know I'd be writing this kind of story at all," he says. "I just started the story and she gradually started telling me things about her life. It's kind of like Alice Walker and her ghosts. This was the first time I ever felt compelled to write a story that wasn't mine."
Hayes says he's on the fence regarding ghosts, but believes there's some truth that you have to trust your subconscious to tell a story. That's not even the most difficult part. "Perseverance is the hardest part of writing," he says. "You can't expect the muse to strike every day, but if you show up every day, you'll be there when the muse strikes."
These days, Hayes spends his daily writing time (4-8 am if he can get himself out of bed) chugging along on the first draft of a novel à la The Hours with the working title Garden of Earthly Delight, inspired by Hieronymus Bosch's painting of the same name. It's about a pair of contemporary scholars, trying not to fall in love, who are reading love letters. They discover that a poet they thought was in one relationship was actually in another, and their love stories cross one another.
"Stories that are in parallel between that era and this era are tricky, because you have to match the emotional tones. I'm still fleshing it out," Hayes says. "But I have about three-quarters of the manuscript done."
As far as advice for aspiring writers goes, Hayes has a few nuggets of wisdom. He suggests listening to editors and teachers, taking their criticism seriously, and making the process as collaborative as possible:
"Writing is never a one-man or one-woman show; it's a collaboration of people providing valuable insight. Keep writing, be consistent and be sure that you're writing because you want to tell a story that matters. Make your stories have import and heart. That's my advice." ♦