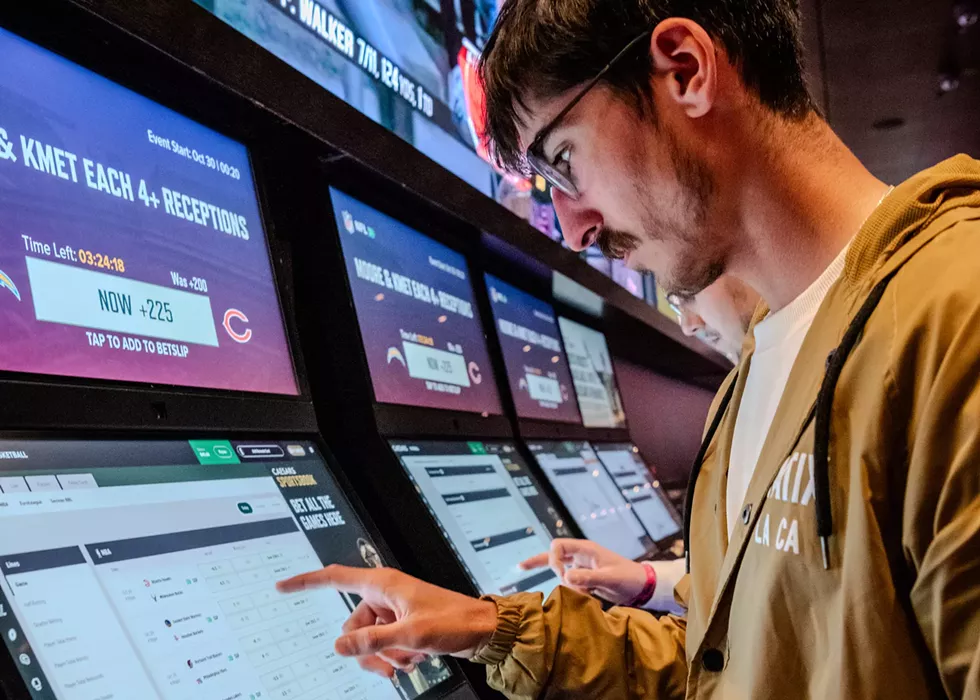 It's not even 8 a.m. on a fall Sunday morning when I throw on a Denver Broncos T-shirt and saunter to my car to drive, bleary-eyed, out to Airway Heights. I park at my destination, slowly shuffle into the building, grab one of the many free cups of Mountain Dew I will consume over the course of the day, spend a few minutes making selections at a kiosk and finally slump into a comfy chair in front of an array of screens. About half of the dozen lounge seats beside me are already filled with guys in lovingly worn-down gear boasting logos of their favorite teams. Over the chirping, electronic cacophony of spinning digital wheels, I look over and attempt to organize the slips of paper from the kiosk, ones that cost me over $100.
It's all a lot for a night owl to take in so early on a weekend, but these sights and sounds will be my home this day. The sugary green liquid is coursing through my system. Kickoff is imminent.
In The Dark Knight, Michael Caine's Alfred remarks that "some men just want to watch the world burn" to explain the sadistic nature of the Joker. Me? I'm much more of a masochist than a sadist. On this day, as it turned out, I just want to watch my money burn... while also watching a game or two.
I've come out to the tribal casinos to gamble for the day, but I won't be playing the video slots, checking my poker hold cards, rolling the craps dice, watching the spinning roulette ball or asking the dealer to hit my blackjack hand.
Thankfully for me (and less so for my wallet), sports betting is legal in Washington state.
SPORTS BETTING 101
The terminology and math involved in sports gambling
can be very confusing to the uninitiated. Here are some brief explanations of key things to know.
MONEY LINE
Betting on the money line (m/l) simply means you are betting on one team to beat the other team. When it's a very balanced matchup, you can get something close to even odds betting the money line. However when one team is a heavy favorite, betting on the presumed winner will only net marginal money, while betting on the underdog could multiply your cash if they pull off the upset.
ODDS
Sports betting odds are presented based on theoretical $100 bets, where betting on the underdog (presented as + odds) will net you more money than you bet, while placing money on the favorite (depicted as - odds) will net you less than what you bet.
For example, in last year's Super Bowl, the Eagles were -130 favorites over the Chiefs (+110). If you'd correctly bet $100 on the Chiefs, you'd win $110. If you'd bet $100 on the Eagles and they had won, you'd have won $76.92. (On a $5 bet that would've been $5.50 and $3.85 wins, respectively).
POINT SPREAD
Often simply called the spread, it's a number set by the sports book in order to give bettors nearly even odds on any game. For example, Duke basketball is most likely going to easily beat, let's say Idaho, so they might be 25.5-point favorites (presented as -25.5) to win the game. If you bet on Duke and they win the game by 26+ points, you'd win. But if you bet on the spread and Duke won by 20, you'd lose.
OVER/UNDER
A bet on the whether total number of points by both teams in a game will end up being over or under a set line. For example, the Seahawks' opener versus the Rams this year had an over/under of 46.5 points. The Seahawks lost 30-13 — 43 total points — which means the under hit.
PARLAY
A parlay is when you combine multiple bets in order to increase your odds, but the risk is that every bet you add has to win. You can often combine different types of bets, so a money line bet and a parlay bet could be on the same ticket (as long as they're not m/l and spread of the same game). For example, one could bet on the Golden State Warriors money line combined with the Seahawks point spread and the over/under of a St. Mary's basketball game. If they all hit, you'll have an exponentially higher payout, but if the Warriors and St. Mary's both turn out to be winning bets but the Seahawks don't cover the spread, the whole ticket loses.
PUSH
This is when a bet neither wins nor loses, so you just get your money back by cashing a ticket. For example, I bet $20 on the Eagles -7 and they won by 7. I didn't win. I didn't lose. I just got my cash returned to me. (You'll notice most lines are set at 0.5 increments to avoid pushes.)
PROP BET
Bets on things other than the spread, money line or over/under. Often these bets focus on singular player performances — like if LeBron James will score a certain number of points, if Geno Smith will rush for a touchdown, or which player will score the first touchdown. They can also get crazy, like betting on the color of Gatorade dumped on a coach after winning the Super Bowl. Prop bets often have higher odds because they're more random and harder to predict.
FUTURE BETS
Bets placed not on games but on distant events. For example, betting on a certain team to win next year's World Series would be one kind of future bet, betting the over/under for the Mariners' total wins next season would be another, and betting Julio Rodriguez to win the AL MVP would be a third type.
— SETH SOMMERFELD
Gambling on sports has been around as long as games have been played — from little bets on the games between buddies when their rival teams play to NCAA Tournament bracket pools to actual large-scale criminal betting using bookies.
While it's no surprise that Nevada was the first U.S. state to legalize sports gambling in 1931 — though the first sportsbook in a casino didn't arrive until 1975 at the Stardust — just how long the Silver State was the only spot for legal sports bets is a bit of a shocker. (Side note: Betting on horse racing doesn't fall under the purview of sports gambling because it uses a "parimutuel system" — where the winners are paid from the actual pool of bets — hence why that's long been legal in many spots, including Spokane's Playfair Race Course, which held races from 1901 to 2000.)
The 1961 Federal Wire Act explicitly prohibited interstate sports gambling, essentially making the issue of sports betting a state-by-state issue rather than the federal government's purview. A mainstream awareness of sports gambling picked up steam in the 1970s when oddsmaker Jimmy "The Greek" Snyder joined CBS's pregame show The NFL Today (even though he couldn't explicitly talk about point spreads, per NFL mandate). There has been a long history of point-shaving scandals (where players got paid to intentionally play poorly so that certain bets would win) and throwing games (see: the 1919 Black Sox scandal). In 1989 Pete Rose, the Cincinnati Reds star and all-time hits leader in Major League Baseball, who was banned from the sport and its hall of fame for betting on games while he was managing the Reds. Then in 1992, President George H.W. Bush signed the Professional and Amateur Sports Protection Act (PASPA), which essentially banned sports gambling in every state but Nevada.
Everything began to change in May 2018 when the Supreme Court heard the case of Murphy v. National Collegiate Athletic Association and struck down PASPA, declaring that it violated the 10th Amendment's anti-commandeering rule, and therefore the legality of sports gambling should be decided by individual states. Delaware became the second state to accept sports wagering that June. By the end of 2018, Arkansas, Mississippi, New Jersey, New Mexico, Pennsylvania, Rhode Island and West Virginia had also joined the sports gambling fray. Currently, 38 states have legalized sports gambling in some form, including all Western states except Idaho, Utah and California.
Washington state decided to take the gamble, so to speak, and legalize sports betting in 2020 with House Bill 2638, which passed both the state House and Senate with significant bipartisan support (83-14 in the House, 34-15 in the Senate). The bill, co-sponsored by Spokane's Rep. Marcus Riccelli, legalized sports betting, but only within the structure of tribal gaming. An individual can go to a tribal casino and place bets at one of their sportsbooks (there are only 14 statewide), but the state prohibited expanding sports gambling beyond those parameters. (Earlier this year, a lawsuit by Maverick Gaming claimed that HB 2638 set up a "discriminatory tribal gaming monopoly." It was dismissed by a U.S. District Court judge.)
"We looked at the gaming situation in the United States, just looking at providing adults with an opportunity to gamble responsibly," says Riccelli. "I was equally thoughtful about keeping expanded gambling out of neighborhoods and away from minors, and those who wish to avoid it. So I think the kind of compromise was that our tribal partners have proven that they can offer responsible gaming options for adults, and they can do so now with the sports wagering."
As the chair of the state House Health Care and Wellness Committee, Riccelli said he was cautious to make sure a sports betting bill didn't open up opportunities for youth gambling or being so accessible that people who might have addiction issues could place bets whenever they wanted to from home. That's why sports betting has to be done on tribal casino grounds and isn't available to do from anywhere in the state via popular gambling apps like DraftKings and FanDuel, which are banned here but have become business partners with pro sports leagues.
"We intended from the start to keep it limited and responsible — I don't really want to see gaming in grocery lines or during church services," says Riccelli. "So if someone wants to gamble, they should make a conscious decision and drive somewhere to responsibly game. It shouldn't be at your fingertips 24/7."
The quirk about the legislation that probably irks local fans the most? Betting on Washington's collegiate squads is prohibited. That means no bets on that national-title-contending University of Washington football team or the hometown Gonzaga hoops teams. It's an aspect of the law that Riccelli suggests might be tweaked down the road. Nevada once banned betting on its collegiate teams, as well, but then realized those bets would still happen illegally. Better to allow bets so casinos could track any suspicious money that could imply point shaving.
But for now, Washingtonian alumni and fans? You're outta luck.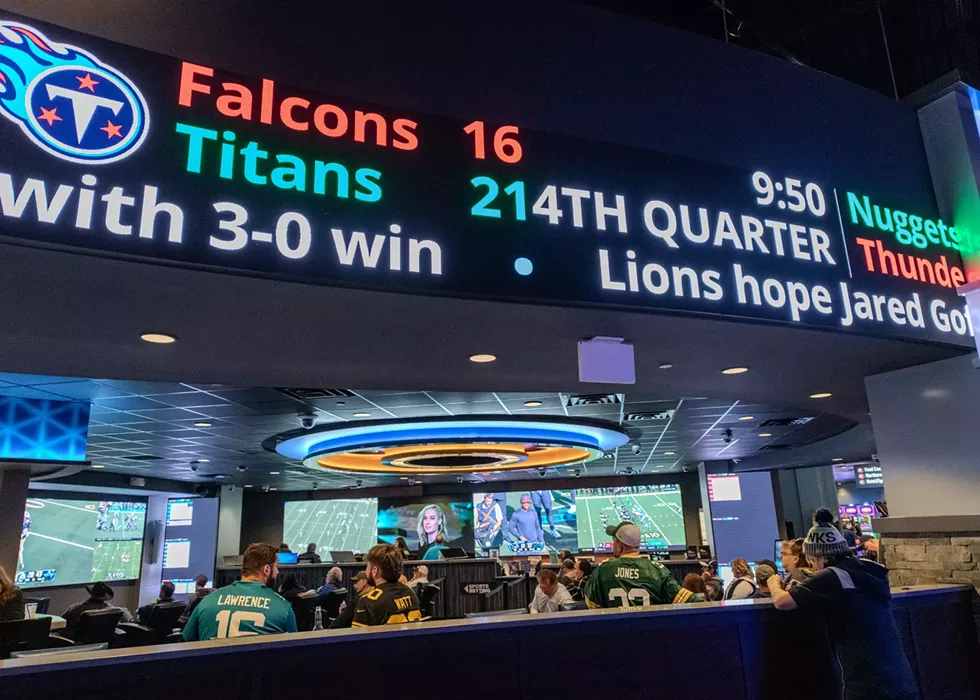 As the morning NFL games kick off, I'm lounging in my chair at the Northern Quest Resort & Casino's Turf Club Sportsbook. Opened in December 2021, the casino's sports gaming hub was the first spot in the Inland Northwest to legally take sports wagers.
Sports wagering at Northern Quest, and at the nearby Spokane Tribe Casino, are done via two methods. The first is betting at the counter with the help of one of the attendants. The books print out papers showing the spreads, money lines and over/unders for the day's games, then bettors can check what they want to wager on, approach the counter and lay down money on those games, receiving a betting slip detailing their wager.
"The No. 1 thing is go talk to your attendants," says Kevin Zenishek, Northern Quest's executive director of casino operations. "Go ask them, 'How can I wager on this game? What are the different methods?' Because they know. That's the best advice. I think a lot of people are intimidated to kind of approach the counter and just ask that question, but that's what they're there for."
For those looking for a quicker, less personal but more detailed option, there are also digital kiosks that have all of the book's potential bets in their system. Bettors can sort through tabs to find the bets they want, click their selections, insert cash and get their betting slips that way.
The Turf Club is a rather small space, with a dozen lounge chairs pointed at a screen displaying five games at once. To my right is the actual sports betting counter, with more screens behind the counter. (With nine NFL games happening simultaneously this morning, some neck craning is required to see everything.) With the Seahawks' kickoff still hours away, it's honestly a relatively chill vibe, mostly guys in their 50s and 60s who keep to themselves with the occasional character hollering and mansplaining about the ease of kicking indoor field goals or some other nonsense. Somewhat counterintuitively, the best sports betting viewing area at Northern Quest may be at the EPIC Sports Bar, due to its massive screen and food options.
For the casinos themselves, sports betting is mainly about bringing different demographics to their properties. The typical slot-playing crowds tend to skew older and more female. The thought is that once players are in the building, they're likely to also spend money on food, drinks and other gambling options.
"We hoped that that 20-to-40 male demographic [would come]," says Chris Pendell, Northern Quest's director of table games. "That's absolutely what it did. I saw people who had never been here before, and we've been here for 20-plus years. So it was cool to see that experience off the first time."
"The volume is as we anticipated," adds Zenishek. "It's significantly different from slots. It's a very, very small percentage of the slot revenue, I mean, the smallest percentage you can imagine. But again, it was an avenue to provide a kind of legal and honest gaming."
"I saw people who had never been here before, and we've been here for 20-plus years."

tweet this
I'm not a newbie to the world of sports gambling when I enter the premises this Sunday. I routinely head to Airway Heights on Wednesday nights to lay down bets for the week during football season (with occasional NCAA basketball and NBA bets tossed into the mix). Living on a journalist's salary, I tend to keep most wagers small — usually $5 or $10 bets. Prior to this day, I tallied my bets to date in 2023 — 143 bets resulting in a net loss of $125. While losing isn't great, that's a perfectly acceptable number to me because of the entertainment value sports gambling can provide. Much like playing fantasy football or filling out an NCAA Tourney bracket, having money on the game adds to the intrigue. Games I couldn't care less about suddenly have meaning if a random team's win nets me $10. That added financial interest is at the core of sports betting's appeal.
"It's fun. It creates a new energy around games that you just didn't have before. It's not like just rooting for your team. It's even different than fantasy football, where you're trying to move for different players and different teams. You have a different stake," Zenishek says. "If your affordable level is $1 per bet, that's fine. If it's $100 per bet, that's fine, too. But it gives you a different interest in the game."
For today's adventure, I've upped my normal betting limit but still want to keep my risk under $200. (I end up betting $170 total.) My main morning bets include spread bets on the Eagles (-7) and the Texans (-3), neither of which turn out to be winners. I throw a few bucks on awful Jets quarterback Zach Wilson to throw an interception (-145) as something negative but fun to root for, but alas, he's safe with the ball this week. I also put money on an absurd parlay for kicks, one where all seven teams have to cover the point spreads, but if they all hit I'd win $712 on a $10 bet. (Spoiler: I lose, obviously, as the vast majority of parlays always do.)
One bet I really wanted to make was on Saints' quarterback/tight end Taysom Hill to score a rushing touchdown, but unfortunately Northern Quest doesn't offer that bet. (And, of course, Hill goes on to rush for two touchdowns.)
Which leads us to how these odds get set in the first place. Because setting lines for everything in-house would take a full team of experts, Northern Quest and Spokane Tribe both have contracts with firms that specialize in setting lines. Northern Quest uses International Game Technologies. Spokane Tribe uses Caesars Sportsbook. As a result, lines and odds will sometimes differ from casino to casino. (Often it's a slight difference in odds and a 0.5 point difference in the spread.) Spokane Tribe currently has an advantage as they offer many more prop bets and things like adjustable lines thanks to Caesars' beefed up book. (I could've bet on Hill to rush for a touchdown if I started my morning there.)
And while we can't access app gambling from anywhere in Washington state, Northern Quest now offers a very limited version of online gambling via its Turf Club Sportsbook app. The endeavor, which launched in October, allows geo-fenced app betting. In order to use it, customers must actually be on the tribal casino property (with a phone location check) and deposit money into their account by handing cash directly to the attendant — so no adding funds digitally via your bank or a credit card — limiting options for potentially problematic impulsive betting. (While there's no app betting at Spokane Tribe, players can "bet ahead" via the Caesars Sportsbook app, which gives them a code they can enter into the on-site kiosks to quickly get their bets in once on the property.)
From the comfort of my chair, the app opened up a world of live gambling — betting on different adjusted lines and odds based on how the game is playing out. I managed to rack up a few wins by betting lines that changed because the Eagles and Falcons got off to slow starts (shifting the Eagles line from -7 to -2.5 and the Falcons from -1.5 favorites to +7.5 point underdogs). Neither team covered their original lines, but both covered their adjusted live lines.
I head to Spokane Tribe Casino for the afternoon slate of games. The casino's sportsbook layout is less secluded than the Turf Club, but makes up for it by having a better screen layout and a more open feel. (The Seahawks playing as part of the afternoon slate helps boost the energy).
When chatting with Spokane Tribe Casino's director of marketing, Christopher Marzotto, it becomes clear the tribe wants the sportsbook to be a lively hub on their property. The sportsbook has hosted meet-and-greets with everyone from WSU coaches to Bears Hall of Fame linebacker Brian Urlacher, plus there's a weekly partnership with 1510 KGA's Jim Moosejaw Miller sports radio show. There are quarterly drawings during Thursday Night Football games and weekly last-chance drawings, where costly losing bets can be thrown into a drawing for a redemptive cash prize.
As I grab a so-so lunchtime hot dog from Caesars Sportsbook Grill & Bar and fixate on the long wall of screens, my bets take a turn for the worse. My biggest bets of the day are on the Chiefs going up against my favorite team, the Denver Broncos (who sucked every time I'd watched them this year, hence my bet that they'll lose badly). But with Chiefs quarterback Patrick Mahomes under the weather, the Broncos pull off the upset and deliver a blow to my chances of coming out of the day winning money. (Doubling down on the Chiefs via a live bet when they initially fell behind didn't help.) I make another bad bet when I place money on the Bucks NBA star Giannis Antetokounmpo to grab over 9.5 rebounds and score over 29.5 points, only for him to get 11 rebounds... and 26 points. (The books know how to set these lines to make money, folks.)
I'm sort of spiraling at that point. A day of fun sports has turned sour. I want to keep betting to make up for my losses, but I know that's a fool's errand. It's pretty undeniable that the rush of sports betting can be addicting, but thankfully there are safeguards in place.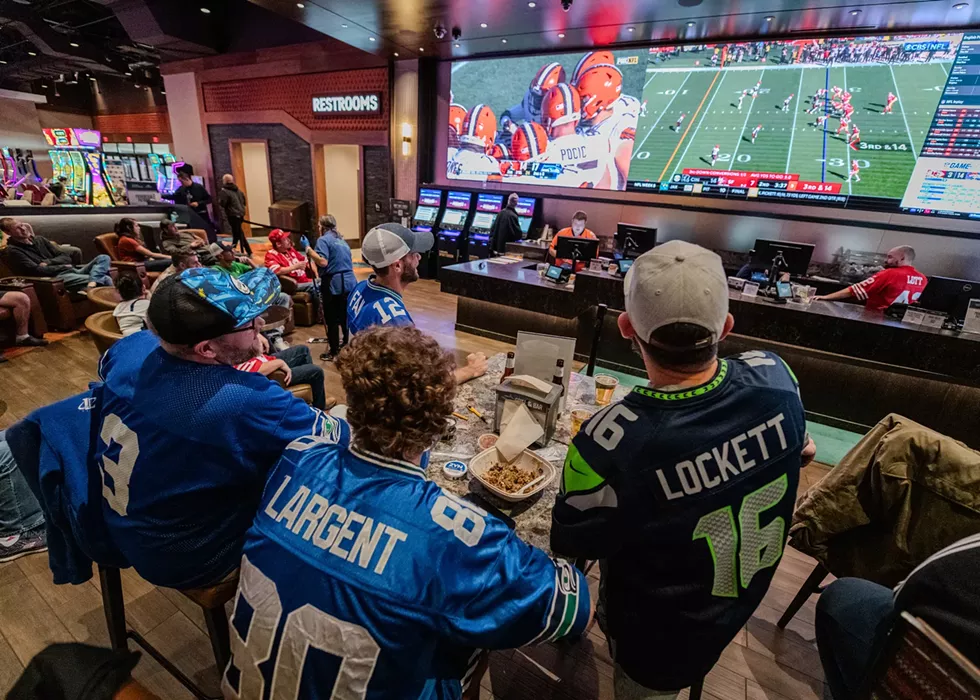 "Sports is a part of our society, it's something we love. And for most people, sports betting can be fun," says Maureen Greeley, executive director of the Olympia-based Evergreen Council on Problem Gambling. "But there is an element of risk involved. And for some people, it can become problematic."
Like other vices that can provide thrilling serotonin highs, sport gambling can lead to self-destructive and addictive habits. Organizations like Evergreen Council on Problem Gambling exist to help folks sort through those struggles. The nonprofit runs a 24/7 helpline for those dealing with problem gambling issues, offers a ton of useful information on its website, can provide referrals to counselors and treatment centers, trains industry people to identify problem gambling, and provides funding for those who need to enter treatment programs.
The people who seek help for sports betting tend to differ from those needing help with other gambling issues — it's a younger, more male demographic (typically 18 to 25 years old). Sports gambling issues can often pop up as part of "co-occurring disorders." In other words, people who also have alcohol and substance abuse issues or a family history of addiction are more at risk for adding problematic sports gambling to the mix.
Greeley notes that while the introduction of legalized sports gambling hasn't resulted in a major spike in helpline calls, "only about 10% of the people who need help actually make that call," and there are certain spike times — like around the Super Bowl and NCAA Men's Basketball Tournament — when there is a noticeable uptick in calls and visits to Evergreen's website. The lack of online sports wagering certainly factors into problems not seeming to arise too much apart from the big events.
"Sports betting online is not available in our state, but that sort of access to continuous in-play betting is much more likely to create behavioral patterns that can become disruptive and can lead to a gambling disorder," Greeley says. "Anything that gives a person a break between one bet and their next bet is a good thing in terms of stopping that kind of behavior pattern that becomes continuous. Once you're at the casino, you can bet as much as you want, as often as you want, as frequently as you want. But yes, you do have to get there. You're not sitting at home in your pajamas with your mobile phone accessing 12 bets within the first quarter of a game. That's not going to happen in Washington."
The main tip Greeley offers to prevent sports betting from turning into a problem is to contextualize thinking about placing bets as a casual, fun diversion rather than an avenue for financial windfall.
"Look at it as part of your entertainment budget," says Greeley. "You know how much you're willing to spend on going out to dinner in a month or how much you're willing to spend to go to a concert or a movie. Gambling should be looked at the same way. Gambling is not a way to make money, and if that's your attitude going into it, you've got a problem from the very beginning.
"We usually get into sports because it's social — it's a fun thing that we can share with our friends. Sports betting should be that way, too," she continues. "Yeah, go and enjoy an afternoon sports betting with your friends watching the games and having fun. But if it starts to become something that you were going to do for an hour or two, and suddenly you find that time has slipped away and you've been there five, six, seven hours, that could be a sign that there is a problem. When it goes beyond that, if you're missing work, if you're missing family events, if you're lying about how much you're gambling, if you're going beyond your budget... then there is definitely a problem at that point."
"We usually get into sports because... it's a fun thing that we can share with our friends. Sports betting should be that way, too."

tweet this
Dejected after a long day of losing, I trek back home during halftime of the Sunday Night Football game. The Bears were getting absolutely walloped by the Chargers (24-7), making my last spread bet of the day (Bears +9.5) essentially null and void. While betting can certainly make games more thrilling, it's not exactly fun when you have a day of primarily taking Ls.
And yet... I still turned on the blowout game when I got back to my abode.
Did I care who won the game? Nope. Was it good football? Also nope. But did I still have money on Bears quarterback Tyson Bagent to either throw for a touchdown (-234) or run one in (+625)? Yeeeeeep.
And therein lies the admittedly slightly twisted appeal of sports gambling — it can make even the most lopsided contest something you suddenly have a fierce interest in. So with two minutes and 12 seconds left in a game, the Bears trailing 30-7, there I was impulsively jumping to my feet and fist pumping in celebration as Bagent quarterback-sneaked his way into the endzone for a meaningless garbage time touchdown. It may have elicited nonplussed reactions from fans and the announcers, but for me it was a nice little $30-plus win on a $5 bet to slightly salvage a day of bad bets. It's moments like that that will keep Washingtonian sports gamblers trekking out to the casinos for years to come.
Even the losers get lucky sometimes. ♦
If you or someone you love has a problem with gambling, call the Evergreen Council on Problem Gambling's 24/7 helpline at 1-800-547-6133, or visit evergreencpg.org.
---
SETH'S BETS
10/29/23
FROM KIOSKS
Texans -3 @ Panthers (-120) - $5 - LOSS
Eagles -7 (-110) - $20 - PUSH
Jets QB Zach Wilson: Over 0.5 Interceptions (-145) - $5 - LOSS
8 Team ML Parlay: Falcons, Texans, Cowboys, Dolphins, Eagles, Ravens, Chiefs (+809) - $10 - LOSS
Chiefs -7 @ Broncos (-105) - $25 - LOSS
Warriors ML (-210) - $10 - Win: +$4.75
Bucks Giannis Antetokounmpo: Over 29.5 Points & Over 9.5 Rebounds (+200 - Odds Boost) - $5 - LOSS
Bears +9.5 vs Chargers (-110) - $20 - LOSS
First Chargers Drive Ends in a Field Goal Attempt (+410) - $10 - LOSS
Bears QB Tyson Bagent to Score a TD (+625) - $5 - WIN: +$31.25
Bears QB Tyson Bagent Total Passing TDs: Over 0.5 (-254) - $20 - LOSS
Bars @ Chargers: Over 46 Points (-110) - $10 - LOSS
Bears @ Rams Will There Be OT: No (-6004) - $5 - WIN: 10¢
ON APP
SC Freiburg @ Bayer Leverkusen - Draw (+425) - $2.50 - LOSS
8 Team Parlay: Falcons -2.5, Texans -3, Cowboys -7, Dolphins ML, Eagles -7, Ravens ML, KC -7, Bears +9.5 - (+7124) - $5 - LOSS
LIVE Falcons +7.5 @ Titans (-125) - $5 - WIN: +$4
LIVE Eagles -2.5 @ Commanders (-130) - $5 - WIN: +$3.85
Sounders -0.5 vs FC Dallas - $2.50 - WIN: +$1.79
Total Wagered: $170
Total Net: -$76.76