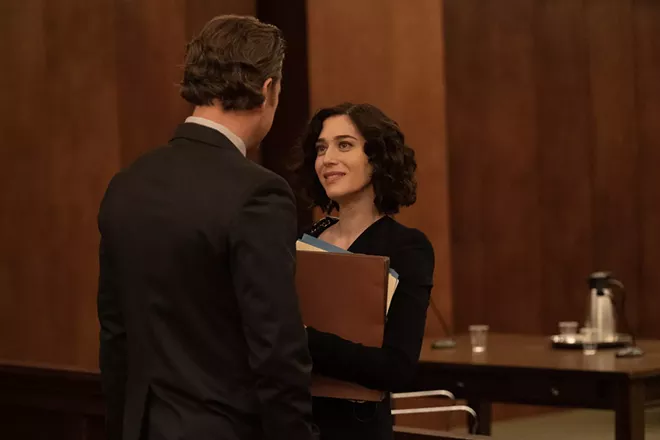 The list of movies that have been improved upon by a TV series adaptation is pretty short: What We Do in the Shadows, Bates Motel, Westworld, Hannibal, Fargo, Buffy the Vampire Slayer, Rambo: The Forces of Freedom, and a handful of others. Mostly, they're exercises in futility designed to squeeze the last coins from intellectual properties, and streaming has only goosed the greed machine. Here are a few film-to-TV reboots that almost worked.
FATAL ATTRACTION (PARAMOUNT+)
It doesn't premiere until April 30 on Paramount+ — a serial offender of unnecessary reboots — but an eight-episode take on 1987 thriller Fatal Attraction practically screams "We got nothin' ... who wants a new yacht?" While there's a contingent of viewers who'll watch anything with Lizzy Caplan (guilty), and the rest of the cast (including Joshua Jackson, Amanda Peet and Toby Huss) is solid, that's a whole lot of plot padding around a boiled bunny. There's a reason there was never a Fatal Attraction 2.
GREASE: RISE OF THE PINK LADIES (PARAMOUNT+)
It's a prequel set in 1954, years before the adults-playing-teens travesty of Grease, the inferior precursor to Grease 2, but who asked for Rise of the Pink Ladies? This campy, colorful sugar-buzz of a concept might have worked as a 90-minute movie, but Grease: Rise of the Pink Ladies consists of 10(!) hourlong episodes, which sounds as appealing as being waterboarded by the cast of Glee. I'd rather have had a musical reboot of Dead Ringers (Prime Video is dropping a boring, non-singing version on April 20).
TRUE LIES (CBS, PARAMOUNT+)
CBS' revival of 1994's True Lies premiered last month, and it's not a promising indicator that the show's leading man (Shameless' Steve Howey, taking over for Arnold Schwarzenegger) has been easily obscured by his supporting cast from episode one. Ginger Gonzaga (assuming the spy-wife role from Jamie Lee Curtis) deserves better than a vanilla CBS case-of-the-week content cranker, as does co-star Omar Miller. Obviously, the best way forward is to kill off Howey's character and let them carry True Lies. I'm a solutions guy.
BAD TEACHER (CRACKLE)
The 2014 TV reboot of 2011 Cameron Diaz comedy Bad Teacher had the potential to best the movie, mostly due to a killer cast fronted by Ari Graynor, an actress with the chops to take Diaz's character to funnier heights and darker lows. Unfortunately, this Bad Teacher was on CBS, so the trophy-wife-turned-accidental-educator storyline was watered down to edgeless sitcom mundanity, and Grayor's only creative support was an impressive array of push-up bras. Still, not bad for a CBS comedy (low bar).
ASH VS. EVIL DEAD (NETFLIX)
The only problem with 2016-2018's Ash vs. Evil Dead was that Starz canceled the comedic Evil Dead sequel series after just three seasons — we could be enjoying season 7 right now, but nooo. The demon-splattering adventures of an aging Ash Williams (Bruce Campbell, sharp as ever) spilled more gallons of fake blood than The Walking Dead over three seasons, and sidekicks Kelly (Dana DeLorenzo) and Pablo (Ray Santiago) were the perfect foils for Ash. At least there's an animated revival in the works (hopefully not for Starz).
CRASH (HOOPLA)
Speaking of Starz, its 2008 TV adaptation of Paul Haggis' divisive 2004 movie Crash was the first of many "We can be HBO ... or at least Showtime" prestige grabs for premium-cable relevance. It was also a complete mess, but at least it was entertaining, thanks to next-level scenery chewing from Dennis Hopper and the American TV debut of Israeli actress Moran Atias as one of the sexiest small-screen femme fatales ever. Crash didn't solve race relations, but it did manage to make Albuquerque look like L.A., so there's that.
THE CLIENT LIST (TUBI)
Lifetime's 2012 The Client List series was based on the network's own 2010 movie of the same name — does it still count as a TV series based on a film? Let's not overthink this. Broke, recently single mom Riley (Jennifer Love Hewitt) takes a job at a day spa in her small Texas town and soon learns she can earn extra money by performing under-the-towel "client" services. For a PG dramedy about a rub-and-tug massage parlor, Hewitt is surprisingly committed, turning in a performance on par with Ghost Whisperer, or even Munchie. ♦