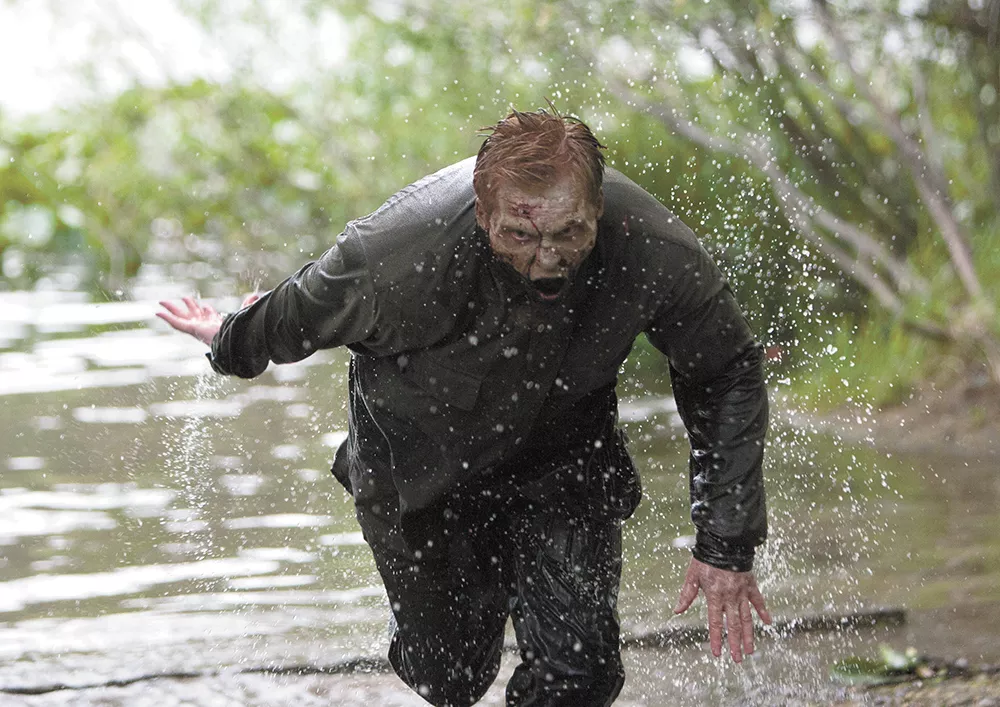 The wait for Spokane's time in the post-apocalyptic spotlight is finally over. Z Nation has arrived on the Syfy channel (Friday, Sept. 12, at 10 pm). Ya know what? It's actually pretty good.
Perhaps this is because all we knew going in was the show was the product of the same brain trust that bestowed upon the world the Sharknado movies. Z Nation seems to take itself somewhat seriously, even if the first episode features a flesh-hungry zombie baby whose animatronic movement makes it look like the demon spawn of those Chuck E. Cheese band members. This isn't high-end stuff; the clichés are laid on thick and some of the performances in the lesser roles might leave you cringing, but you'll find yourself making it through an episode or maybe more.
That's because the story actually has some momentum to it. It's been three years since the outbreak of a zombie virus, which has, as zombie viruses are wont to do, destroyed the world. A special ops soldier is sent to escort a former convict whose blood carries a possible antidote to the virus. But that soldier's hopes rely on a band of average Joes, led by a guy played by Tom Everett Scott (the dreamboat leading man in That Thing You Do!), to drive this walking test tube across the country.
Does this all sounds a lot like The Walking Dead? Yeah, probably, but zombie shows are zombie shows. In some areas, Z Nation might have an edge. For one, the zombie fighters on The Walking Dead have an annoying habit of staying in one place (farmhouse, abandoned prison) for a painfully long time. That doesn't look like it will be a problem with Z Nation, the plot of which appears to rely significantly on getting across the continent.
I've just seen the first episode, and so far the Inland Northwest is just vaguely present (it's not actually set here), but you'll notice the landscape. You can bet, though, that I won't be the only Spokanite tuning in weekly for a glimpse of a landmark or a zombie extra who looks a lot like my barista.
Z Nation premiere party • Fri, Sept. 12, at 9 pm (show at 10) • $10 suggested donation to SpIFF and Washington Film PAC • Garland Theater • 914 W. Garland • garlandtheater.com