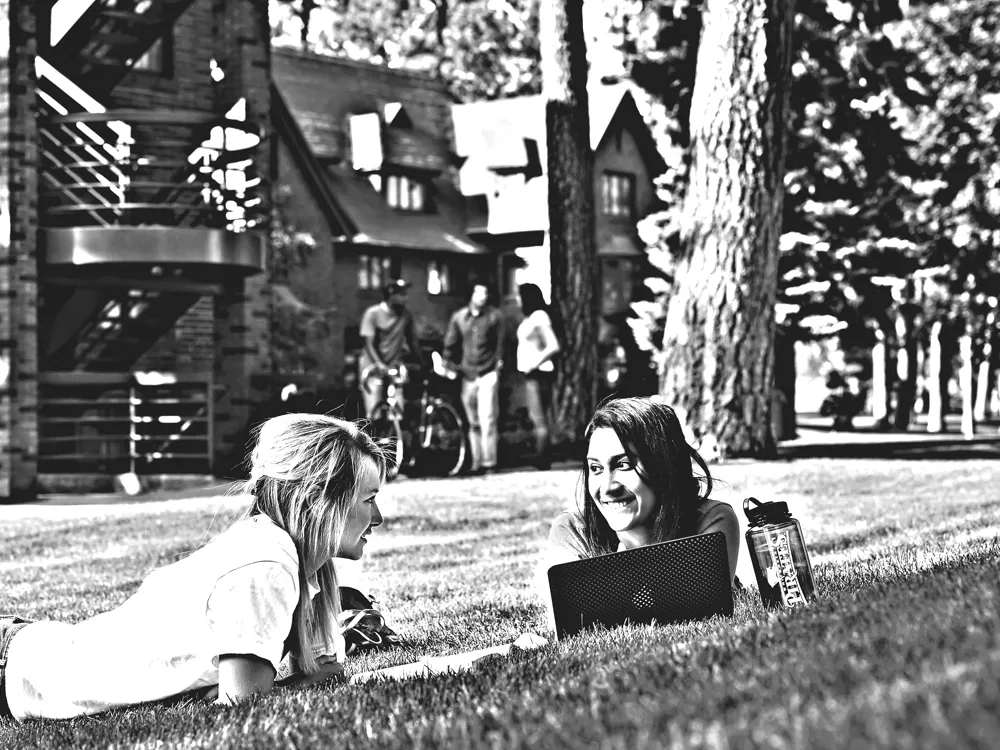 S
urrounded on all sides
by pine trees, this small Presbyterian university can feel like an isolated, self-sustaining eco-system — and that may be both the school's greatest strength and greatest weakness. Once enrolled, Whitworth is your world. When Whitworth works for you, it works wonderfully. When it doesn't, it can get very lonely.
MYTH EXAMINED: "Whitworth's newer, fancier dorms make for a better college experience." Yes, at Whitworth some dorms are prettier than others. You'd be surprised how fast the swankiest of dorms become dull. In fact it's the ancient dorms — the ones with smaller rooms and narrower halls — that catalyze the best experiences. Physical flaws of their dorm rooms force hordes of collegians into common areas where creativity and scheming inevitably blooms.
Located in Spokane
FULL-TIME UNDERGRAD ENROLLMENT: 2,628
RESIDENT UNDERGRAD TUITION: $33,676
NON-RESIDENT TUITION: n/a
YEAR FOUNDED: 1890
KNOWN FOR: Being a private, liberal arts university that prioritizes spiritual development, as well as intellectual growth.
Verdict: Busted. Old, ugly dorms create great experiences. That's not to say college students can't have a good time in the luxurious accommodations of Duvall and East residence halls, but they'll have to be intentional: knocking on doors, scheduling parties and pranks.
MYTH EXAMINED: "Whitworth tradition requires all students to catch a 'virgin pine cone' before graduation." Absolutely. Whitworth students have long strove to catch the fabled virgin pine cone: A pine cone caught in mid-air, before it can have its honor sullied by the dirty ground. And this tradition is actually praised by Whitworth administration. The other two activities traditionally completed before graduation — accidentally drop your food in the cafeteria and get your engagement "ring by spring" — aren't quite as universally beloved.
Verdict: Confirmed. Graduation is still possible without catching your pine cone. But it is a graduation of shame.
Last Year: Whitworth administrators took students by surprise by announcing the development of a new "honors program," launching this year. Freshmen students with a 3.8 GPA and an 1870 SAT score or above gain priority access to tougher, more in-depth courses. In a town hall meeting a few weeks after the announcement, students let out their frustration over not being consulted about the changes and their worries that the new system would foster division and elitism.
Coffee Talk: The students who've had the best experiences at Whitworth nearly always cite a specific experience: They took a professor out to coffee. Forget worries about distant college professors hiding behind teacher assistants. Whitworth professors are as personal as your high school teacher, but less burnt-out.
The Incredible Magical Saga Table: Saga, the dining services company, hasn't existed since a hostile takeover in 1986. Despite that, Whitworth students still insist on calling their cafeteria, lovingly, Saga. There will always be complaints about college cafeteria food, but the large tables always seem to have room for one more student. Pull up a seat. Introduce yourself. Ask the ol' "What's your major?" question.
This year brings an expansion to the dining hall and the addition of lines dedicated to Italian and Asian food. The tables, hopefully, will remain.