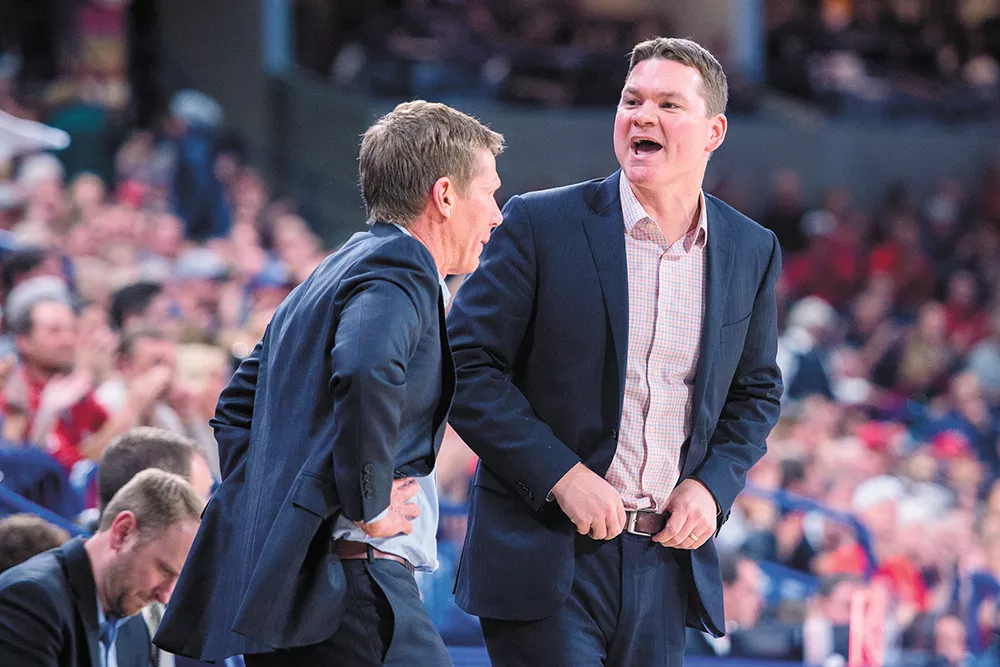 Chances are that at some point during Gonzaga's tournament play, the television announcing team will marvel at the global scale of the Zags' roster.
You have another French connection in Killian Tillie, the rising son of Japanese basketball in Rui Hachimura, a Great Dane in Jacob Larsen. And in large part, it's thanks to the recruiting efforts and general wanderlust of head assistant coach Tommy Lloyd, who is on year 17 with the program and the head-coach-in-waiting.
He credits his passion for international recruiting to his parents' participation in foreign exchange programs and his time spent playing overseas.
"The recruiting overseas deal was something I was interested in from the jump in my career because I had a real comfort level with dealing with people from different cultures," Lloyd says.
Lloyd was originally a transfer recruit while playing at Walla Walla Community College when Dan Monson was the head coach at Gonzaga.
"He ended up taking a player that was better than me and gave me the parting line that if I ever wanted to get into coaching to give him a call," Lloyd says. "So I did."
Lloyd delayed his coaching journey when he had the opportunity to play a year overseas in Germany and Australia in 1999. During that year, Gonzaga turned into the Cinderella that took down the likes of UConn and Florida.
"At the time Gonzaga was just starting to turn into the program that people know it as today," Lloyd says. "When I first showed up, it was a head coach, two full-time assistants, one grad assistant and I was the volunteer guy. I came at a good time where they needed manpower. They were understaffed and if you have an opportunity to have a guy show up and work and not make any money — that's just how coaching is."
"He's been on the same path that I was on," says head coach Mark Few. "I was fortunate enough to work for two guys who weren't afraid to delegate and let young assistants have a lot of responsibilities.
"As he grew and came up through the ranks he's gotten better at every aspect of what he's doing," Few continues. "With recruiting he's found a niche there overseas because he has a great network there and has built up a lot of respect, but he's also great with American kids."
When March ends, Lloyd's globetrotting begins. He'll spend a week hopping around Europe, from Eastern Europe to France, Germany and Italy to take advantage of open contact periods and make home visits to build a bond with kids and families who have a complicated decision to make.
"Kids overseas have different options than American kids," Lloyd says. "A good player over there is not just getting recruited by me and other colleges, they're also getting recruited by professional teams."
As Lloyd has built his network for recruiting, his 17 years with Few have developed a personal ownership in all aspects of the job. If Lloyd finds a recruit he likes, he has the green light to make an offer on his own.
"There's just a lot of trust because we've been together for a long time," Lloyd says. "One of the great things about Coach Few is that he's not afraid to try things. I don't think either of us are riverboat gamblers but we're not afraid to make subtle or big adjustments if we think it'll help our team be better.
"I think for the most part we've done a pretty good job of being at the forefront as the game evolves and trying to be a step ahead of things," Lloyd says. "And that's something we'll continue to do." ♦