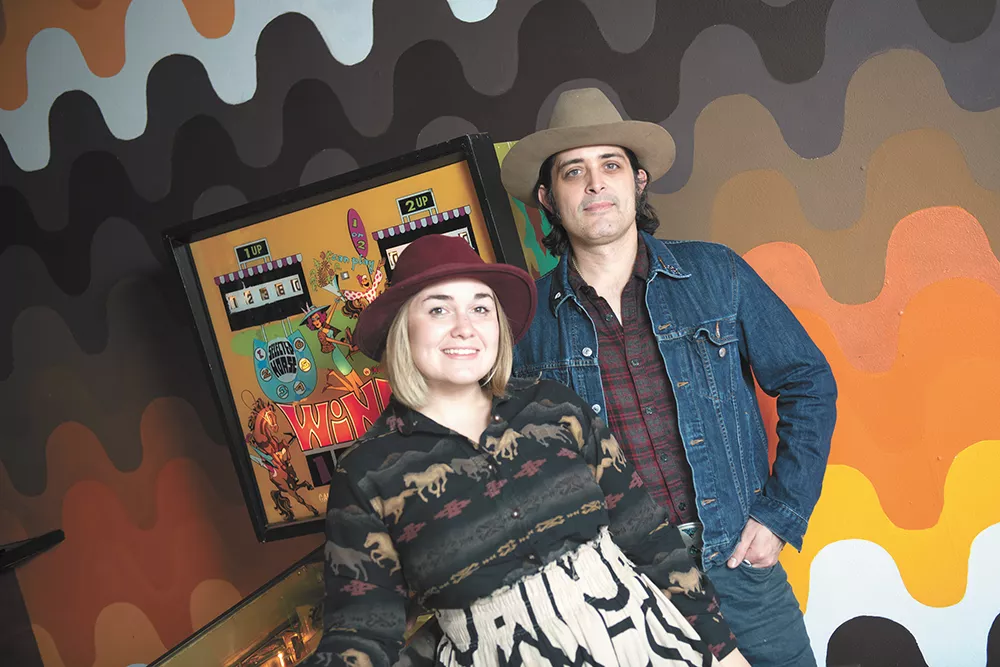 Mosey on up to the bar at Lil Sumthin' Saloon for a sip of Southern hospitality by way of Texas, and a samplin' of some old-fashioned country vibes.
The cozy new bar debuted New Year's Eve night on the corner of Second and Bernard in downtown Spokane, offering a warm respite from the Northwest's dreary winters.
Owners Kryston Skinner and Austin Estrada opened the little saloon to share a slice of their home state with their newly adopted city.
"We just missed Texas, honestly," Skinner explains. "There are a lot of cool bars here already, and we thought about what we could add to that scene, and what did we love so much in Texas about going out and nightlife that we could bring to Spokane."
The couple relocated to Spokane last summer when Skinner accepted a job as executive director of the interactive arts hub Laboratory Spokane. Estrada soon followed, bringing many years of bartending experience to the project.
At the bar, customers can get to know the couple — they're the only two employees, and the bar top is decorated with old photos of their Texas-based families — as they sip on spirits from a menu focusing on tequila and whiskey.
The pair curated a list of drinks they haven't seen served at other local bars, like the Saguaro ($7): tequila, lemon, grapefruit and lime juice, finished with a rim of Tajín, a branded blend of chili powder, lime and sea salt. The drink menu is divided by "dark" (whiskey/bourbon) and "light" (tequila) cocktails, along with a collection of six shots under the heading "Six Shooters," and aptly priced at $6 each. The Snake Bite, for example, is Yukon Jack, a Canadian honey-whiskey spirit, with lime juice, while the Dulce consists of tequila, watermelon vodka and tabasco.
To complement their drinks, Lil Sumthin' offers free chicharrónes (fried pork rinds), served plain or seasoned with lime and Tajín. Soon they'll add a popular Mexican street food called cochinadas, a snack-sized bag of corn chips cut open on the side and topped with hot buttered corn, crema, mayo, hot sauce, lime juice, parmesan and Tajín, to their weekend menu for $4 each.
Happy Hour is offered daily from 4-7 pm and offers a special menu of $5 cocktails and the shot of the day, along with $4.50 wells and $1 off bottled beer. Sundays are reserved for all-day bingo and a michelada and bloody mary bar ($12 each). A michelada is beer with lime, spices, hot sauce, tomato and/or Clamato juice, plus garnishes.
For bloody marys, the couple is making their own pepper-infused vodka. It's also featured in their shooters, along with peach-infused whiskey and watermelon-infused tequila. They also make their own cocktail bitters and syrups.
Besides bingo on Sunday afternoons, visitors to Lil Sumthin' can enjoy a pinball-esque, multiplayer horse racing arcade game, and occasional live music on a tiny corner stage. The bar displays local art, and a large wall mural in a wavy, scalloped pattern of yellow, orange and brown is already a popular photo backdrop.
Skinner and Estrada went for a sort of kitschy, '70s-country theme with the bar's decor, locally sourcing vintage furniture and lighting. One of their favorite finds is "Lyle" the steer, a large, salvaged fake cow serendipitously found at local vintage shop Boulevard Mercantile. In the bar's single bathroom, the walls are covered with neon-painted horseshoes and gold sparkles on a black background.
"I keep thinking of the term 'Southern glam,' especially when you see the bathroom," Skinner says when asked to describe the bar's aesthetic.
"I guess it's also retro Western with a dash of Hispanic, because Austin's family is Hispanic, so we tried to marry both together," she adds. "In our cocktails I feel like they especially come together." ♦
Lil Sumthin' Saloon • 301 W. Second Ave. • Open Wed-Thu 4 pm-midnight, Fri-Sat 4 pm- 2 am, Sun noon-4 pm • Facebook: Lil Sumthin' Saloon • [email protected]