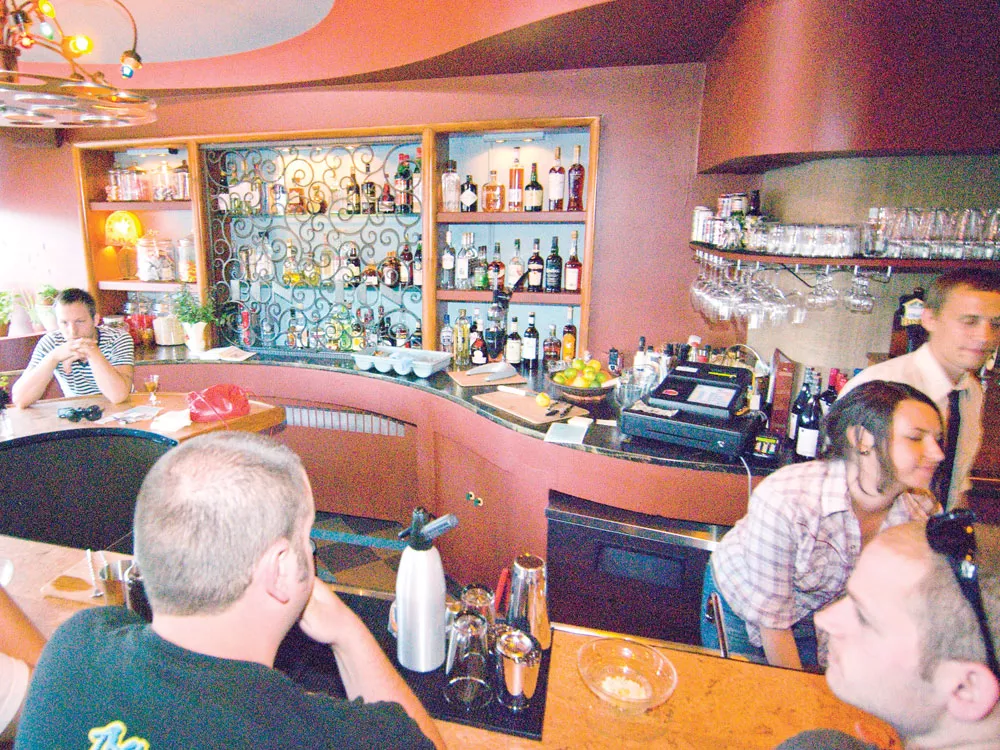 There was an abundance of relief in a usually darkened corner of the Garland District on Monday night. Bon Bon, the tiny cocktail lounge attached to the Garland Theater was finally — mercifully — open. The room was full of Garlanders and other well-wishers, along with several members of the theater's brain trust.
"We're glad you guys are open," one woman says. "We are, too!" replies Brooklynd Johnson, the bar's manager, who was hired in January.
A few minutes later, down the bar, a different person had a similar sentiment: "I'm so glad you guys are open."
"We are, too," Cory Scanlan says. He's Bon Bon's other full-time bartender.
It's been a tougher-than-expected road to get here. Bon Bon would have opened in mid-April, but managers ran into trouble acquiring a liquor license. For nightclubs with occupancy of 100 or more, no food service is required. For places under that, the liquor board requires four "forkable" dishes. Bon Bon has seating for 35-ish — but feels full at two dozen. There's no kitchen to speak of. Dishes of any kind are problematic.
They worked with the Rocket Market (726 E. 43 rd Ave.), though, to develop re-heatable meals to satisfy the law. Things like Rock Ridge bacon macaroni, chicken and spring greens gratin and a vegan white bean cassoulet run $16-$17.
They're also offering a rotating cheese plate ($12) and a handpicked selection of charcuterie ($15) from Santé's Jeremy Hanson.
Bon Bon offers wasabi peas ($2) because Johnson heard that they go well with cocktails.
And it was cocktails that were the showcase on Monday.
Johnson and Scanlan had cooked up a small menu of six featured drinks, all of which drew from both the rich history of cocktail culture and the duo's own playful tinkering.
The Twentieth Century Cocktail ($7) is an exuberantly bright mix of gin, lillet blanc, creme de cacao and lemon. Other drinks we tried — a Mexican sidecar ($7), El Diablo ($9) and the Cane Flower ($11) — did a nice job of playing the tart citrus against the sweet liqueurs (though the latter, which only had lemon zest, came close to being too sweet).
Wanting to go off-menu, Scanlan gestured to a row of old-timey cocktail books and suggested that he could probably find anything we wanted. We asked for a Monkey Gland. Created in the '20s, it's been lost to time due to the inclusion of absinthe (which gets a bad rap), and also probably because of unfortunate branding.
Scanlan had heard of it, and we muddled out the ingredients together: gin, grenadine, orange juice, a wash of absinthe. "Do you know the ratios?" he asked. We didn't. He thought for a second. "I can probably figure it out."
He did indeed — and whatever the proportions were, they mixed beautifully in the mouth, with each sip ending with a bite of fennel.
The grenadine is house-made, as is the tonic, which is created with lemongrass. Johnson says we can expect house-made eggnog and Baileys for the holidays, along with other rotating seasonal mixers.
The ambience of the place blooms the way the drinks do. You notice the art nouveau curve of the bar first, then gradually notice the mechanic-chic nod to the movies. The light fixtures look like B-movie UFOs and have film reels tucked cleverly into their undersides.
When you spend time in a bar this small, the little things are bound to show through. In the artisanal ingredients and the painstaking preparation, Bon Bon got the details just right. — Luke Baumgarten

Bon Bon, 926 W. Garland Ave., is open 4 pm-midnight, seven days a week (though they'll stay open until 1 am if people are enjoying themselves). For now, call the Garland Theater at 327-2509.
Tandoor on Third Once More
The revolving-door restaurant that was most recently the Third Avenue Diner has opened once again, this time as Taaj Indian Cuisine.
When asked if he was nervous about taking over a space in which the previous five restaurants had failed, owner Gurmeet Gill just laughed and shrugged his shoulders in an easygoing manner. "No, I'll just keep working," he said.
Gill moved to Spokane from Indiana, where he owned two restaurants, one Mexican and one American. He heard about the opportunity to lease the vacant Third Avenue restaurant space from a friend who owns the Days Inn hotel. "I've always wanted to do something like this so people could try my own food," says Gill, who is from the northern Indian region of Punjab.
The lunch buffet features favorites that Indian-food lovers will expect, like Tandoori Chicken, Saag Panneer, Chicken Tikka and half a dozen more. Too often, buffet-style dishes end up tasting remarkably similar, but not so at Taaj. From the crispy, cumin-spiced vegetable pakoras to the rich and creamy dal makhani, each dish offered a unique flavor, evidence of the care that went into preparing them.
The Bhindi Masala (lightly fried okra with ginger, tomatoes and cilantro) is a tasty house specialty. For dessert, in addition to the standard Kheer (rice pudding), the buffet boasted plentiful fresh fruit, mango pudding, and Gajer Halwa, a sweet, warm grated carrot dessert flavored with black cardamom.
Taaj has two chefs, one who specializes in items grilled in the clay oven tandoor, and a second who is in charge of the curries and other items.
At lunch, diners can choose the buffet ($10) or order from the extensive menu, which serves as the dinner menu also. (There's no dinner buffet.) Gill plans to rotate two dozen different items on his buffet. "If you come every day, you won't get bored," he says. — Kirsten Harrington
Taaj Indian Cuisine, 128 W. Third Ave., is open Mon-Sat, 11 am-2:30 pm and 5-9:30 pm. Call 624-3738.