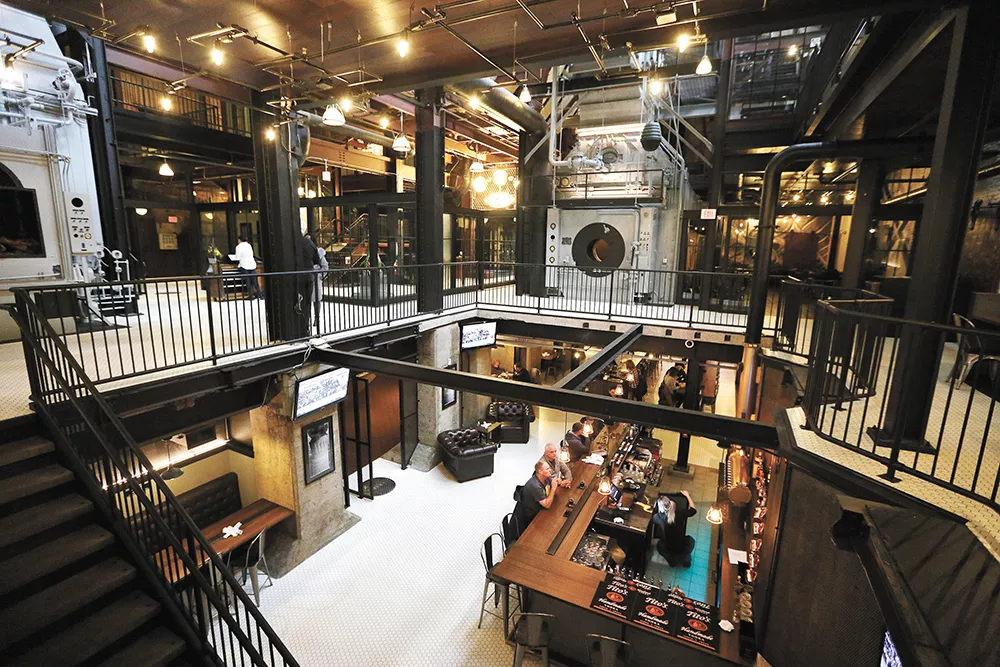 One hundred years ago, the massive coal-fueled furnaces inside the Steam Plant burned hot and bright, day and night, to warm the city's core. Now, the only fire burning there is fed with the wood of apple trees, heating the newly remodeled Steam Plant Kitchen's stone-hearth pizza oven.
Pizza is one of many new features on the menu of the re-envisioned restaurant and brewery housed inside the historic brick building topped by the iconic twin smoke stacks visible across the cityscape. In fact, nothing from the menu of the restaurant's former iteration, Stacks at Steam Plant, remains since the venue emerged from a nearly seven-month-long, $4 million refresh of its interior space, equipment and menu.
The newly named Steam Plant Kitchen + Brewery now serves what its new manager John Lockhart describes as "polished casual" fare. The restaurant's culinary team, led by chef Steve Leonard, another new hire and Le Cordon Bleu Paris-trained industry vet who comes to Spokane by way of Chicago, is employing techniques in the kitchen such as sous vide (vacuum-sealed food slow-cooked in a low heat water bath), rotisserie and other scratch-cooking practices using high-quality ingredients.
A restaurant consulting firm helped remake the menu, which includes approachable fare like sandwiches, salads, pizza and shareable, pub-style appetizers: skillet cornbread, mussels, mac and cheese and chicken wings. Several fine-dining entrées include beef filet ($32) in a red wine sauce with wood-roasted mushrooms, spinach and a vanilla celery root purée, and steelhead ($25) with piquillo romesco (pepper and nut) sauce, broccolini and fire-roasted potatoes.
Lunch service starting at 11:30 am daily is also back after ending more than a decade ago, offering lighter fare and fast turnaround for downtown workers. Many of the new menu's offerings are served all day, such as its three 10-inch, stone-fired pizzas: a classic margherita, the "powerhouse" pepperoni, and the sweeter, dessert-like Granny Smith apple and fig ($10-$14).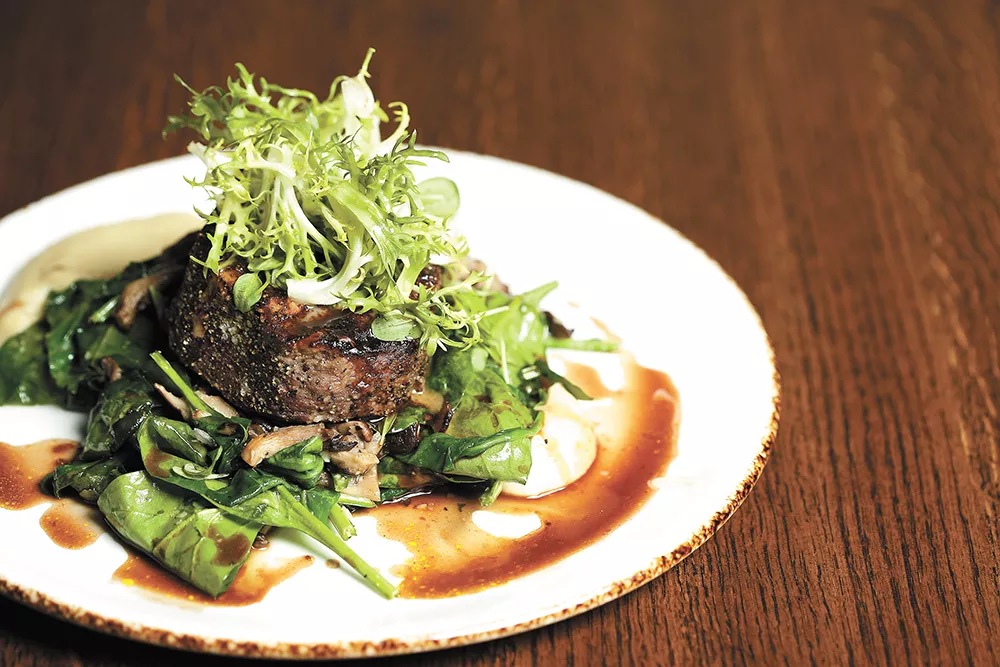 For its house favorite the "stack house" Reuben ($16), Chef Leonard and team apply an intensive, seven-day process to marinate, brine, smoke and sous vide cook the sandwich's short rib pastrami. Topped with crisp, house-made pickles, jalapeño slaw, Swiss cheese and a special sauce, the Reuben also comes with a side of thick-cut fries.
Each item on the menu includes a suggested beer pairing from one of the Steam Plant Brewery's many offerings served on 14 house taps. Cocktails and wine are also served at the bar.
While the installation of new brewing equipment during the renovation required Steam Plant head brewer Ben Quick to pause or borrow other local breweries' equipment, the brewery is now back at full production of its mainstays, like the Firebox IPA, Double Stack Stout, Cutter's Pale Ale and more, along with its seasonal rotators.
Beyond the reimagined dining options, the bulk of the Steam Plant's recent overhaul is visible throughout the cavernous, former industrial facility that was converted into a mixed-use space — the first former steam plant in the nation to be reused as such — that opened to the public more than 17 years ago.
Those renovations, which included repairs to maintain the structural integrity of its two 225-foot-tall stacks, began in July of last year. The project also involved constructing a new event space on the building's rooftop. That space opened in December, and features two outdoor patios overlooking the city, a full bar and catering kitchen prep space, says Steam Plant Facility Manager Spencer Sowl.
On the Steam Plant's main-level dining room, retro-inspired, penny-style hexagonal tiles throughout (also in the bar) complement the space's historical roots. New leather-backed booths on a raised platform look into the open-view kitchen, which also features a diner-style bartop where customers can see staff at work. Around the main-level mezzanine are smaller bistro-style tables, backed by oversized historic photos of Steam Plant workers from its operational era.
"We wanted to stay really true to the history of the building with any materials and artwork," Sowl says. "Sticking to that was really important to us, but we also wanted to capture a little bit of edginess and keep the industrial feel."
As walls were demolished or opened up during renovation, crews found old elements like beat-up tiled walls and painted concrete that were cleaned up and now showcase the space's past and its character, he adds.
Perhaps the most striking change is seen in the lower-level lounge, which before was carpeted and largely unchanged from its early 2000s aesthetic. Now, sleek booths line the back walls, with plush leather sofas and chairs tucked in cozy corners. Two long communal tables run down the center of the crisp, contemporary space, designed by local firm HDG Architecture.
The Steam Plant Kitchen + Brewery now offers free valet parking for restaurant guests for up to two and a half hours. Offered daily from 4 pm to close, diners have the option to drop off their car at a valet podium on southbound Lincoln Street, or in the alley near the Steam Plant's breezeway entrance. Management hopes this new service makes coming to the downtown venue less stressful for its visitors.
"We're excited about the building being open, and I think the community is going to be surprised at what we did, and that excitement alone is a big deal to us," Sowl summarizes. ♦
UPDATE: In the week following the Steam Plant's reopening, we've learned that executive chef Steve Leonard has departed from his post the restaurant.
Steam Plant Kitchen + Brewery • 159 S. Lincoln • Open Mon-Thu from 11:30 am-11 pm, Fri-Sat until midnight, Sun until 9:30 pm • steamplantspokane.com • 777-3900