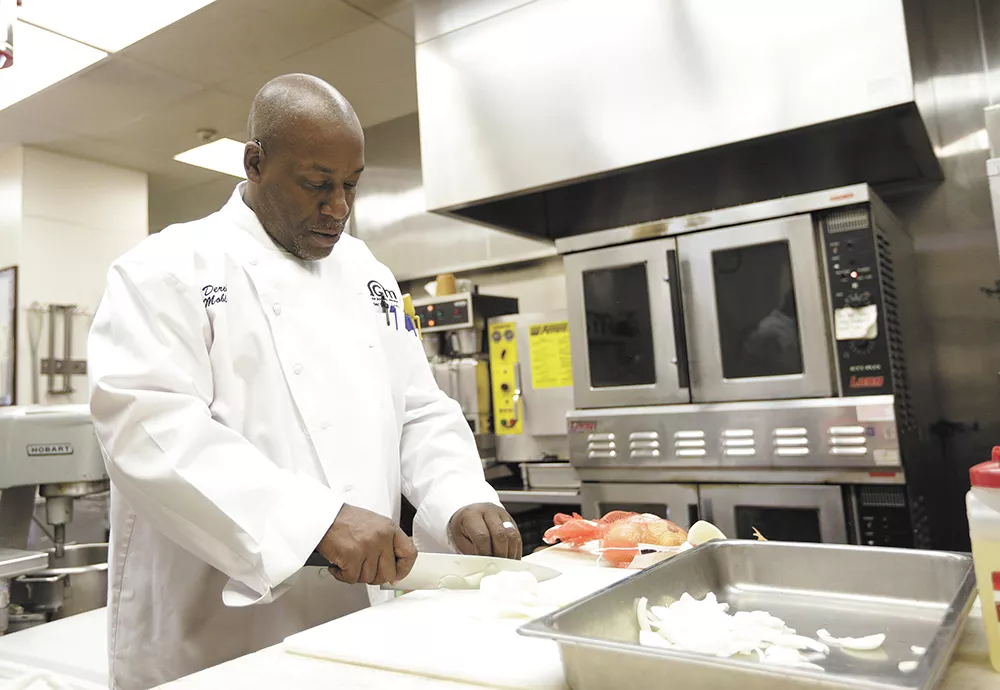 At the kitchen at Union Gospel Mission, apron-clad workers scurry in and out of walk-in refrigerators. They chop vegetables. They chop meat. They roll dough into crescent shapes. Over the din of a radio, a worker asks Derek Mobley, the kitchen supervisor for Union Gospel Mission's food services, about the stock for today's soup that will feed hundreds of people.
"Turkey rice!" booms Mobley, confirming the type of soup that'll be served.
"Wonderful!" his voice echoes through the kitchen as he notices that another worker is cutting steak. "He has found steak! Alright, beef stew tonight!"
Every week, Mobley oversees the planning and preparation of 5,000 meals offered by UGM to anyone who wants one. It's an offer usually taken up by homeless people, or those who just need another meal to make it through the week.
Mobley aims to serve meals rivaling those served at the upscale eateries he once worked at, offering up fresh frittatas with bacon and a blend of cheeses, beef stroganoff, chicken parmesan velouté with cheese grits, and spaghetti and meatballs with a sauce cooked from scratch that's simmered all day.
"This ain't no soup kitchen," says Mobley, whose résumé includes stints cooking at the Davenport Hotel's Safari Room and the Spokane Country Club. "What I tell the [diners] is, I am your personal chef. You tell me exactly how you feel about the meal, you know what I'm saying? I'm here to serve. ... I'm here to cook for you guys."
That's because he almost was one of those guys. Mobley, 52, came to the UGM from Vallejo, California, seeking one more chance to kick the drug and alcohol habit he's struggled with most of his life. For Mobley, this kitchen is where he found himself and a home. But it didn't always feel that way.
Early in adulthood, he joined the Army hoping to straighten himself out. But while stationed in Germany, he discovered hashish and local beers. Back home in California, he used cocaine and continued to drink before completing a recovery program.
He took a job in the oil fields near Colusa, California, where he worked 12-hour days, sometimes seven days a week. On days off, he was flush with money and surrounded by thirsty co-workers whose thoughts were far from sobriety. He got into old habits and his life unraveled. A friend and mentor recommended he make a big change and move to Spokane to enter UGM's faith-based recovery program.
"I came here and walked in and everything was white," recalls Mobley of his first impressions. "And I came from a predominantly black neighborhood, so I was like, 'Oh no, this is the wrong place.'" He called his friend who had recommended the program, saying he wanted to leave. His response: "Don't leave; God has something for your here. Christians have no color."
While in the 18-month recovery program, he rediscovered his love for cooking, something he learned from his grandmother, who taught him to remember the taste of seasonings, and he worked in the kitchen while getting clean. That led to a job at the Davenport Hotel's Safari Room and later another job at the Spokane Country Club.
"There's alcohol; there's parties," he recalls of working in restaurants while staying sober. "There's young kids that can drink and can work, and go home and come back the next day. When you go out in that world, you have to be resilient; you have to be in prayer; you have to be steadfast in who you are. I can't [go out and drink] because it turns me into the Hulk."
With continued support from UGM, he stayed sober. Two years ago, he was offered more money at the Spokane Country Club (which was facing a lawsuit that eventually would bankrupt it), but when a job supervising the UGM kitchen came up, he took it.
"It wasn't about the pay," he says. "I knew I wanted to be here and give back, and to work on my ministry of cooking and speaking about Jesus and encouraging [others]."
Dave Wall, UGM director of community engagement, says that despite his initial misgivings, Mobley fits right in. Wall says that as the boss, Mobley has a close rapport with the crew. That's because, says Wall, "He's serving the men he once was like." ♦