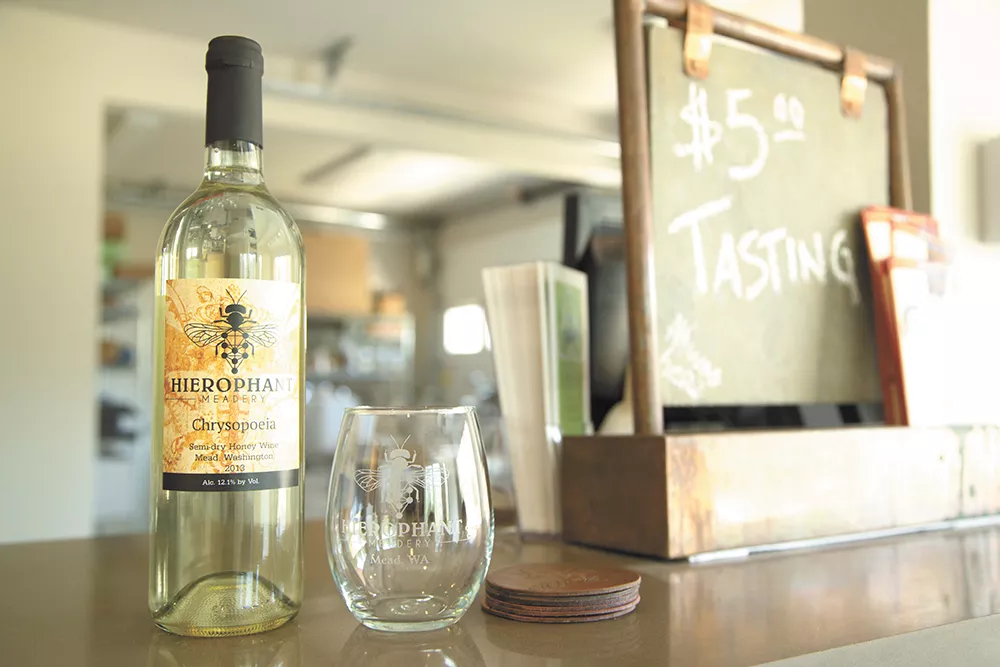 Once difficult to find, there are now hundreds of meaderies in the U.S. From 2012 to 2013, mead sales skyrocketed by 130 percent, a margin of growth topping the sales of beer, cider, wine and spirits. Relatively quick turnaround time — approximately two months fermentation — means that meaderies can produce seasonal releases with relative ease. The small-batch mead industry also promotes the health and well being of the honeybee population, because many meaderies use honey from local apiarists committed to sustainable beekeeping practices.
Jeremy and Michelle Kyncl are resident mead makers who share an infectious passion for plant sciences, fermentation and honeybees. After experimenting with fermenting grapes, hops and honey for the past eight years, the Kyncls kept coming back to mead, and Hierophant Meadery was born.
"I'm into making things go bad in a good way," says Jeremy. "Part of the reason we went into mead was for the freedom. We can put things into mead that you could never put into wine. Unlike beer, there isn't a brew day. With mead you let it do its thing."
"Mead is a wonderful platform to experiment with plant extracts," adds Michelle. "Given where the craft [beer] brewing industry is in Spokane, we were worried we would be entering a saturated market, so we went with mead."
The Kyncls brew balanced, dry meads with distinctive flavors to create a delicate product, similar to white wine but much smoother.
"People think they're going to get this gamey, syrupy mead and they're surprised. It's filtered and clean, with intentional flavor additions," says Michelle.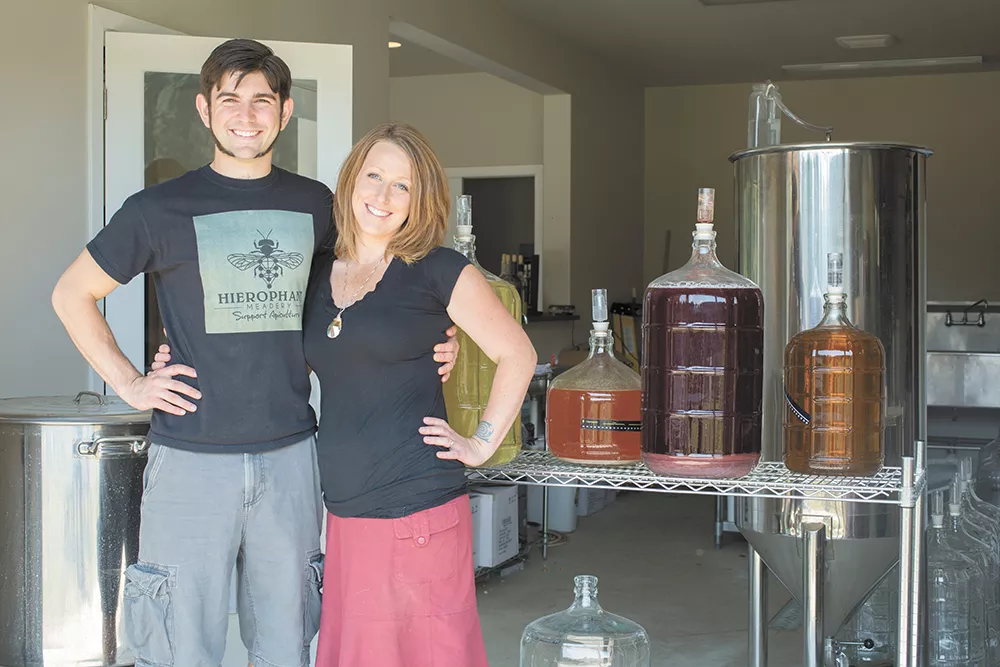 Hierophant Meadery's current infusions include chamomile, balsam poplar, hops and Douglas fir. For purists, Chrysopoeia, a semi-dry mead, features fragrant wildflower honey from Mt. Spokane. The meadery strives to create blends that will appeal to wine drinkers, beer drinkers and everyone in between.
Hierophant Meadery shares the local mead market with the newly opened Fenwyr Cellars Meadery, which celebrated its grand opening this past weekend. Daniel Jessee, the company's mead master, isn't new to this game; he's been brewing mead for about 12 years.
"Ever since I started looking into brewing, mead caught my attention. When I first started getting into it, mead was rare. I just started making it on my own and everybody liked it," says Jessee.
Jessee's finely tuned mead-making skills earned his Sweet Mead a first place and reserve grand champion in the wine, cider and mead category at the Spokane Interstate Fair in 2012 and 2013. Fenwyr Cellars currently is featuring Sweet Mead, as well as spiced Lhug Sereg, (dry with hints of pear, kiwi, cinnamon, clove, Thai pepper and cayenne), as well as their Huckleberry Dry and Huckleberry Sweet.
Though mead is traditionally served at room temperature, its versatility means you can you can drink it warm or cold, or use it in mixed drinks. In summer, sweet mead is refreshing straight, on ice. Mead's long shelf life is another strong selling point.
"One of the advantages of mead is that it doesn't oxidize. If you open a bottle you can drink it six months down the road and it will still be good," says Jessee.
But what about the morning after? The mead makers say worrying about high sugar content and hangovers is unnecessary. Practicing common sense when imbibing is recommended, but both meaderies are mindful of sugar and alcohol content. In fact, Jeremy Kyncl at Hierophant says the brewing process of mead actually helps ease the aftereffects.
"We ferment at a lower temperature, so the alcohol itself is less likely to cause a hangover. Plus we use less sugar and brew drier," he says. ♦
---
Mead Varieties
Braggot: Brew consisting of honey and malted barley, and occasionally hops
Cyser: Blended honey and apple cider
Dry Mead: Brewed from honey and water
Hippocrass: Pyment blended carefully with spices
Melomel: Blended honey, water and fruit (other than apples or grapes)
Metheglin: Traditional sweet or dry mead blended with complementary herbs and spices
Pyment: Blended honey, grape juice and water
Sweet mead: Sweeter and lower alcohol than dry mead