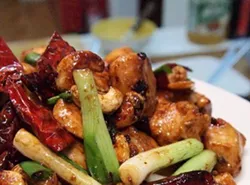 Wei Ou greets customers as they walk through the door, and asks how they're doing as she leads them to a booth near a window. She then makes her way over to her mother, Wan, standing near the kitchen and converses with her in Chinese.
Lori Jensen and the Ou family took ownership of Lai Lai Garden Chinese Restaurant in Airway Heights two years ago, with Jian as the main chef, Wan managing the restaurant and Wei helping serve on the weekends.
"We moved from Canton in south China when I was 8," says Wei. "My parents wanted my siblings and I to have the opportunity to be educated in America, and now we also can offer Americans authentic Chinese dishes here."
The previous owner of Lai Lai was from Taiwan, so the Ous are excited to cook some of the same dishes previously offered, along with the addition of many more, with traditional cooking methods Jian learned in China. Jian has 15 years of experience as a chef, including cooking for multiple five-star restaurants in China before moving to Spokane.
"Most customers walk in and immediately flip to the combinations, which are nice because they allow people to try a few different dishes of the many we cook," says Wei. "But our garden chow mein with skinny egg noodles, shrimp, beef, chicken, pork and vegetables is probably the most unique for this area."
The Ous have noticed that Americans love the crunchy texture that results from deep frying, so they've incorporated deep frying into some dishes traditionally stir-fried or boiled. The list of dishes that Lai Lai offers is extensive; an eight-page menu is filled with rice and noodle dishes, soups, and chicken, beef, pork and vegetable plates.
Wan hopes that people can come into Lai Lai and not only enjoy their meals, but also learn how healthy Chinese food can be.
"Everything that goes into a stir-fry, including the protein, vegetables and seasoning, can be controlled and healthy," says Wei. "It's nice to offer customers traditional Chinese food and also know that it's nutritional." ♦
Lai Lai Garden Chinese Restaurant • 13008 W. Sunset Hwy., Airway Heights • Open Mon-Sat, 11 am-9 pm • 244-0197 • facebook.com/LaiLaiGardenRestaurant