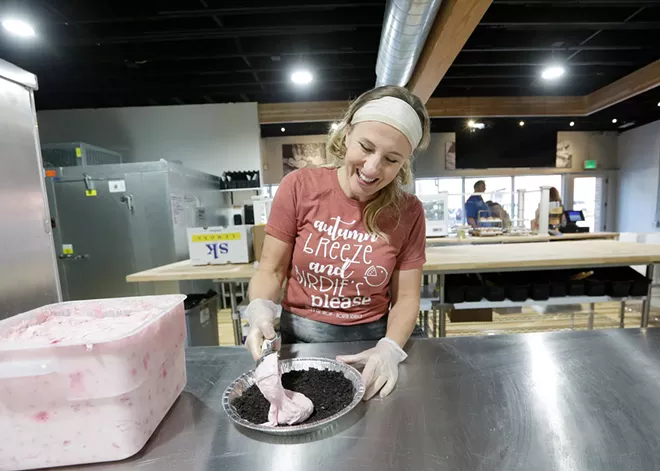 Birdella Cox Lybbert was always baking. Pies and cookies filled her kitchen, awaiting the grandchildren who walked to her white farmhouse after school every day. Her garden was about as big as the house itself, with corn and tomatoes and raspberries for the children to pick and play in.
"I remember just sitting on her porch swing, just kind of swinging back and forth," says Sharee Moss, Birdella's granddaughter. "Just chatting with her, or just sometimes swinging in silence. I don't feel like we ever do that anymore."
Moss is now the owner of Birdie's Pie Shop, a made-from-scratch, pie-only bakery named for Birdella and committed to sharing her warmth with every customer who stops in. Moss opened the first Birdie's in Post Falls in 2019, then expanded to a second location in Hayden in 2021. This September, Moss opened her third location on Monroe Street just north of downtown Spokane.
"The thing that has been surprising is just the amount of support and love and pie that we've needed to produce in order to keep up with those who have wanted pie here in Spokane," Moss says.
Moss, with blue eyes and blonde braided pigtails, works behind the counter with her "Birdie gals," an affectionate nickname for her employees. Together, they roll out crust after crust in an open-concept kitchen that fills most of the space. As soon as you step in the door, you feel like you're part of the action, shaping the crust, filling the tins, being invited into the controlled chaos of a big family holiday. There aren't any porch swings in the shop, but there are kitchen tables and living room chairs that add just as much cozy.
Birdie's makes sweet and savory full-sized pies ($30-$34), personal pies ($5.95 each or four for $21.50), and pie bites (eight for $18). Flavors rotate daily, but the classics are always available — apple, triple berry, pecan, chocolate and key lime pies for a sweet tooth, and chicken pot pie for a full meal. So far, rotational flavors include a chocolate-banana-peanut butter pie that Moss calls Hunk o' Love, pumpkin cream, caramel apple cider, chili cornbread and a taco pie on Tuesdays. Birdie's also offers a whole slate of gluten-free pies so that everyone can enjoy.
Full-sized pies are 11 inches instead of the typical 9, because Moss wanted to be sure they were big enough to feed a whole family — Moss grew up with 10 siblings and now has six children of her own, so she's no stranger to big meals. The full pies are take-and-bake, so you can fill your home with the aromas of freshly baked pie without the hassle of rolling dough.
Though most of the pie shop is a love letter to family heritage, Moss starts her own tradition by ditching pie slices and making personal pies instead. Just 5 inches wide, it's a perfect miniature pie that you're supposed to finish all by yourself.
"It's so much more intimate," Moss says. "It's not messy. It's just like this perfect little thing."
You can mix and match flavors and buy four personal pies in a discounted "quad," so that everyone gets a flavor they like (or you get to try lots of different kinds). Moss and her six new bakers make at least 1,000 personal pies every day to keep up with demand in Spokane alone, not to mention the full-sized pies and tiny pie bites.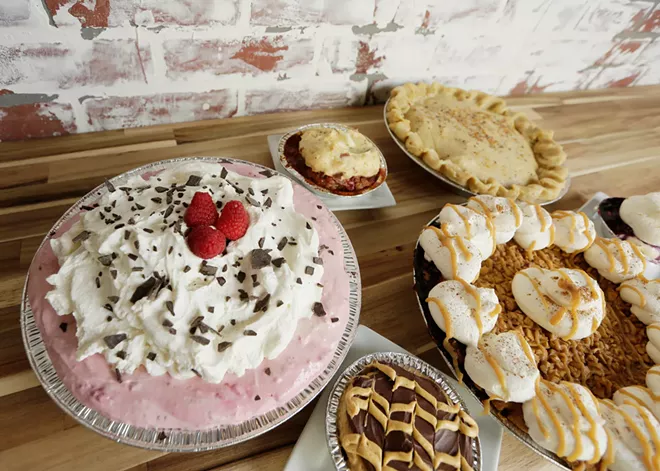 Moss has been baking ever since her elementary school days with Grandma Birdie.
"She taught me all the ins and outs of baking [by] just being able to work side by side with her," Moss says. "She was the classic grandmother. 'Oh, well, it's just a pinch of this and a dash of that.' There was no true recipe."
Moss studied to be a pediatric nurse, eventually taking care of people in the emergency room at Sacred Heart instead of in the kitchen. Even after opening three pie shops, she still works in the ER about three times a month to keep her skills up.
But no matter what, at 4:30 every Friday afternoon, she drops everything for a date with her husband, Brad. It's not only essential for their marriage and "cheaper than therapy," she laughs, but date nights were how Birdie's started in the first place.
"I love pie, but there was never a great pie spot," Moss says. "We renovated a building and wanted Post Falls to have this pie shop and were courting some different pie places. But it didn't work out. And I said, 'Well, we're gonna make it happen.'"
Moss's whole family loves Birdie's, and her kids all want to run pie shops, she says. At home, her four daughters and two sons bake alongside her the same way she baked alongside her grandmother. Photos of family baking sessions decorate the walls of Birdie's newest location. In one photo, Moss's daughter Finley, who always makes the whipped cream, holds out a giant whisk with perfectly stiff peaks. Tiny hands that belong to Moss's toddler are cupped in hers, decorating the edges of a crust. Her family has decided there's a charm and power to pie that no other dessert has.
"We call it pie magic," Moss says. "It connects people to people. It connects people to ancestors and people to community. That little morsel, that bite just kind of transports you to that perfect little memory."
Birdella Cox Lybbert died in 2005. But her love for people and baking remains.
"She never got to see the beauty of this," Moss says. "But I'm sure she's smiling from up above." ♦
Birdie's Pie Shop • 712 N. Monroe St. • Open Tue-Thu 10 am-5:30 pm, Fri 10 am-8 pm, Sat 10 am-4 pm • birdiespies.com • 509-241-3192

---
MORE PIE SHOPS
BEAN AND PIE

504 E. Sherman Ave., Coeur d'Alene (Evans Brothers Coffee)

1102 W. Summit Pkwy., Spokane (New Love Coffee)

208-930-4065,
beanandpie.com
BLISSFUL WHISK
1612 N. Barker Rd., Spokane Valley
509-242-3189, blissfulwhisk.com
CHAPS DINER AND BAKERY
4237 S. Cheney-Spokane Rd.
509-624-4182, chapsgirl.com
EUROPA RESTAURANT & BAKERY
125 S. Wall St., 509-455-4051 europaspokane.com
GOOSE HOUSE BAKERY
Moscow (pop-up)
goosehousebakery.com
LIL' PUNKIN PIE CO.
7790 N. Atlas Rd., Coeur d'Alene
208-762-3289; prairiehomefarm.com
MADE WITH LOVE BAKERY
2023 W. Dean Ave.
509-919-0041, mwlbakery.com
miFLAVOUR MODERN FRENCH BAKERY
3403 E. Sprague Ave.
509-315-4516, miflavour.com
MILLER'S COUNTRY STORE
1326 Baldy Mountain Rd.
Sandpoint, 208-263-9446
millerscountrystoresandpoint.com
MOTHER BEAR'S BAKERY
Colbert (pop-up)
509-818-0127
motherbearsbakery.square.site
OLIVE'S PASTRIES AND PIES
26433 W. Hwy. 53, Post Falls
208-800-5684, olivespastries.com
PASTRY AND MORE
411 W. Haycraft, Coeur d'Alene
208-667-3808, pastryandmore.com
PATTI'S PIES
Spokane (pop-up)
509-220-7640, pattispies.com
PIE HUT
502 Church St., Sandpoint
208-265-2208, Facebook: Pie Hut