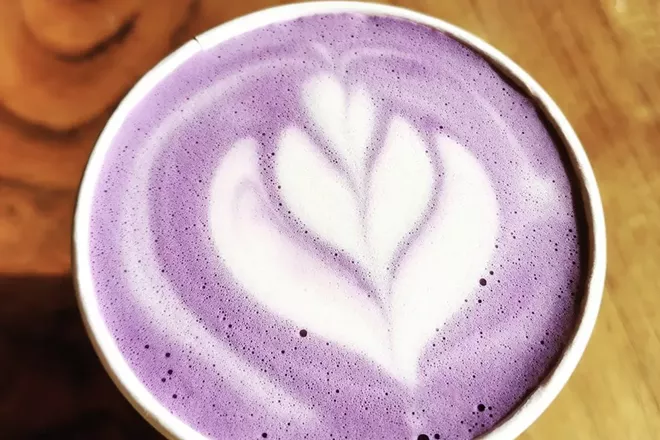 In a world of crowded cafes and fast food on every corner, Cafe Boku Coffee & Crepes seeks to set itself apart. More than a traditional cafe and coffee shop, Cafe Boku offers a unique range of food and drink items, including its signature, stretchy "Bokujuku" crepes, purple ube lattes, coconut pandan lattes, delicate French-style crepes, and crunchy "croffles" topped with unctuous whipped cream. Along with all of this, owners Steven and Melinda Kelly are intent on offering one more thing: community.
"We want to create experiences where you can basically get on a flight and leave and still be in your own backyard. But we don't wanna do that at any sort of corporate level. What we wanna do that at is a fundamental, community level," Steven says.
Self-described melting pots, Steven and Melinda Kelly created Cafe Boku to introduce locals to the flavors of their childhood, and dishes people wouldn't otherwise find in the U.S., much less within Spokane. Steven grew up in places around the world and is part Syrian, and Melinda is Cambodian and Vietnamese. Cafe Boku's cuisine is inspired by cuisines across the globe, including those of South Korea, France, Japan, the Philippines and Southeast Asia.
One of the most popular flavors featured at Cafe Boku is ube, a marshmallowy, nutty root vegetable, and one of Melinda Kelly's favorite ingredients.
"Ube is a purple yam from the Philippines, it's really commonly used in desserts there, and it tastes like Fruity Pebbles cereal," she says. "I had a customer tell me it tasted 'purple.'"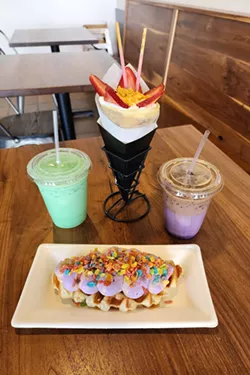 This unique ingredient is showcased in Cafe Boku's ube croffle ($8.95). Popularized in South Korea, a croffle is a hybrid between a croissant and a waffle. The well-proofed croissant dough is prepared in a waffle maker, resulting in a crunchy pastry with a buttery, flaky center. Cafe Boku's ube croffle is a crunchy and light croffle that's topped with ube jam, thin banana slices, a cloud of purple ube whipped cream, and finished with caramel sauce and Fruity Pebbles.
Another notable dish is the Bokujuku crepe, a riff on Harajuku-style crepes from Tokyo's Harajuku district. These tapioca and rice flour crepes make for a stretchy, durable wrap to hold fillings like sweet chili chicken ($12.95) and the sweet strawberry crunch ($9.95). For those who want a traditional egg-based crepe, Cafe Boku serves a variety of sweet and savory French-style crepes.
Cafe Boku also offers a range of specialty lattes, including the ube latte, pandan latte, Zebra Mocha, and Creme Bru Latte to name a few. While Cafe Boku's impressive list of internationally inspired drinks and dishes might excite some cafe-goers, Steven Kelly recognizes that others may be intimidated. Because of this, Cafe Boku offers drink insurance: If you don't like your drink, they'll make you something else. Or, you can throw it at them.
"As a part of our accountability and our business model, we can't accept any amount of money for something that is not going to be delightful in essence, right?" says Steven, "We're gonna make sure that's gonna be something that you love... or you get to throw it in our face."
While Kelly jokes that they've "only had 18 drinks thrown at the staff," it's clear that Cafe Boku intends to be a comfortable and welcoming space for people to try unique flavors without judgment.
"Nobody that's ever going to walk into our establishment is ever going to be judged because they don't know what's on the menu," Steven says. "That's the whole reason we have it. We accept all of the levels of knowledge. We know for a fact that we can give you that bridge to help you enter this world, and then be prepared to go out and try more exciting, new things. We wanna share the love." ♦
Cafe Boku Coffee & Crepes • 915 E. Hawthorne Rd., Suite A • Open Thu-Mon 8 am-1 pm • instagram.com/cafebokuspokane • 509-443-3543