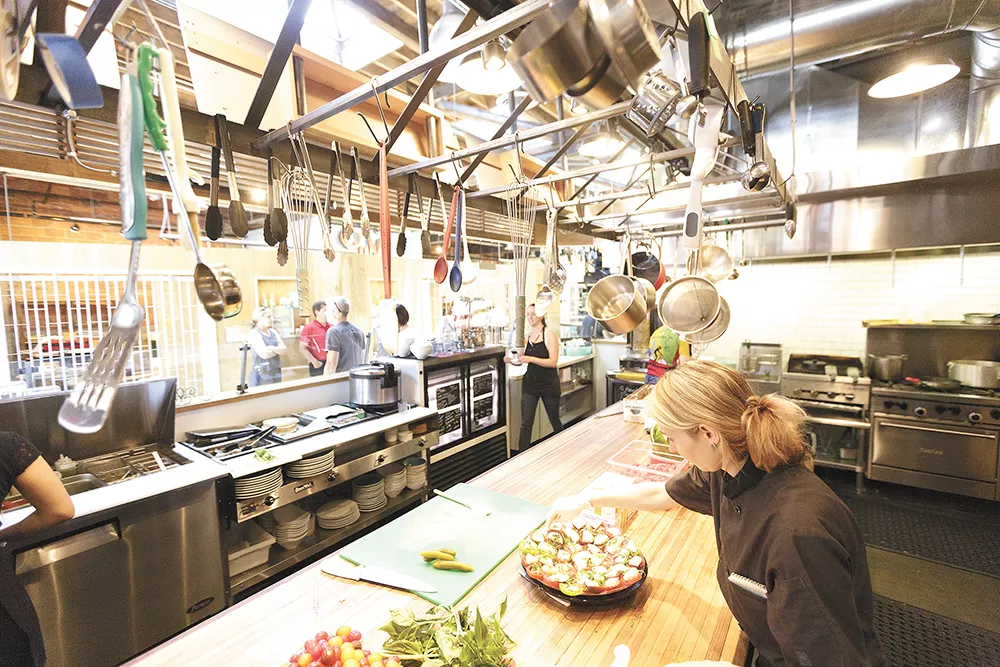 Even as we celebrate the continued growth of the Inland Northwest's dining and nightlife culture, sometimes we're forced to bid farewell to places we wish we didn't have to.
Places like the Swamp Tavern, which saw its last weekend late last month, quietly closing after decades in business. The Browne's Addition-adjacent pub had long been host to community bike rides, warm summer nights on the back patio, live music and more.
Another casualty came with the recent shuttering of Mediterrano, the Mediterranean eatery inside the Saranac Commons indoor market. Opening in spring 2015 and offering gyros, rice bowls, salads, housemade hummus and other Greek-inspired fare, it officially closed in early February. Owner Shahrokh Nikfar, who also operates Caffé Affogato inside the Commons, posted on Mediterrano's Facebook page that he has plans to sell the business, and that its closure doesn't affect the Caffé. He mentioned road construction, harsh winter weather and the personal stresses of running both businesses, while also working as a community activist and making time for his family, as reasons for the closure.
Citing the recent Washington state minimum wage increase and "soft sales," owners of the local Irish pub O'Doherty's closed their North Spokane location in mid-January. O'Doherty's flagship downtown restaurant and its Spokane Valley location remain open.
Also on the North Side, Tonicx bar across from the Five Mile Shopping Center marked its final days after 10 years of business. Connecting location Ash St. Tacos is also part of the closure, but owners say on Facebook that another restaurant/bar is already planning to move into the newly vacated spot.
A third North Spokane dining spot that recently closed didn't leave sushi lovers high and dry for long. Yuzen Japanese Restaurant — frequently lauded by local chefs as one of the area's best places for sushi — on North Division near the NorthTown Mall closed in late January after five years of business. Yuzen's space has since been filled by the new Aji BBQ and Sushi.
In Coeur d'Alene, neighborhood coffee spot Java on Sherman just closed its doors, a move that comes three years after it moved four blocks from its original Sherman Avenue location. Java was a Coeur d'Alene mainstay for more than two decades, and loyal customers can still visit the Java Hayden location in the Prairie Shopping Center.
The White Box Cafe & Bakery on North Division has also closed after an impressive 15-year run. Owners indicated in a Facebook post that they may decide to offer online-only orders or sell their baked goods at local farmers markets, but have yet to announce anything about those potential plans.
Though patrons of these local businesses are understandingly sad to see them depart, there's plenty of food newness arriving to the region, or on its way.
Opening last month in downtown Spokane, Urban Nirvana is a new specialty tea and coffee shop at 108 N. Washington.
If you're a devotee of the popular Panera Bread chain — known for removing food with artificial ingredients from its menu — you'll be glad to hear a new outlet just opened in North Spokane, at 6650 N. Division (near Lowe's). This is third Inland Northwest store for the chain, joining a list that also includes Spokane Valley and Hayden, Idaho.
While we've covered several food-business debuts in recent issues of the Inlander (find these stories online at Inlander.com/food), there are several notable launches we're keeping an eye on, including the pending reopening of local landmark The Viking sometime later this month. The longtime hangout near the Spokane Arena is under new ownership of the Talotti family, local restaurateurs who also own the Red Lion Barbecue, Pacific Avenue Pizza and Whisk bar.
As of January, Coeur d'Alene is now home to the Texas-style barbecue chain Dickey's Barbecue Pit. The Hanley Avenue spot is now its second regional location, joining one in far North Spokane at Wandermere that opened back in 2013.
We're also keeping an eye out for a coming downtown location of the local chain Sushi Sakai, set to take over the corner spot in the Lincoln Building most recently occupied by MacKenzie River Pizza Co.
Later this spring or summer, the former Jones Radiator bar spot on East Sprague comes back to life with the debut of Community Pint, a tap house and bottle shop operated by local homebrewer TJ Wallin. ♦