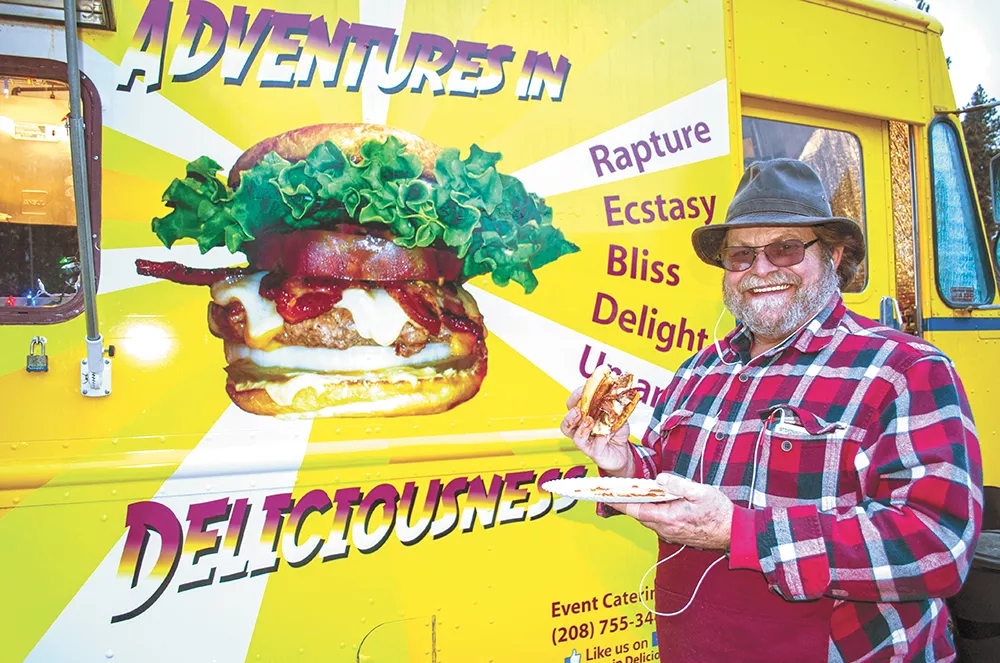 He swivels from task to task in the narrow aisle of his food truck, placing the patty on the grill and beer-battered onions rings in the fryer, slathering the toasted bun with barbecue sauce, setting the bacon to sizzle and spurting the melting cheese and meat with liquid smoke.
DJ Megow is cooking up his BBQ Bliss Burger — a juicy and carefully assembled pile of the abovementioned ingredients — inside Adventures in Deliciousness, the food truck he launched in November.
Ever since he was 14, Megow wanted to own a restaurant. First he worked at an ice cream parlor, then in various restaurants over the following decades. But it wasn't until last year that the 61-year-old made his dream a reality.
"I've always wanted a restaurant," says Megow. "Now I have a mobile restaurant."
The truck, parked on a gravel lot next to Lloyd's Tire and Automotive on Government Way in Coeur d'Alene, stands out with a splash of bright yellow and a blown-up photo of Megow's Rapture Classic Bacon Cheeseburger. It and the BBQ Bliss form the foundation of the five-burger menu.
Each burger ($6-$10) is fresh-ground and hand-formed Angus chuck, cooked to your choice of rare, medium or well, seasoned with DJ's Secret Gourmet Salted Seasoning, which he invented during one of his jobs at a prime rib restaurant.
Megow makes all of his own seasonings and sauces from scratch. The Chorizo and Egg Delight Burger features his own chorizo spice and chipotle mayo paired with American cheese, tomato, a fried egg and onions caramelized in organic maple syrup and Jim Beam. DJ's Honey Bleu Dressing is the highlight of the Umami Supreme Bacon Bleu Burger, stacked with lettuce, tomato, bacon, a disc of bleu cheese and the caramelized onions.
You'll find his Honey Bleu Dressing paired with one other menu item: Mac'n Cheese Bacon Balls. Dunk these deliciously dense beasts (3 for $5) of deep-fried, six-cheese shell mac wrapped in bacon in the dressing, or into a cup of DJ's Spicy Asian Soul Sauce. To bulk up your meal even more, add a small order of fries ($1), onion rings or extra-large seasoned fries ($3) to your burger. ♦
Adventures in Deliciousness • 3025 N. Government Way, Coeur d'Alene • Mon-Fri, 11 am-5:30 pm; some Saturdays • Facebook: Adventures in Deliciousness • 208-755-3446