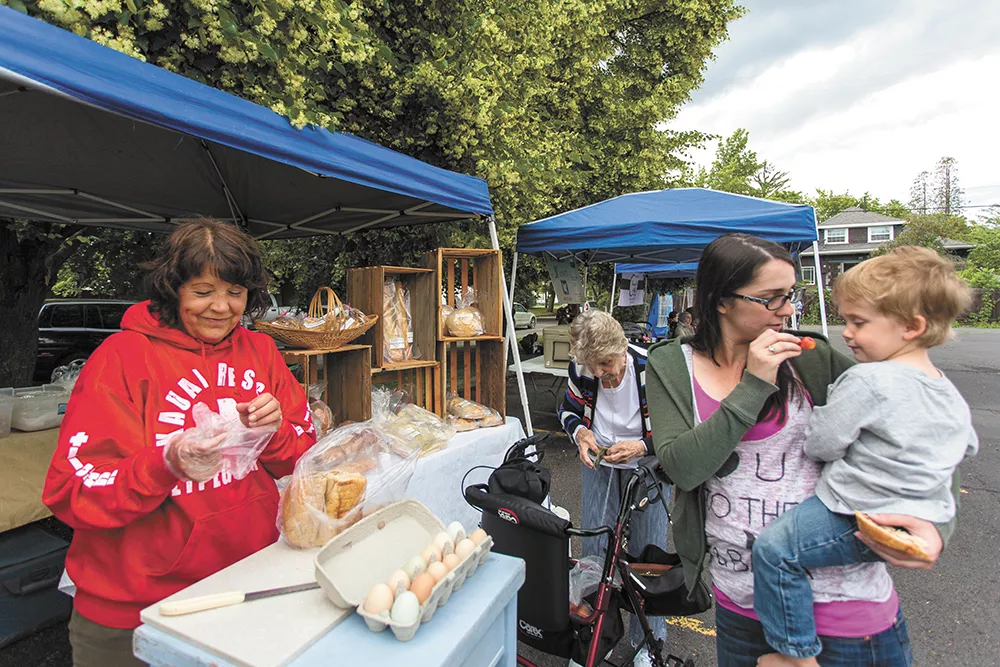 Sure, Dave Musser likes that he can get fresh vegetables and other produce in his Emerson-Garfield neighborhood, but that's not why he's most excited about his community's new farmers market.
"I really enjoy being there and helping people set up and connecting with the different people. Not just the vendors, but people from my neighborhood," says Musser, who helped found the market last summer and continues to help set up the Emerson-Garfield Farmers' market every Friday afternoon in the parking lot of the Knox Presbyterian Church.
The notion of bringing the neighborhood of about 10,000 people an outdoor market, inspired by the success of the South Perry market, was born at a neighborhood council meeting as more of a "what if" idea that could improve the area. Sixty days later, Musser and E.J. Iannelli, an Inlander contributor, had their market off the ground. Now in its second year, the Emerson-Garfield market is home to about 25 vendors, ranging from produce to soaps, baked goods to clothing, every Friday from 3 to 7 pm.
Iannelli says that a farmers market can be a tool to revitalize an area like Emerson-Garfield, which stretches out both east and west from Monroe Street north of downtown Spokane.
"We started out with the intent of improving this community, but it wasn't calculated. It was just done with the best of intentions," says Iannelli.
So far, those intentions have paid off, with more and more people visiting the market, which has room to grow in the church parking lot, donated by Knox. Most Fridays you'll find a strong contingent of kids who arrive with their parents, but soon congregate around the sidewalk chalk.
"I have two little ones and they love this market," says Musser, 32, who stays at home with his kids when he's not working as a church pastor. "People are just standing around and talking to each other, and some of that has resulted in businesses connecting, which is something we've needed around Monroe."
Musser, who grew up in Otis Orchards, moved to the neighborhood with his wife almost nine years ago, and had friends who thought they were crazy for heading to what those friends considered a shady area. They shrugged that off and have since been trying to improve the area they've come to call home — and Musser says he'd recommend starting a market to others looking to get their neighbors connected and involved in the community.
"We get to be a part of shaping the culture of [Emerson-Garfield], and do it in a small way here with the farmers market," he says. ♦
Emerson-Garfield Farmers' Market • Fridays, 3-7 pm • Knox Presbyterian Church • 806 W. Knox • emersongarfield.org • 720-7350