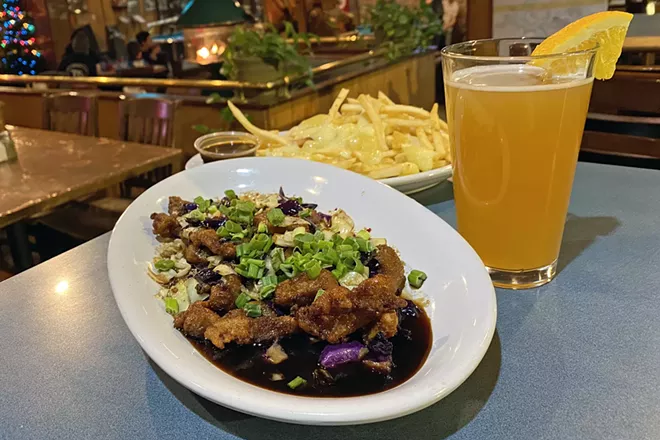 Coeur d'Alene's downtown corridor is rich with restaurants and assorted drink spots, but few have endured as long as the Iron Horse Bar & Grill, which opened in 1972. The Sherman Avenue business is actually two-part. The large bar area, well-known for serving "derailer" cocktails in a white plastic bucket, has an adjacent live event space with one of the better dance floors in town, especially in the summer when "the Horse," as this beloved establishment is known, rolls up its garage doors. The other part is the old-timey steakhouse, which since October 2022, is under new ownership.
Fifty years after the launch of the Iron Horse, longtime North Idaho-based chef and restaurateur Jason Rex has taken over the kitchen, balancing longstanding favorites with the upscale pub food he's known for, including at his nearby Collective Kitchen Public House (501 E. Sherman Ave.).
The revamped Iron Horse menu includes updated faves like smash burgers ($10-$11), 8- to 16-ounce steaks ($19-$36), and the ubiquitous weekend prime rib dinner ($22). Weekends also mean breakfast, with stick-to-your-ribs classics like biscuits and gravy ($6) or steak and eggs ($14).
The menu also includes new dishes like ahi poke bites ($6), a black bean burger ($11) and lamb in a red wine butter sauce ($23). Happy hour from 2 to 5 pm daily is a good deal, too, with shareables like poutine ($6), loaded nachos ($8) and crispy Asian beef strips ($7), plus drink specials. Follow @IronHorse Cda on Facebook for more.
TRANSITIONS
Is it a bagel shop that sells ice cream? Or an ice cream shop that sells bagels? THE SCOOP is both and has recently expanded its offering at its Kendall Yards location (1238 W. Summit Pkwy.) to include scratch-made bagels from its sister bakery, HIDDEN BAGEL, based inside the Scoop's South Hill headquarters (1001 W. 25th Ave.). Visit hiddenbagel.com.
You can also find bagels at TWENTY-SEVENTH HEAVEN bakery, which relocated late in 2022 from its South Hill spot to a new, larger space at 105 S. Madison St. Baked goods include scones, cookies, coffee cake, and several sizes and flavors of scratch-made bread, as well as a few quick lunch and breakfast snacks and assorted coffee, tea and related beverages. Visit twentyseventhheaven.com/menus.
In related news, LUNARIUM, a late-night pop-up inside Twenty-Seventh Heaven's space, closed in August 2022 and is counting down until it reopens in its new home at 1925 N. Monroe St. in the former Atomic Threads Boutique (now on the corner). Look for popular beverage options — Vietnamese coffee, tea by the pot — plus both sweet and savory treats like cookies and avocado toast. The larger space will also allow Lunarium to expand its menu and pop-up event offerings. Visit lunariumspokane.com.
SOUTH HILL GRILL is relocating from the Lincoln Heights retail area farther south to 2911 E. 57th Ave., in the former Rock City Grill location. The move concludes a challenging time for the popular eatery, which faced losing its original space to make way for a Chick-fil-A restaurant that's reportedly since been halted. Stay tuned for details on South Hill Grill's new digs or visit on Facebook @SouthHillGrill.
In Spokane Valley, MARANDO'S BAR AND RESTAURANT (11420 E. Sprague Ave.) is shuttered while it searches for a new spot to serve up its wide array of Latin American dishes. In the meantime, MARKET STREET PIZZERIA is slated to go into the Sprague Avenue space, expanding from its original Hillyard location at 2721 N. Market St., so stay tuned for details on both businesses in the months ahead.
CLOSURES
Although 2022 brought more restaurant and related food business openings than closures, we recently said goodbye to the following places:
Evans Brothers Coffee Roasters, inside the Wonder Building at 835 N. Post St.
Fresh and Foraged, 410 E. Holland Ave.
Gross Donuts, Coeur d'Alene location only at 445 W. Cherry Ln.
Jimmy B's Pizza Parlor, 7115 N. Division St.
Lone Mountain Farms & Brewery, Hayden Taphouse location only, 324 W. Lancaster Rd.
New Harbour Restaurant, 1830 N. Division St.
Wasabi Asian Bistro & Sushi Bar, 10208 N. Division St. ♦
To-Go Box is the Inlander's regular dining news column, offering tasty tidbits and updates on the region's food and drink scene. Send tips and updates to [email protected].