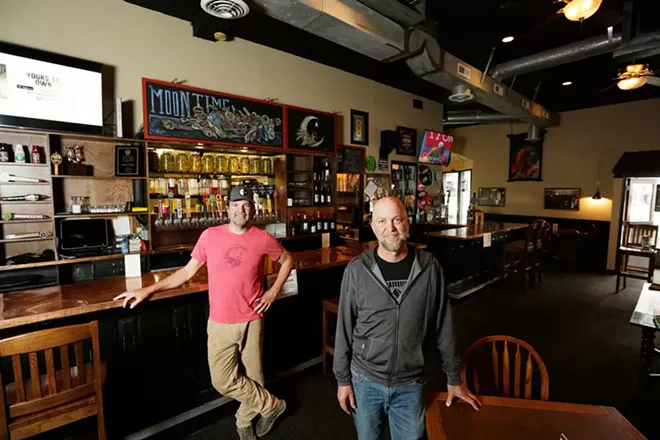 T
o celebrate the reopening of its dining room and patio
two weeks ago, Cosmic Cowboy Grill in Coeur d'Alene threw a party.
A socially distanced, parking lot party, that is. For an hour that evening, customers gathered to eat barbecue sandwiches and enjoy a performance by local musician Just Plain Darin, mindful of staying at least 6 feet apart from each other.
"We were very busy on Saturday, and universally everyone I talked to says that it felt like the height of summer in Coeur d'Alene," says Cosmic Cowboy owner Steve Eller, who opened a second location in Spokane at River Park Square just weeks before the coronavirus shutdown.
"We're happy to be open even at 50 percent," Eller adds. "We're still selling a higher percentage of food for to-go and delivery, and we're fine with that and happy to be selling it at all."
Idaho's earlier move than Washington to start reopening the economy, including hard-hit restaurants, began May 16. Across the state line in Spokane County, however, local business owners were still anxiously awaiting expedited approval from Gov. Jay Inslee to move to Phase 2 of Washington state's reopening plan. Spokane County received that approval today ahead of the Memorial Day weekend.
For some local restaurants that operate locations in both states, the staggered rollout allowed owners and staff to get a preview of how the stricter sanitation guidelines and limited seating would look once Washington caught up with Idaho.
Other restaurants in North Idaho celebrated being able to again serve diners tableside the week before Washington, including Moon Time in Coeur d'Alene and the Porch Public House in Hayden. The two pubs are under the same local ownership as the Elk Public House, Geno's, Two Seven Public House and El Que bar in Spokane.
"It does feel a little like a trial run for opening in Washington, even though things are different in Idaho," says restaurant group co-owner John Grollmus. "We were really busy, you know, as busy as we can be with 50 percent of tables. And what we're seeing is there is still a lot of to-go food since not everyone is going out, so it felt like the lack of tables was compensated by to-go to some degree."
Half-capacity for dine-in service at the Porch and Moon Time brings each restaurants' maximum occupancy down to between 50 and 60 customers from around 110 seats, Grollmus adds.
While Eller and Grollmus agree there are setbacks and challenges that come with the phased reopening plans in Washington and Idaho, they're also both grateful to be reopening at all after two months of takeout-only service.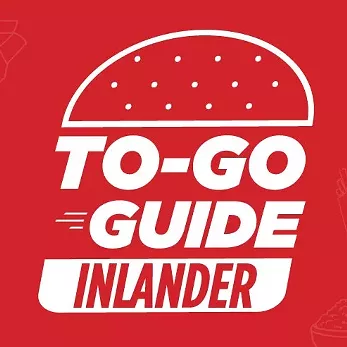 "There are things we have to do now, in terms of staffing, like having more people to make sure that things are staying clean, and having people to maintain orders and keep people from congregating in the entry, and all those measures make it hard to make money," Grollmus explains.
"But on the flip side, I've been seeing a lot of negatives coming from other restaurant owners [about this] that I don't understand," he continues. "Even half-capacity is an improvement. It gets people back working and employees getting paychecks and people going out to eat."
At Cosmic Cowboy, Eller opted to temporarily change the fast-casual eatery's format from counter to tableside ordering. It wasn't required by Idaho's guidelines, he says, but made more sense considering the restaurant usually has self-service drinks and a condiment bar, which aren't allowed in this stage.
And, of course, Eller says all of his staff are wearing face masks and gloves, and taking extra measures to disinfect tables and other surfaces throughout the restaurant. The extra attention toward cleanliness is easy for Cosmic Cowboy, he says, since "we've always been really, really clean."
It's the same at Grollmus's five restaurants.
"Being a restaurant, that is always at the very top of our list, keeping things clean," says general manager Marshall Powell. "I don't think the [reopening rules] are overbearing. They are very doable, especially to get open again."
M
any restaurant owners in the region have openly expressed concerns
that operating at 50 percent capacity will tighten their already paper-thin margins, which are depressed after two months of just takeout. A newly passed emergency resolution by Spokane City Council aims to help ease that burden during Washington's phased reopening process.
On Thursday, the council voted to modify requirements for restaurants to apply for sidewalk cafes, parklets and "streateries," all of which can add to a business's outdoor-seating footprint and increase capacity overall.
Sidewalk cafes, as the name implies, allow restaurants to utilize a portion of the public sidewalk, while parklets and streateries are temporary sidewalk extensions that convert a parking space or loading zone on the street into a space for public use. The difference between a parklet and streatery is that the latter is designated for use during operating hours by an adjacent restaurant or cafe, whereas a parklet is always open to public use. While these features haven't been widely used since the city approved its parklet program in 2017, a couple pilots of the program took place on west Main and west First Avenue in summer 2016.
"We suspended the fees through Sept. 31, and the other thing we did was take away the piece where it would have an administrative hearing, because no one attended those," says Councilwoman Lori Kinnear, who led the effort.
The amended process still includes a 10-day comment period for the public or nearby property owners to raise any concerns.
The Elk in Browne's Addition will be the city's first test case, Kinnear says, and has already applied to close off a section of Cannon Street as an expanded streatery that's envisioned to be shared by the Elk, El Que and its neighbors Italia Trattoria, Pacific Ave Pizza and Caffe Capri.
In the meantime, the Elk and El Que also set up expanded patios on its property's west side, as has been done in the past for the Elkfest music festival, says Powell.
"As far as the amount of tables, I think we could replace the tables we lost inside," Powell says.
"That expanded area would let us get to capacity," Grollmus adds. "That is great, but there's also the factor of the weather, which makes it trickier."
As part of the resolution, the city sent a letter to the Washington State Liquor Control Board to encourage a swift rules modification allowing restaurants to serve drinks in these temporary outdoor additions. Kinnear adds that parklets and sidewalk cafes would also be allowed for retailers that seek to display merchandise onto the sidewalk in order to meet social distancing guidelines.
"The idea is to make it as easy as possible for restaurants and retail to open up at a capacity that makes it profitable for them to operate with their employees," Kinnear says.
The soonest restaurants could start moving into these outdoor spaces after Spokane County's approval for Phase 2, she says, would be about a week from the resolution's passing.
"Restaurants are asking us right now," Kinnear says. "We have to get this going immediately."
[email protected]