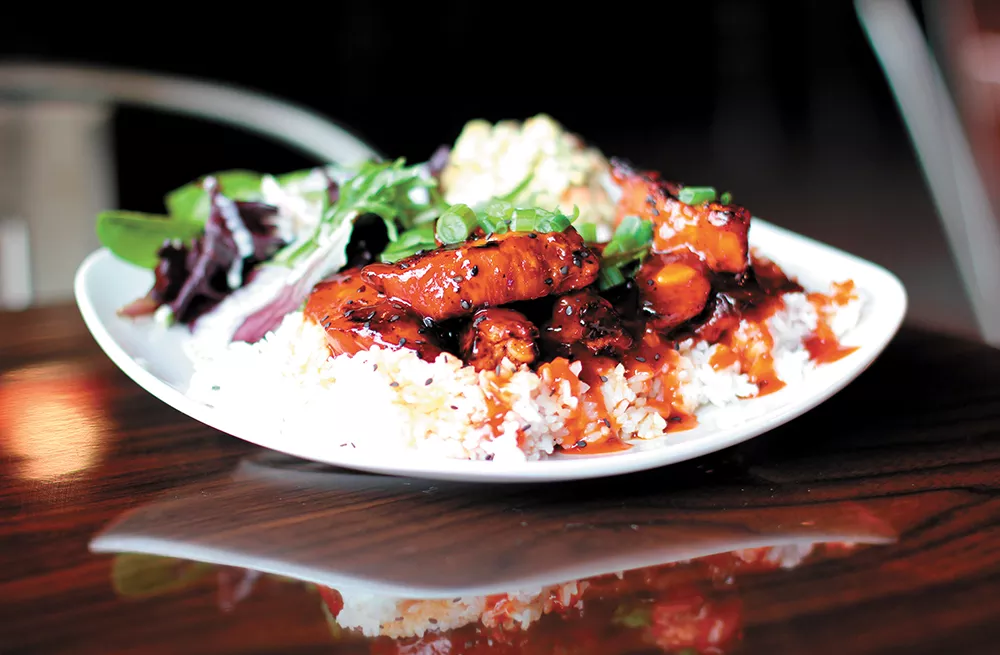 Cheney's loss was Coeur d'Alene's gain when Rokko's Teriyaki & BBQ relocated to the Riverstone development late last year.
"We brought back what I think was missing in the Japanese street food scene," says David Hall, who opened the restaurant with wife Inez Hall in 2012, roughly four years after seeing their daughter off to Eastern Washington University.
After their daughter graduated, the Hall's stayed in Cheney, finding success with Rokko's, which they named after the family dog, a 9-year-old heeler. Their biggest challenge? High employee turnover.
"[Rokko's] food is personal in the way it has to be prepared," Hall says.
They'd invest in employees, only to watch them leave, which meant the couple themselves could not. And they couldn't grow the business.
Hall says they're encouraged by Coeur d'Alene's dining scene, growth potential and companies like Uber Eats, which has been a nice bump for them. Located adjacent to a Starbucks Coffee, Rokko's new Coeur d'Alene location gives the Halls much more visibility than in Cheney, yet the space has seen a rapid succession of restaurants in recent years: Martino Tuscan Grill, Rivelle's River Grill, Melone's Public House and the Mill.
Rokko's street food approach seems to be gelling with diners, however, as have their specials. On Tuesdays, tacos are $2 for a charbroil flour tortilla stuffed with garlicky, gingery, spicy ground beef and wasabi coleslaw. Wednesday is $1 beer night. The restaurant's vibe is hip, casual and fun, with red walls covered in artwork from local ArtCoLab design: a rearing blue dragon, a Japanese-style cat doll, graffiti lettering.
Most plates are priced between $8 and $10 in one of five basic offerings: teriyaki (choose your level of spice and type of protein), salads, barbecue, yakisoba noodle bowls and fried rice. Rounding out the menu are four specials, like the Hawaiian Loco Moco, a hamburger patty over white rice, with an egg and smothered in gravy ($9.75).
The Japanese curry ($10), Hall says, is one of his favorite dishes and reminds him of what his brother-in-law used to make before he passed away. The macaroni salad is Inez's version of something her father used to make, and the stir-fry dishes are all from Inez's mother, Chiyoko Black, whom Hall met while a youngster growing up in the Capitol Hill area of Seattle. That's where he and Inez attended the same school and where Hall spent considerable time amongst Japanese-American communities, including church potlucks where the type and quality of food left a huge impression on him.
The restaurant is one way the Hall family is carrying on these traditions from the past, especially now that their son is working at Rokko's.
"He just watched his grandma make this food since he was a baby," Hall notes. ♦
Rokko's Teriyaki & BBQ • 2360 Old Mill Loop, Coeur d'Alene • Open daily 11 am-9 pm • facebook.com/RokkosTeriyaki • 208-930-0092