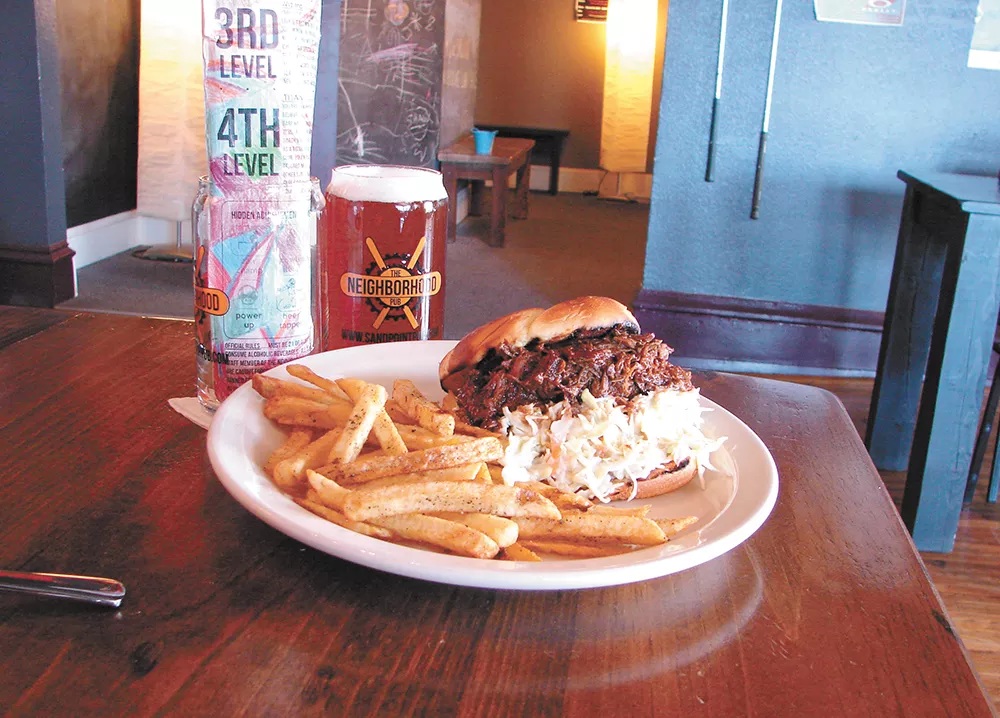 What was once John and Tullaya Akins' Little Olive Restaurant is now Neighborhood Pub, and the couple has taken their original beer list to a whole new level. While sports décor has replaced photos of Santorini villages and hummus has given way to burgers and mile-high nachos, the 100-plus beer list is now six levels of epic adventure called the Beer Club — it's sort of like Fight Club meets Super Mario.
Drink 50 beers and you've passed level one. Congratulations, "Beer Whisperer." You've earned a beer can-shaped glass emblazoned with the Pub's logo. Only five levels — and 500 beers — remaining to achieve "Bill Murray" awesomeness.
"This fits our personality more," says general manager Wyatt Langley of the format he and John developed — over a few beers, of course — after taking a gamification class from coursera.com (typically used by educators to incorporate game-style elements into curriculum).
Langley estimates that there are 500 members in the free club, the rules of which are simple: "I will talk about beer club" and "I will trust my server, if I'm indecisive."
Since beer-drinking is hard work, fuel up on appetizers like pot stickers ($9) or sandwiches like the Po' Boy Grinder with grilled shrimp ($12) or the Kootnai Cubano with slow-roasted pork, capicola ham and cheese ($11). Customizable menu options include burgers and wings, which can be ordered bone-in or not, tossed in sauce like the Bob Marley (jerk barbecue and coconut) or teriyaki and accompanied by any of four dipping sauces ($10).
Not much for video games, even simulated ones? The pub has old-school board games like Jenga, Uno and Pictionary to play on-site. On Wednesdays, bring your thick-skinned friends for Cards Against Humanity night, which is plenty hilarious even without adding alcohol.
If you're game, try a Taj Mahal. Or the Sockeye Powerhouse Porter. Maybe Heretic's Evil Twin. To get credit, Beer Club members should get their list signed off. And, as the owners note in the Club rules on drinking responsibly, everyone should know when it's time to tap out. ♦
Neighborhood Pub • 124 S. Second Ave., Sandpoint • Open Mon-Fri, 11 am-10 pm; Sat, 10 am-10pm; Sun, 10am-9 pm • sandpointpub.com • 208.597.7499