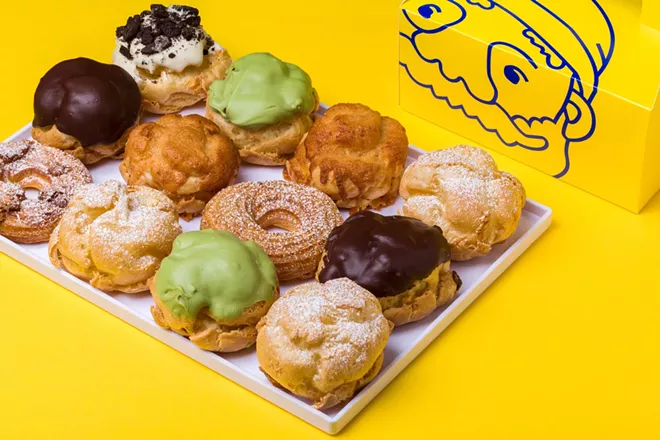 With roots in Osaka, Japan, Beard Papa's recently expanded to the Inland Northwest with the opening of a new franchise location of the international dessert chain.
The cream puff bakery takes its name from its original owner, who was lovingly referred to as "Beard Papa" for his fluffy white beard. Yuji Hirota's mission was to create light and airy cream puffs and house-made custards to leave his customers smiling. Since that fateful founding 24 years ago, Beard Papa's now has more than 400 locations worldwide, with one of its newest on the edge of Spokane.
Local owner Marc Bryant has always considered himself an entrepreneur. He didn't know what form this passion would take, however, until his Japanese wife, Sawako Hiraoka, introduced him to Beard Papa's before a Mariners game in Seattle. After that first bite of cream puff, Bryant says he's been "hooked ever since."
Beard Papa's puffs are double-layered, French-inspired choux pastries. Traditional choux rises in the oven as the dough's high moisture content evaporates, creating its light and airy texture. What sets Beard Papa's pastries apart from traditional choux is a double-layer technique, employing pie crust dough for the outside layer. The fillings are made from a blend of whipped vanilla and custard cream.
The couple spent years searching Spokane for a location to open their own version of Beard Papa's before finally debuting the bakery in January. The store's grand opening gained ample traction, with a line stretching down the block, affirming the couple's decision to bring its treats to Spokane.
Beard Papa's model engages customers at each step, and the ordering process is simple. Customers are invited to select a cream puff shell from eight different flavors, priced from $3.75 to $4.25 each. Pastry dough flavors include the "plain" original, churro, Oreo cookie crumble, honey and butter, chocolate, s'mores, strawberry, and green tea. Next, customers pick from among four choices of rich custard filling: green tea, strawberry, chocolate or vanilla.
Beard Papa's cream puff combos are endless, resulting in lots of nontraditional flavors. The shop also offers other desserts, including a creme brulee puff, chocolate fondant, custard cheesecake, and cinnamon rusk, or sweet biscuit.
Bryant's personal favorite cream puff combination is churro with strawberry filling, a crunchy cinnamon-dusted shell, filled with tangy, sweet strawberry custard.
"There's something special about that churro," he says. "I'm not even a cinnamon fan."
From the shop's vibrant yellow hues to its colorful variety of fresh cream puffs at the counter, Beard Papa's is designed to spark joy. Bryant's favorite thing about Beard Papa's opening has been interacting with the community.
"Seeing different faces, and then just seeing how this has impacted people... Getting nice feedback from the community" are some of his personal highlights, he says.
The couples' plans to expand the shop's current offerings include adding boba tea and espresso, a mobile food truck, and even expanding to a second location in the Spokane area. Bryant wants to spread the joy of Beard Papa's, and already customers are coming from all over the city. Whether they've had a cream puff before or are trying one for the first time, Bryant says many appear to leave happier than when they first arrived.
"When people walk around and see their cream puff being puffed in front of them, little childrens' eyes light up, adults' eyes light up — they've never seen it before," he says. "That unique experience of seeing it made in front of you speaks for itself." ♦
Beard Papa's • 4808 E. Sprague Ave. • Open Mon-Thu 10 am-7 pm, Fri-Sat 10 am-8 pm, Sun 10 am-5 pm • beardpapas.com/spokane • 509-290-5128