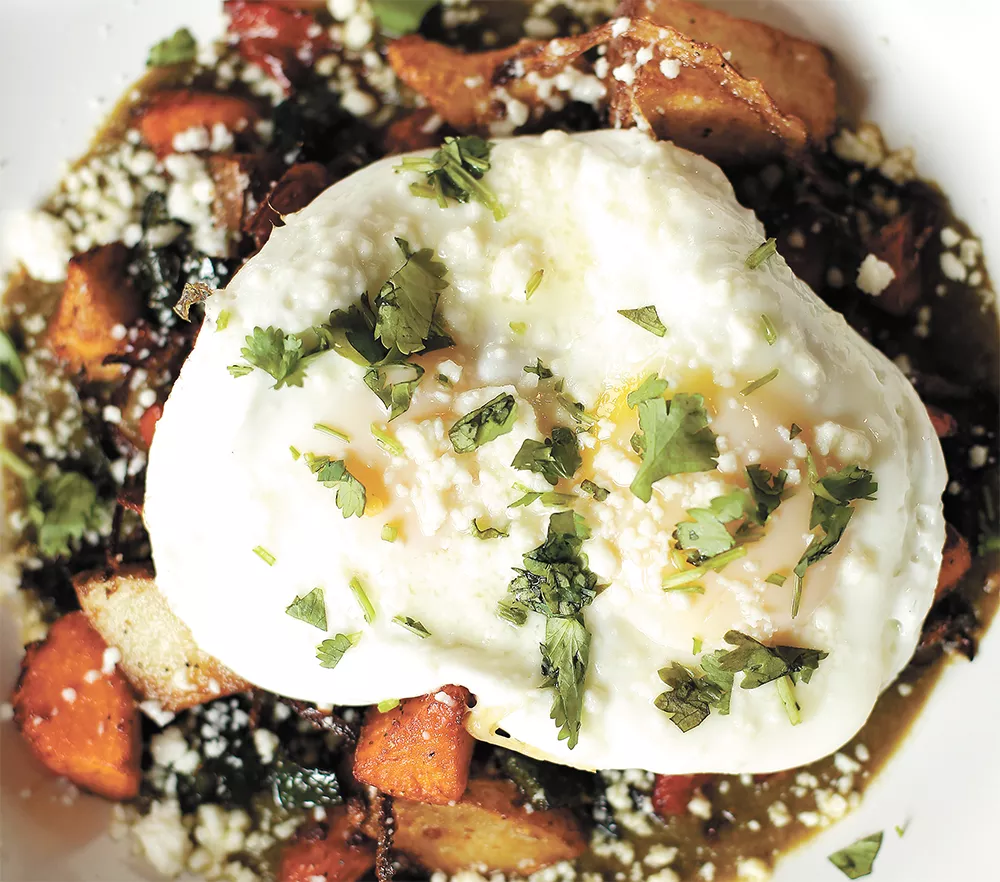 Husband-and-wife team Allen Skelton and Joile Forral don't go looking for specific dishes on their dining travels. The pair behind the Couple of Chefs food truck and catering business instead scan menus for fresh approaches. And most important, fresh ingredients.
"We go for if you can look at the combination and know they made it, because we can tell if they're bringing something in that's premade, preprocessed," Skelton says. "We can look at a menu and be like, 'We don't want that.'"
Push the proprietors of the new breakfast-focused Bruncheonette, though, and they'll admit to a couple of personal favorites — both of which you can find on the menu at their new Broadway Avenue eatery.
"Chicken-fried steak," Skelton says.
"Corned beef hash," Forral adds.
"But real corned beef hash," her husband chimes in.
"Not out of a can," Forral agrees.
"We're a sucker for corned beef hash," Skelton says. "We're a sucker for anything slow-roasted that's on a menu."
"Or even Mexican-influenced," Forral says.
"That's true," Skelton says. "We're like, 'You're going to throw chili peppers in this? All right!"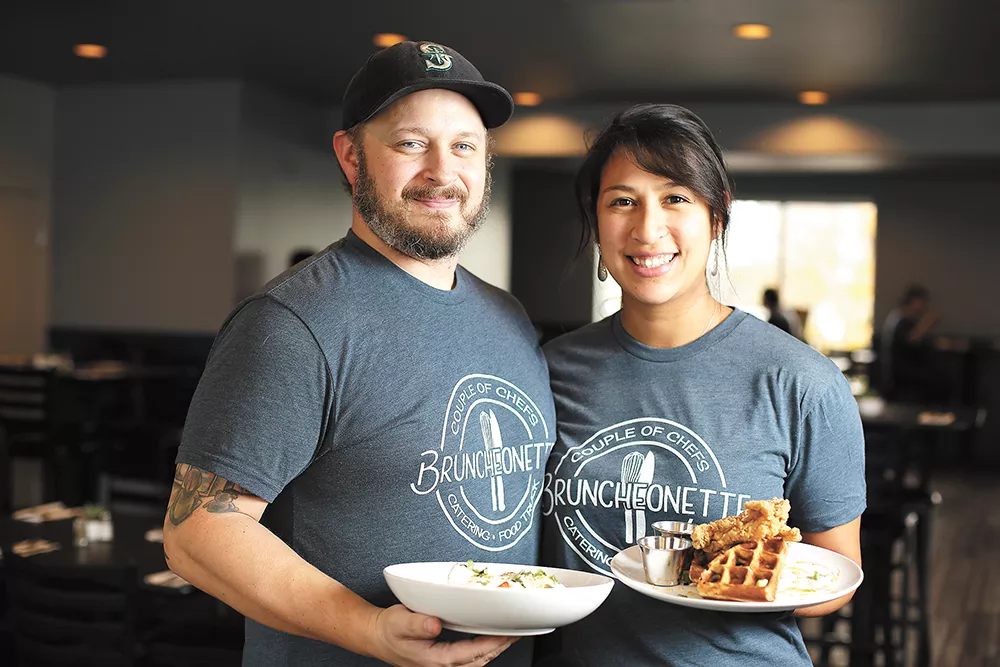 Skelton and Forral are the kind of food geeks you want opening a new restaurant in your town. They met at culinary school in Portland nearly a decade ago before moving to Spokane and eventually starting up their catering company, and in 2011, their Couple of Chefs food truck — voted the best in the region by Inlander readers earlier this year. They're passionate about supporting other local businesses, making their food from scratch as much as possible, and exploring restaurants near and far for inspiration that can ultimately lead to new dishes and subtle additions to their own menu. They even spent their honeymoon food-foraging through the bustling culinary scene in Austin, Texas.
The menu at Bruncheonette is dotted with flavors and influences they've picked up through their travels and past experience. The Verde Hash ($12), a delectable combination of pork carnitas, sweet potato, red potato, poblano, caramelized onion, red bell pepper, queso fresco cheese, verde salsa and eggs (there's that Mexican influence), was influenced by a dish they found at a spot called Gravy in Portland.
"It was just a combination we thought really went well together," Skelton says. "I'm not ashamed to say when we've traveled and found something we like, to say, 'That's where we got it from.' There's no reason not to give credit where credit is due."
Elsewhere, you'll find creative creations like the Chilaquilas ($12), a Mexican lasagna-like treat layering corn tortillas, chorizo, green onion, guacamole, queso fresco cheese, cherry tomatoes, cilantro, salsa and scrambled eggs, and a Tamale Waffle ($11.50) that comes covered in spiced shredded beef, cherry tomatoes, pickled jalapeño, lettuce, crema and eggs. If you like your breakfast more "classic American," you'll find it with the chicken and waffle ($12.50), biscuits and gravy ($8) or the chicken fried steak ($13). I'll suggest getting a side of bacon, as it's both delicious, and at $3 for three meaty strips, a great deal compared to some spots that gouge you for far-lesser salty swine treats.
Bruncheonette serves Roast House as its regular drip coffee, along with a rotating selection of other local roasters available as French Press specials. There's a full bar for everything from Bloody Marys to rotating handles of local craft beer and cider. If lunch is more your speed, a menu of "handhelds" familiar to food truck regulars is available, including burgers, roasted turkey sandwiches and "The Rude-Ben."
The spot at the former Knockaderry bar is bright and airy, and came available just a few months after another location fell through at the last moment.
"We've been actively looking for a restaurant space for the last two years," Forral said. "In February, we were a signature away, and the whole thing fell apart. I was just super-heartbroken."
They put plans for a brick-and-mortar spot on the back burner and turned their attention to a busy summer catering season when Skelton saw the sign that Knockaderry had closed. They called their realtor immediately.
"We were able to get in," Forral says, "and as soon as we saw it were like... "
"We saw the vision," Skelton says.
"We said, 'We can do it. We can do it this year,'" Forral adds.
Juggling their catering business, their food truck and a crash course in designing their new space, they did just that. ♦
Bruncheonette • 1011 W. Broadway • Open daily, 7 am-3 pm • coupleofchefscatering.com/bruncheonette • 443-5968