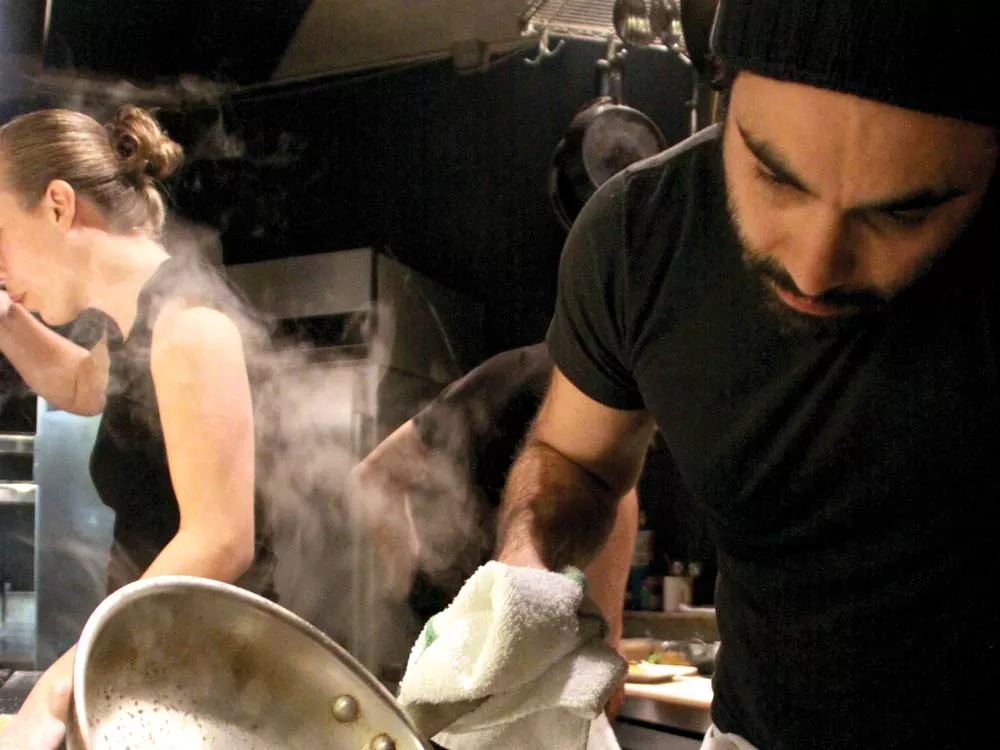 A year and a half ago, Nick Pitsilionis dreamed of a cypress tree and woke up contemplating his future.
Greek myth holds that the cypress tree, with its columnar shape, is a symbol of the afterlife. In AD 8, Ovid wrote of a cypress tree planted at the door of the deceased. Today, the trees grow thickly in Greek cemeteries, aiming souls skyward. No Greek wants to see cypress in his sleep.
Pitsilionis had recently decided, at the urging of friends, to open a restaurant in the small college town of Pullman. He came from a restaurant family and spent years working under renowned chefs in New York and San Francisco, and at Nectar Wine Bar in Moscow, so he had no illusions about what the endeavor entailed.
The economy was dreadful. His parents didn't want him to do it. And Pitsilionis, who grew up in Greece, knew his dream was an omen. But on Aug. 27, 2009, Pitsilionis opened the Black Cypress bar and kitchen on Pullman's Main Street.
"I said, f--- it," Nick says matter-of-factly. "I had to own it."
If Pitsilionis was tempting Fate, he just might have seduced her. Inside, the Black Cypress is dream-like, filled with mirrors and Edison lights, funky recycled metal fixtures against 100-year-old exposed brick. Burlap is draped in waves across the ceiling. The menu tightropes between old world and new, reflecting the agricultural bounty of the Palouse while maintaining decidedly Mediterranean roots.
"In the past," Nick says of his culinary history, "[cooking] was about doing exciting, complicated dishes — but after a while, it was too rich, too complicated, too much going on. You can't sustain that."
Instead, quality ingredients and perfect technique trump elaborate haute cuisine, and the restaurant is as farm-to-table as it gets in the Inland Northwest. His biggest disappointment to date is that he hasn't sourced meat locally as much as he'd like, though he's working with WSU and testing heavily to "find a proper local steak."
"There's nothing to hide behind," he says. "If we don't get it just right, you'll know. " Pastas ($10-$14) are cooked to order — egg noodles are made from scratch — and prepared exactly as they are in the old country. With Greek-style meat sauce and mizithra cheese, the Kima is divinely aromatic. Pasta pomodoro — Pitsilionis' favorite — is clean, with fresh tomatoes and basil, olive oil and Parmesan. Traditional carbonara gets an upgrade with house-smoked bacon, which you can take home by the 1.5-pound package or order as an appetizer for $7.
The charcoal grill at the Black Cypress is another reference to Greece, and it's the fire behind dishes like tender strip loin shish kebab ($21), grilled tofu with Greek baked vegetables ($14), and roasted chicken with bread salad and seasonal greens ($18).
Look to the Specials board for a taste of the chef's more adventurous side. "That's where I really mix things up," he says, "and get experimental with oxtails and beef cheeks and more chef-y things."
Since opening, Pitsilionis has also created a cocktail menu with longtime friend and consultant Kevin Kelpe, who developed the cocktail program at Boise's innovative Red Feather Lounge. Try the Overnighter ($6.50) with fresh pressed apple juice from WSU orchards, or Fever of the Foros, a Black Cypress original ($7.50).
Black Cypress is a success on and off the menu: Last year, the restaurant opened its own farm mill, Black Cypress Farms.
"We don't want to be fully sustainable," Pitsilionis says, "because we have a great relationship with local farmers." But he hopes to host farm dinners at which folks can harvest as a group and cook together.
Despite the success, Pitsilionis refuses to be a hero in this story. He credits his surrounding community and his staff, which is more like a big Greek family than an unrelated collective.
"Most of the people who were involved in the construction of this place ended up working here," Pitsilionis laughs. Will Hume, who helped design the bar, now runs the farm. Nicole Murray, who moved to the area to help out, is now sous chef and the brains behind transformative desserts like lemon poppyseed cake, a dish served with rosemary, pistachios, and Chantilly cream with a balsamic pomegranate reduction. The staff also works the farm, so the waiter serving your Turnip the Beets salad likely had a hand in planting and tending your veggies.
The family extends to the local community of wineries, cheesemakers, growers, bakers and brewers.
"One thing we talk a lot about as a staff," Pitsilionis says, "is solidarity — that we're all kind of in it together, and not just in the restaurant itself, but in the area."
If you remember your Greek dramas, the Black Cypress cast might have you recalling the Greek chorus, who sang in unison on behalf of the people, safe from dramatic action or the wrath of the gods. You will want an encore.
The Black Cypress • 215 E. Main Street, Pullman, Wash. • Open Mon-Sat, 5-10 pm (kitchen), 4 pm-late (bar) • theblackcypress.com • (509) 334-5800