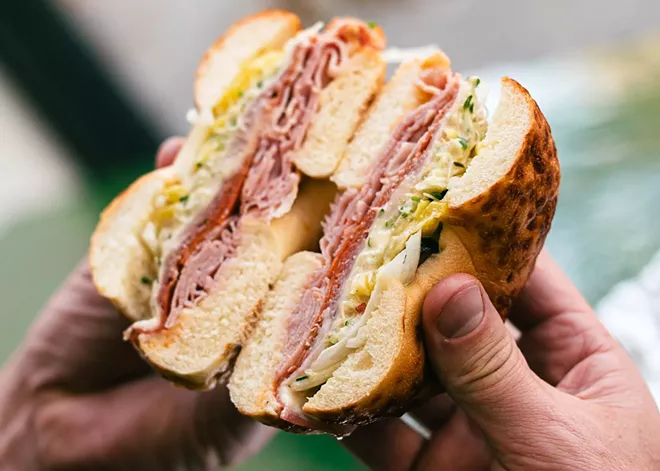 Spokane's newest bagel shop is challenging the notion that a bagel is best enjoyed toasted.
The Bagel Authority, which specializes in steamed bagels and sandwiches, opened its doors downtown in late September and appears to be the only bagel shop in the city that solely serves steamed bagels.
Owner Brett Hendren says the shop's steamed bagels provide a unique eating experience compared to traditional toasted bagels.
"The gooeyness, the softness of the bagel, and the way that the taste really changes once it's been steamed, it really takes form and comes together," Hendren says.
The Bagel Authority offers several flavors — plain, asiago, whole wheat oat, sesame and everything — that can be paired with various types of cream cheeses including plain, maple nut, chive, jalapeno and veggie. Customers can also choose from a variety of breakfast and lunch sandwiches.
With both savory and sweet toppings, the store's breakfast sandwiches range from the lox with smoked salmon and red onions ($8.95) to cinnamon and sugar ($3.95). The New Yorker ($6.95) is a savory breakfast sandwich topped with pastrami, an egg patty and mayo.
While the breakfast sandwich menu has around six sandwiches, the lunch menu offers nearly double with a variety of meats, cheese and other topping combos. The Porker ($7.95) has ham, bacon, smoked cheddar, lettuce, red onions, black olives and barbeque sauce. The Riverside Ave. ($8.95), meanwhile, is topped with cream cheese, turkey, provolone, avocado, sprouts and mustard.
Instead of being toasted, each bagel is steamed for two to three minutes before being adorned with cream cheese and toppings. Hendren says the bagel's softness after steaming provides a distinctive texture.
"You get a different profile than if you just have a toasted bagel with your toppings on there," Hendren says. "It's definitely a significant change."
The Bagel Authority's menu goes beyond bagels, as it also serves coffee and alcoholic beverages. The cafe has a full bar with beer on tap ($5-$6), as well as cocktails such as mimosas ($6) and bloody marys ($6).
Hendren says that affordability was a key consideration for him when opening the store and crafting the menu. His goal is to keep all menu items under $10.
"[Our bagels] are in a good price range," he says. "And that was kind of a big thing for me coming into this area because you can't get too many sandwich places that are under $10 nowadays."
Hendren gained an appreciation for steamed bagels during college while attending the University of Idaho in Moscow. There, he used to frequent Moscow Bagel & Deli, a local shop known for its steamed bagel sandwiches.
After moving to Spokane after college, Hendred wondered why there weren't any steamed bagel spots here, too. When he began looking for new business opportunities about a year ago, he decided to open his own steamed bagel shop.
The Bagel Authority is Hendren's second restaurant venture in downtown Spokane. He's the former owner of Wild Dawgs, a bar and hot dog spot on Howard Street that closed in March 2022.
Since opening this fall, Hendren has been pleasantly surprised by how well-received the Bagel Authority has been by the community.
"I think anything you do — whether it's from a business aspect or in life — it's about being able to develop things and feeling those positive responses," Hendren says.
From its location on the corner of Lincoln and Riverside, Hendren says the store has attracted customers from nearby offices and businesses in the downtown core. He hopes to eventually expand by extending store hours into the early morning, and maybe also operating a food truck with late-night options.
He also plans on collaborating and building partnerships with other small businesses in Spokane to enhance the store's menu by using seasonal ingredients in its cream cheese and bagels.
"I hope people are truly enjoying [the bagels] as much as possible and, hopefully," he says, "I can keep going and making new ideas and concepts that'll keep bringing people back."
The Bagel Authority • 903 W. Riverside Ave. • Open Mon-Fri 7 am-4 pm, Sat 8 am-2 pm • Instagram: @the.bagel.authority