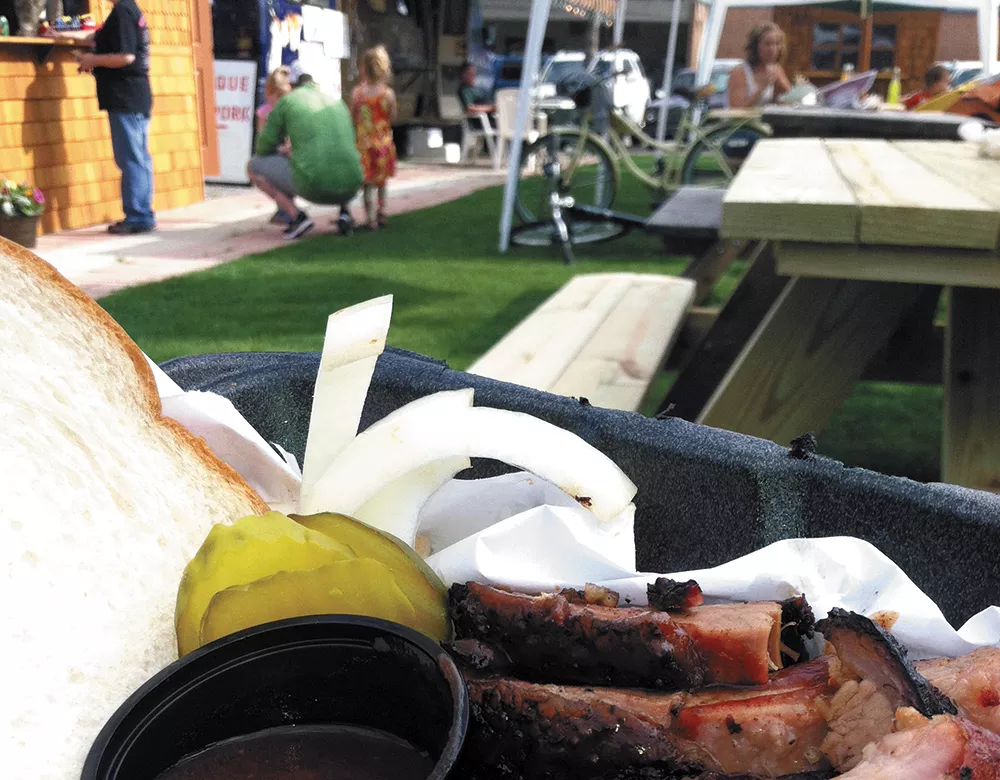 As the mobile food truck phenomenon shows little sign of slowing, many cities are grappling with how to accommodate the sometimes conflicting needs of pedestrians, drivers and permanent businesses. In some cases, food trucks park wherever they can find purchase. In Sandpoint, a city of roughly 7,400 people, Oak Street Court provides year-round parking.
Located across from Farmin Park — home of Sandpoint's Farmers' Market — the food court features seven spots for mobile vendors and one location in which a beer-and-wine vendor is slated to go. The grassy area is partially shaded with sturdy tents, and there are numerous benches — two made from really rad snowboards.
It's all walk-up service, reasonably priced, with varying portions and styles of food such as Yogolicious frozen yogurt, which also has a brick-and-mortar location on Highway 2. Ohm's Thai Plates serves roti, an Indian bread ($2.50) and pad thai ($6.50) while Tug's serves kosher dogs and Wood's Meats sausages ($1.50-$3.50). Lily's Pad rotates their menu of healthy wraps, including Caribbean and ginger chicken ($6.50), and they'll be adding Hawaiian shaved ice this summer.
Originally from Las Vegas, Savannah Clark and husband Brad renovated a classic camper to create The Old Tin Can, which serves appropriately retro fare such as burgers ($6-$7) and fries ($3). Special touches include a toasted bun, special sauce, hand-formed patties and the option of raw or grilled onions.
The "bad" in Bad J's Texas BBQ might stand for badass sauce. Owner Joey Few explains that the sauce, Hogg Heaven, is from a Tennessee restaurant operated by his mother's best gal pal (whose last name is actually Hogg). It goes over pork ribs and beef brisket, oak-smoked on-site and served with a thick slice of white bread, pickles and raw onion. Try Lone Star Tacos ($5.75) with cheesy potatoes, onions, jalapeño and mild or kick-your-ass hot sauce.
Finally, Sirius Street Food covers the gamut with an evolving menu that might include falafel, burgers, pulled pork, po' boys, or fish and chips. With its distinctive blue-and gold RV, Sirius actually was the first Sandpoint food truck to appear on our radar. Parked at Oak Street Court since midwinter, Sirius gets props for longevity, yet also serves as a reminder that mobile food trucks are not the same as traditional restaurants.
Hours may vary and seasonal weather shifts can make mobile food trucks seem a little less appealing when you're knee-deep in snow. There may or may not be a phone number or website with which to confirm the location's operation.
In other words, sometimes you'll just be at the mercy of the court.♦
Oak Street Court • Corner of Oak Street and 4th Avenue, across from Farmin Park, downtown Sandpoint