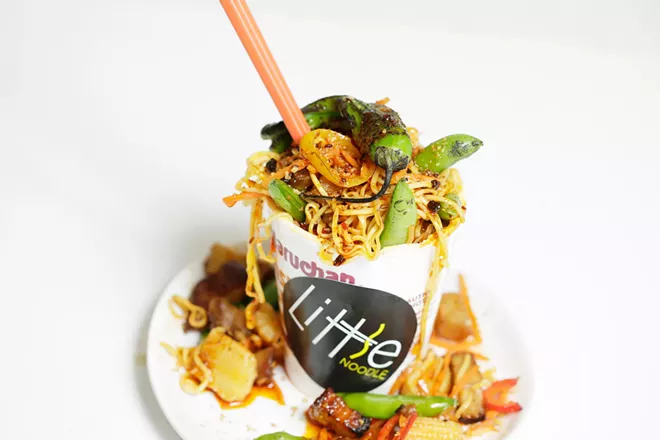 When poring over dinner options, I'm the first to suggest Asian cuisine. There's something so comforting about the smell of distinct spices that waft from the busy kitchen and the satisfying slurp of a sauced-up noodle.

After picking up my extremely willing dining partner and walking through the door of Little Noodle (713 W. Garland Ave.), it was apparent that its Inlander Restaurant Week menu ($25) also appeals to many other folks. The restaurant, which houses approximately 10 tables, was absolutely packed. Groups of hungry people stood next to already-occupied tables waiting for their chance to snatch the seats before others could. Despite the chaos, Little Noodle's staff was helpful in directing customers to tables once they became available

After a party of two finished up their meal, we took over their table and were quickly served our first course. I chose the Spam musubi crisps as I'm a self-proclaimed Spam enthusiast. The dish was well-balanced with the creamy, spicy mayo cutting through the saltiness of the Spam and the seaweed adding a pleasant umami flavor. My dining partner chose the edamame which was perfectly fine and garlicky, but nothing to call home about.

For me, choosing my second course was a no-brainer. From the moment our 2023 Restaurant Week Guide hit stands, I knew that I had to get my chopstick-laden fingers on the Lava Cup O' Noodle. This dish comes to the table in a styrofoam Maruchan Instant Lunch ramen container piled high with spicy noodles and vegetables — it's piled so high that the styrofoam cup sits in a regular bowl in case a noodle landslide occurs. The noodles are tossed in Little Noodle's house lava sauce and topped with your choice of protein: shrimp, pork, pork belly, tri-tip or chicken. I went with the tender and flavorful tri-tip, the perfect companion to the bouncy noodles and crisp vegetables.

If you're a curry lover or you're looking to venture into that world, the Thai curry noodles are a lighter, fresh option. The red curry sauce gets soaked into the glass noodles and veggies, making for a really delightful and slippery slurp. It should be said that every item on the menu is either naturally gluten-free, vegetarian or vegan, and most items can be made gluten-free upon request.

The night we dined at Little Noodle, they were out of the Thai tea creme brûlée. So, instead, we went with the matcha cheesecake and the bite-size citrus cup sorbet. The sorbet was incredibly tangy and served in a frozen half-lemon peel — the perfect light dessert to counteract all of that chili oil. The cheesecake was surprisingly not-too-sweet and didn't taste grassy like most matcha-flavored items.

Little Noodle and Itty-Bitty Buddha accept reservations by phone for parties of eight or more, and serve their Restaurant Week menu Tuesday through Saturday from noon to 8 pm.