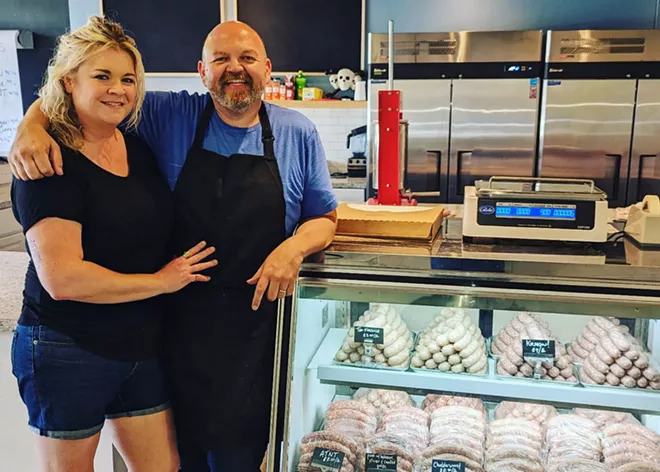 Fans of the sausages served at The Crown & Thistle Pub in downtown Coeur d'Alene have a new reason to rave. The British-inspired pub's tubular meat-treats — Brits call them bangers — are now available for at-home cooking.
While Crown & Thistle sells a limited assortment of its scratch-made bangers fresh in vacuum-sealed six-packs, the full assortment can be found across the street at the pub's recently opened sister business, Gentleman Sausages.
Gentleman Sausages offers a weekly assortment of fresh sausage, priced per pound ($8.25-$9), as well as frozen sausage from whatever didn't sell out — which is rare, reports owners Ben and Jennifer Drake.
Staples include the German-inspired Benny Brat, and the Francesca, a pork sausage with oregano, basil and bell pepper, named for the couple's daughter.
The Drakes are known for the unusual flavor combinations in their sausages, which might be inspired by any number of things. The Flagship features Beecher's Flagship cheddar cheese while the Tim Curry has — you guessed it — yellow curry.
The Fuster Cluck takes its smoky flavors from beer can chicken and its name from the Drakes' occasionally salty sense of humor.
"The best thing was, your brain is trying to tell you not to say it the wrong way to a customer, so inevitably you say it the wrong way to the customer," Jennifer says.
Sometimes the name of a sausage precedes its development, she adds, like the Roswell featuring roasted green hatch chilies, cilantro and green onion.
"I just really wanted an alien sausage named the Roswell because I've always been a space nerd," Jennifer says. "So every once in a while we come up with [a concept] ahead of time before we come up with the actual flavors."
The naming of the business has a cute story, too.
"In 2015 [Jennifer] bought me this 'Gentleman's Notes' book from when we were in London," says Ben, who didn't initially know what to use the little leatherbound journal for.
"It was special," he says, "so I wanted to make sure that I was going to use it for something special and it sat there for a while."
A year or so later, Ben got another gift from Jennifer that nudged him toward making his own sausages, which he'd wanted to do since spending time in the Bavaria region of Germany as a young adult.
He knew just where he'd write down all his ideas: inside the little journal.
"She remembered I always talked about wanting to take up sausage making, and so she bought me the Megaforce 3000 [sausage grinding machine], which we still have," Ben says, pointing to the no-longer-used metal contraption on a side table inside Gentlemen Sausages.
The first batch with the Megaforce, Jennifer adds, "was 5 1/2 pounds and it took eight hours."
Now Ben and his sole employee can grind out roughly 300 pounds of links in the same time period.
Since ramping up production, Gentleman Sausages is also able to feature its products on the menu of several local spots, including Midtown Bluebird, Stylus Wine & Vinyl Bar, and Radio Brewing. ♦
Gentleman Sausages • 112 N. Fourth St., Coeur d'Alene • Open Tue-Fri 11 am-6 pm • gentlemansausages.com • 208-292-4300