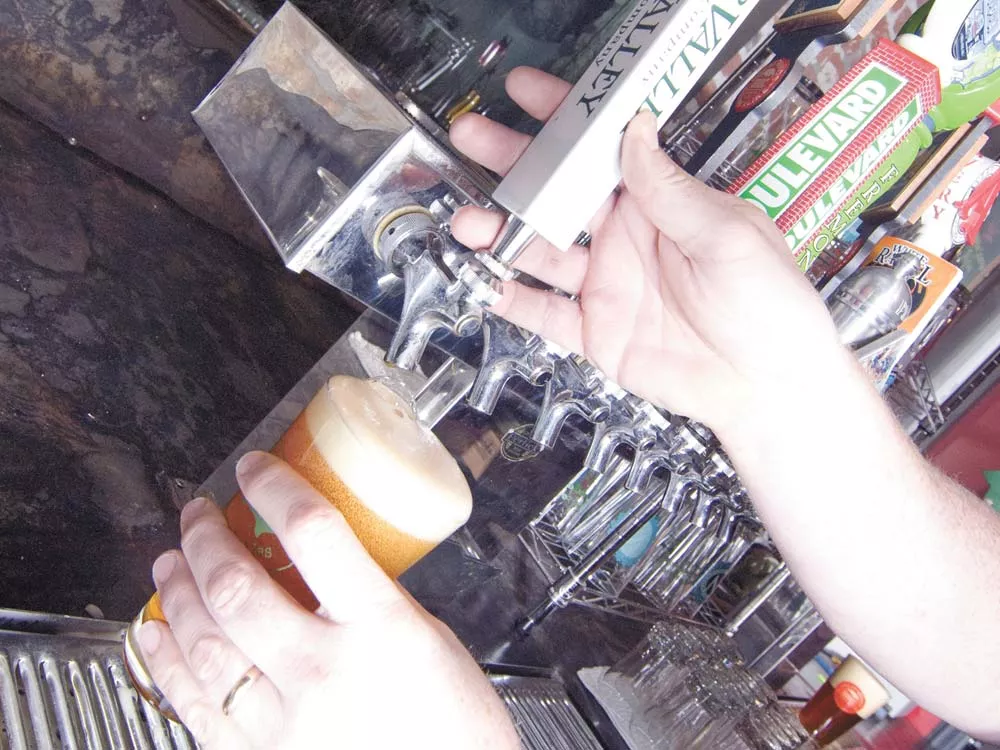 In 1921, during the early years of the automobile, a small garage on East Sprague called Jones Radiator serviced Spokane's earliest wheels.
On Nov. 18, 2010, in the era of the microbrew, the garage reopened to reveal a Radiator of a different definition the kind that emanates warmth, light, and sound and a new mission: to service Spokane's cravers of craft beer.
The revamped Jones Radiator pays homage to its roots. Think mechanic-minimalist: exposed brick, barstools built into old hubcaps, Pennzoil-barrel trashcans in the bathrooms. Sheet metal is the medium of choice, and the main entrance, with huge picture-window double-doors, is reminiscent of the building's original purpose, wide enough for a Model T or a horse-drawn carriage.
Located just east of Division on Sprague, the pub is also an attempt to grow a neighborhood with good beer. It bridges the gap between downtown and the slowly evolving "International District," and anticipates the someday-maybe-forthcoming pedestrian bridge between the U-District and downtown.
It may seem a little Field of Dreams of them "If we build it, the bridge will come" but the Radiator's founders are a pragmatic trio of businesspeople. Husband-wife team Tom and Julie Purdum owned Browne's Addition's Ground Zero coffee shop. Partner Mark Camp is the man behind the Perry District's Anvil Coffee Roasting and the Shop. From the recycled decor ("almost everything in here is from Craigslist," says Camp) to the DIY project design, this new venture reflects experience.
Tom is a self-proclaimed "hophead," but the kegs are well rounded. The taps 16 total feature Ninkasi Tricerahops (Eugene) and Beer Valley's Leafer Madness Imperial IPA (Ontario, Oregon), alongside milder brews like Fremont Brewing Co.'s Universale Ale and Yakima's 1982 amber.
Fans of the Lantern Tavern and the Hop Shop can consider Jones Radiator an invitation to a new side of town. "We will have nothing lousy on tap," Purdum promises. If they build that, we will come. (Anna Vodicka)
Jones Radiator 120 E. Sprague Mon-Fri, 4 pm-close; Sat, 5 pm-close 747-6005
---
Hyper-Local
Even with the winter chill, the last few magenta petunias were reluctant to give up their post outside the front door of Petunia's Marketplace on North Madison. Owner Stacy Blower also refuses to give in to winter; she's just moving her business inside.
"Winter is hard for farmers," says Blower, who has been selling jams, jellies and preserves at area farmers markets for several years.
She feels so passionate about supporting local farmers and food producers that she remodeled a century-old house just off Northwest Boulevard and turned the 800-square-foot living room into a miniature farmers market. Petunia's opened quietly in June, and Blowers is just now starting to advertise.
When Blower says local, she means local. The garlic is from Blower's neighbor, cherries are from a friend, and some of the herbs for the pesto were grown in the white-picket-fenced yard adjacent to the store. Beverly Bailey, who works with Blower, supplies honey from her beehive and dried herbs from her garden. "I'm more about the relationships than what is in the store," says Blower.
A high wooden table in the center of the room holds fresh produce from area farmers: lettuce, sweet chestnuts, apples and squash. Rhubarb rosemary jelly, pecan pumpkin butter and low-sugar jams line the shelves, along with Roast House coffee, flavored olive oils and handmade chocolates.
The deli case and freezer are stocked with gourmet goodies like raw-milk cheddar, white truffle butter and Arabesque Bakery bread. You'll even find edible flowers and micro-greens.
Blower wants to make Petunia's affordable to everyone. She hopes it will bring a good vibe to the struggling neighborhood just north of downtown. "I don't have goals to be a big serve-all," she says. "I want Spokane to know it's OK to demand good food, and it doesn't have to cost a fortune." (Kirsten Harrington)
Petunia's Marketplace 2010 N. Madison St. Wed.-Fri., 11 am-7 pm; Sat. 9 am-5 pm 328-4257