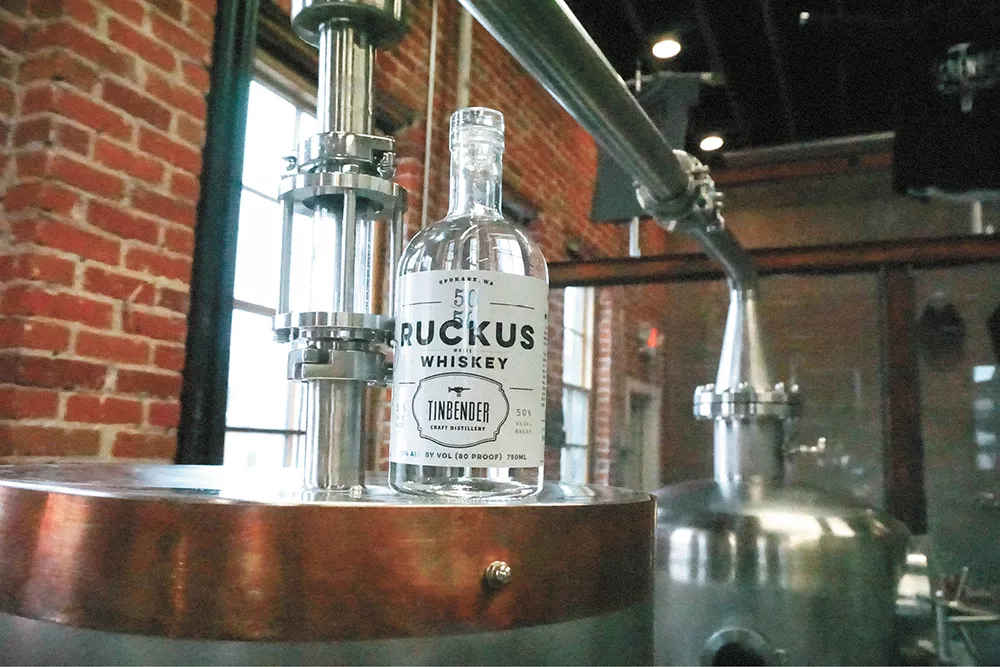 Looking around his newly opened distillery in downtown Spokane, Paul Ziegman makes one thing clear: "If it's metal in here, I built it. I made it."
That means his hands crafted everything from the small tasting bar and stools up front to the ad hoc "wall" separating the entry from where his stills reside in back. The homemade touches extend to the stills themselves, where batches of his crystal-clear 50/50 Ruckus White Whiskey and Immature Brandy bubble away.
Tinbender Craft Distillery recently opened in the space formerly occupied by Sun People Dry Goods as a two-person operation, consisting of Ziegman and his wife, Tosha. Ziegman has worked in a sheet-metal shop for nearly two decades, primarily creating restaurant kitchen equipment, so he named the distillery after one of the less-profane nicknames metal workers call each other. Opening Tinbender offered a chance to combine his metal-fabrication skills with his love of a tasty beverage.
"My metal work led to me being able to make my own equipment, and understand the metallurgy behind distillation to put out a product that is a mix of old world and modern," Ziegman says.
For drinkers, that modern twist makes for whiskeys and brandies that might not look or taste anything like what they've had before. Ziegman's spirits go straight from his still to the bottle without being aged in the barrels that give booze its distinct flavors and dark colors. You taste the locally sourced ingredients he's chosen, from the malt and wheat in the white whiskey to the Washington grapes in the brandy, without any wood flavors seeping in.
"What gives whiskey its signature flavor is that oak barrel," Ziegman explains. "Then there are people like me. We like ours unmolested by oak. We like the base product. We don't like everything with wood and brown."
Ziegman recognizes that some drinkers like their whiskeys "molested," so he'll have some barrel-aged spirits available in due time. Until then, he and Tosha are sticking to the white whiskey and a rotating selection of brandies to get Tinbender off the ground.
"There are no public investors, no private investors," Ziegman says. "It's just her and I and a lot of work." ♦
Tinbender Craft Distillery • 32 W. Second Ave. • Open Fri, 4-6 pm; Sat, noon-6 pm; and by appointment • tinbendercraftdistillery.com • 315-7939