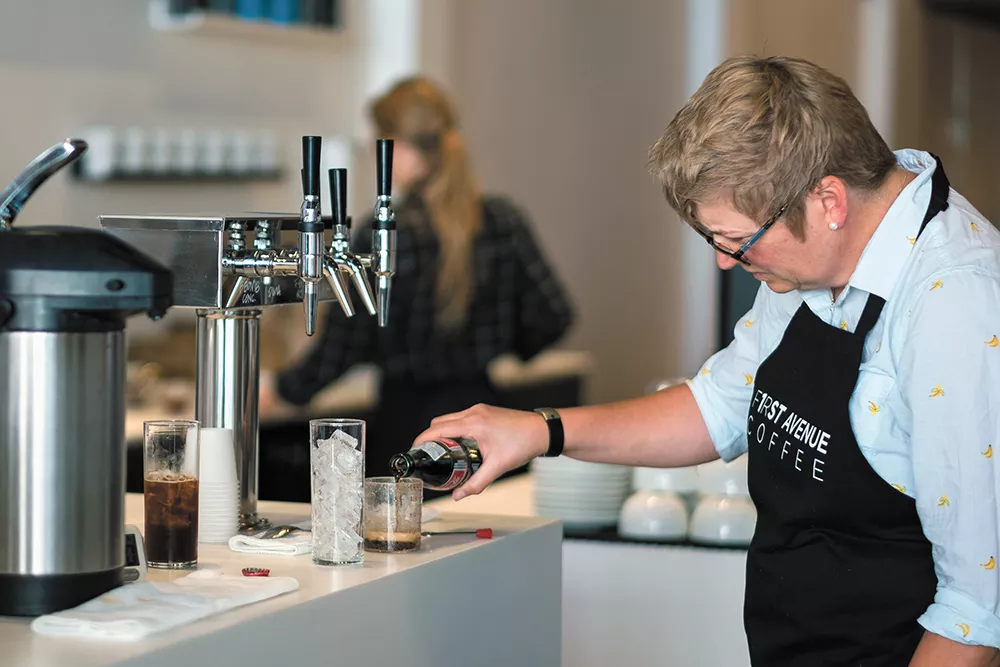 With the morning sun streaming in through high street-facing windows and the rich aroma of roasted coffee mixing with the faint musk of old wood, First Avenue Coffee is invigorating, warm and familiar.
The sleek space for the new coffee bar operated by Roast House in west downtown Spokane is designed with a crisp, neutral palette, clean lines and a mix of modern-meets-rustic elements highlighting its building's 106-year history.
First Avenue Coffee almost didn't happen, though, says Roast House owner Deborah Di Bernardo, who's a partner in the new cafe with building owner and local developer Jerry Dicker.
"I swore we'd never do retail because our focus is with wholesale partners," Di Bernado recalls.
To that end, and until the cafe opened in mid-July (after a slight hiccup in June that caused the shop to close for a few weeks after an initial soft opening), Roast House's coffee was only served at other regional cafes and sold by the pound, as well as brewed at local events and fundraisers, which the roastery frequently supports.
"A year ago at Crave! [food festival], Jerry Dicker... proposed we open a coffee house together on this block to revitalize it and help him market his hotels, and basically we just told him 'no,'" Di Bernado says.
In the months to follow, however, Di Bernardo and the Roast House crew, including longtime employee and now general manager of its roasting operation, Aaron Jordan, started to see the nearly limitless potential a downtown retail spot could have. Previously, Roast House hosted coffee samplings, classes and other events at its East Spokane headquarters, yet that space is focused on production and was often cramped.
"We thought we could do a roasting kiosk and cuppings," Di Bernardo says. "You don't just come have a cup, you watch us roast it and cup it with us and take some coffee home with you," she continues.
Cupping is an industry term for critical, objective coffee tasting, a process along the lines of those used in the worlds of wine, beer or spirits.
In a back corner of the 3,000-square-foot space (also designed to be used as an event venue), is a small coffee roaster used for these hands-on experiences, during which staff walk customers through roasting and brewing before pouring small tasting samples, all while explaining the cupping evaluation process and the range of qualities in the single-origin coffee bean being served.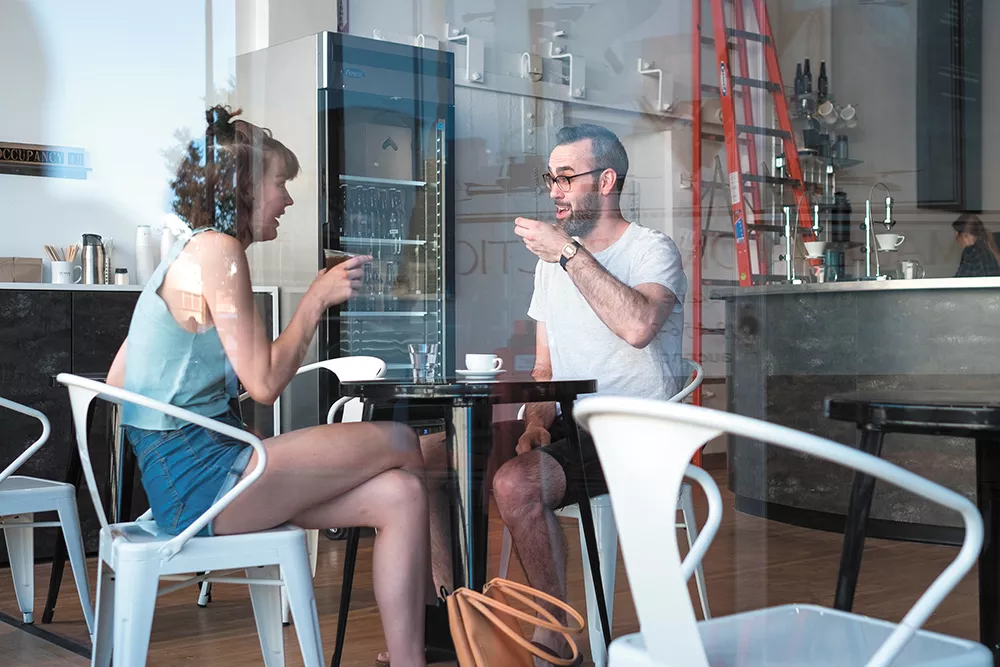 "One of our big things is having a level of transparency and education, and cupping is a snapshot of how we buy coffee as a roastery and a cafe," Jordan explains.
For a more traditional coffee house experience, First Avenue Coffee offers a full menu of espresso beverages: Americanos ($3.25), macchiatos ($3.75), lattes ($4.50), mochas ($5.25), affogatos ($5.25) and cappuccinos ($4), along with pour overs (prices vary by day, based on the coffee served) and drip ($2.75). Single-origin cold brew on nitro, along with Roast House's F-Bomb roast on nitro, are also served ($6 each). The cafe worked with a Western Washington-based chai tea producer to create a custom house blend ($5.50), also served on nitro and with or without milk.
Espresso is brewed on First Avenue's four Modbar espresso machines, designed to open up counter space and allow baristas to interact with customers, in contrast to large countertop machines that create a physical barrier.
"The specialty coffee industry is so much fun, it doesn't make sense to be as a barista stuck behind a machine and not able to talk," Jordan says.
In the coming months, beginning during First Avenue Coffee's planned grand opening in September, Jordan says the cafe will start serving high-end specialty coffees that can go for as much as $50/lb. in the import market. Some of these beans are hand-picked and -sorted by the organic, sustainable South American micro farms Roast House partners with, while others are ultra-rare coffees selected for the prestigious international Cup of Excellence program. He says those coffees will be served in 10-12 ounce servings, though a price hasn't yet been determined.
Also setting First Avenue Coffee and Roast House apart from other cafes is its espresso soda menu and handshaken coffee drinks, the latter akin to a spirits-based cocktail. The cascara soda ($5.50) is a carbonated drink made with tea brewed from cascara, dried skins of coffee fruit, and blended with orange bitters and grapefruit simple syrup.
A signature drink on the handshaken menu is the Nitro Fashioned ($6), made with F-Bomb coffee concentrate, angostura and orange bitters, simple syrup and a Luxardo cherry. The Cold Brew Sour ($6), meanwhile, features a single-origin cold brew on nitro with lemon juice, chamomile-grapefruit syrup and a lemon twist.
For pastries, First Avenue is using vegan and organic recipes crafted by Di Bernardo's sister that are being baked by chef Adam Hegsted's new Doughlicious bakery. The cafe's chocolate ganache syrup is also made by the bakery.
In addition to its Modbar system, First Avenue coffee is fully outfitted with state-of-the-art grinders, pour-over systems and other equipment that ensures quality and consistency with programmable controls that can be preset to specific temperatures and measurements of water and coffee.
All of the cafe's to-go cups and utensils are compostable; customers who bring their own mug can get 25 cents off their order. First Avenue general manager Kristen Scott-Silver says the business is currently in the process of seeking Green Restaurant Certification, and hopes to be zero waste by the end of 2019.
One good cup of coffee alone might not change the world, but the First Avenue/Roast House team can at least agree it's a good place to start.
"The ultimate goal is that [First Avenue] becomes a place to affect change, and not just for coffee farms, but for many arenas and causes," DiBernado says. ♦
First Avenue Coffee • 1017 W. First • Open Mon-Fri 7 am-6 pm, Sat 8 am-4 pm, Sun 8 am-3 pm • 1stavecoffee.com • 201-7091