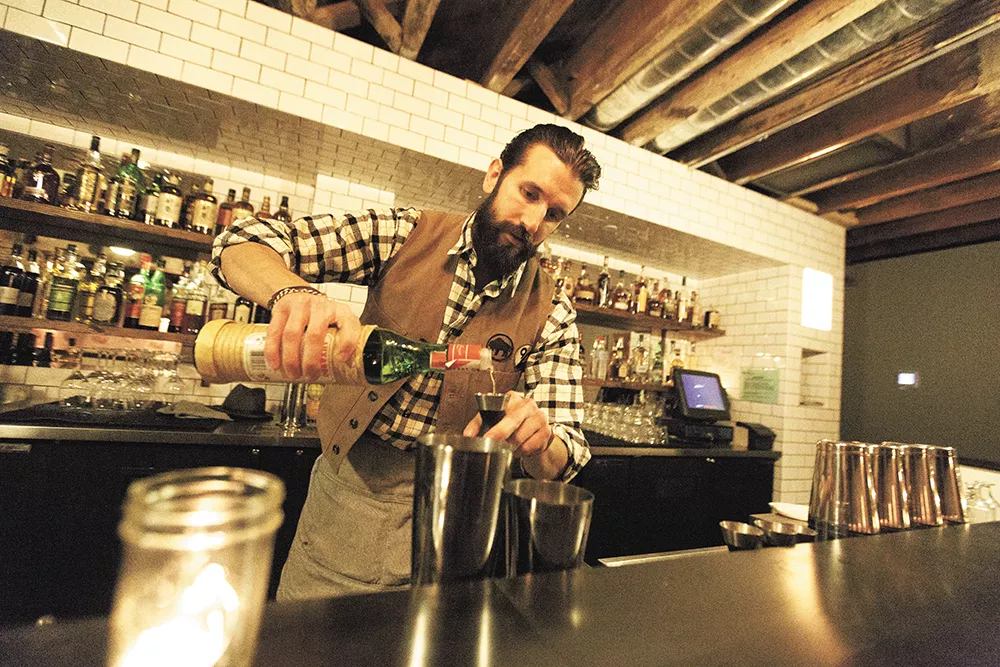 Legendarily classy James "Jimmie" Durkin wasn't the only booze-slinger in pre-Prohibition Spokane, but he definitely was the most successful. Though Prohibition marked the end of an era for Durkin, his legend lives on at Durkin's Liquor Bar, launched last week by Deb Green, Ben Poffenroth and Megan VanStone, the restaurateurs — and family — known for Madeleine's and Casper Fry.
Durkin's Liquor Bar opened to little fanfare, but has gained an immediate following. Nestled into the building that long ago housed one of Jimmie Durkin's three establishments, Durkin's is exactly where you want to hide out in style. The restaurant makes clever use of two floors — the narrow space upstairs features a spacious bar and cozy booths, while the downstairs bar manages to be both intimate and open.
Green drew inspiration for Durkin's from her dining experiences in other cities and a little arm-bending from the building's owners.
"We love to go out to eat. We love to go to different cities and eat in different restaurants. We wanted to bring the dining experiences here. Spokane is as cool as other cities. We've been playing with this idea for a year. The folks that own the building approached us. They would park themselves up at Casper Fry every week until we caved," says Green.
Durkin's highly refined menu offers small plates, salads, sandwiches and traditional plates balanced by an extensive selection of craft cocktails, drafts and wine. Small plates are plentiful, enough to share yet so delicious you might resist. Hearty lentils and brawny portions of bone marrow pair perfectly with effervescent French 75s. Duck rillettes, served in jam jars and tempered with sweet onion jam, beckon for a glass of syrah.
Durkin's chefs are producing as much as possible in-house.
"We've got a smoker in the back. We're doing our own bacon, sauces and mustards," says Green. "We have comforting food elevated to another level."
Nothing demonstrates this more than the fried house bologna sandwich. Served on a seeded soft bun with piquant, house-made mustard and American cheese, the once lowly lunch staple is reborn a sophisticate. ♦
Durkin's Liquor Bar • 415 W. Main • Open Mon-Wed, 11 am-11 pm; Thu-Sat, 11-1 am • Basement bar is 21 and up • durkinsliquorbar.com • 863-9501
---
THE LEGACY OF JIMMIE DURKIN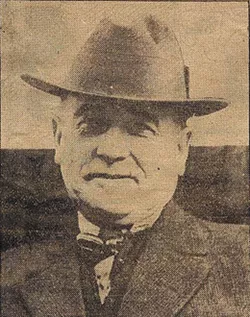 Born in England to Irish parents, Jimmie Durkin came to the Northwest in the 1880s, opening a bar in Colville that succeeded thanks to the ongoing silver boom in the area. He then came to downtown Spokane, opening a liquor store and saloon side by side. Eventually, he had three stores in the city that thrived thanks to his aggressive and often humorous (not to mention self-aggrandizing) advertising campaigns that all but dominated the city's landscape. Durkin even had random roadside rocks painted with his name.
Durkin may have made much of his fortune selling booze, but that didn't make him a shady character in the early days of Spokane. It seems that Durkin wanted to make sure folks knew about his upstanding nature, because the inscription on his tombstone reads "The minister said: A man of his word."
The minister in question was E.H. Braden, a Baptist reverend who spoke out against Durkin's loud promotion of all things liquor on the saloon's windows. Durkin let Braden then use his windows to promote his own message, and Braden set about covering the glass with images showing the evils of booze. The gimmick brought Durkin's business loads of press, but all things considered, the minister acknowledged Durkin's honesty.
When Prohibition hit, Durkin closed up his businesses, but eventually returned to open the Durkin and Ulrich Saloon in 1933 in the spot of a former card room (and speakeasy), located at the same address as the newly opened Durkin's Liquor Bar. He passed away just a year later at Sacred Heart Hospital.
— MIKE BOOKEY