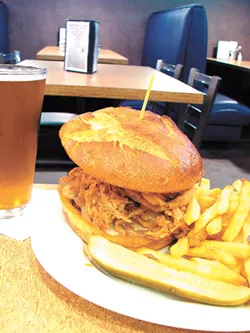 Sweet Lou's Restaurant and Tap House is a bit of a homecoming for Coeur d'Alene native Meggie Foust, who started the original Sweet Lou's with husband Chad in Hope, Idaho, five years ago, soon followed by a Ponderay location.
"It's an honor to come back to Coeur d'Alene and have the opportunity to serve our dishes to family and friends," says Meggie Foust.
The menu at both locations (they closed the Hope restaurant to focus on Coeur d'Alene) features comfort-oriented American classics like the certified Angus beef Western Burger, piled high with pulled pork, fried onions and jack cheese ($12), or bacon mac and cheese ($12).
Watch the game on any of 17 televisions with a beverage — nearly half the beers on tap are local — and an appetizer, like house-battered onion rings ($7). Occupying the Grille From Ipanema's former spot (the Brazilian eatery recently relocated to the Riverstone development), Sweet Lou's offers a scenic view of McEuen Park and Lake Coeur d'Alene, especially in warmer weather when outdoor accommodations expand to around 80 seats.