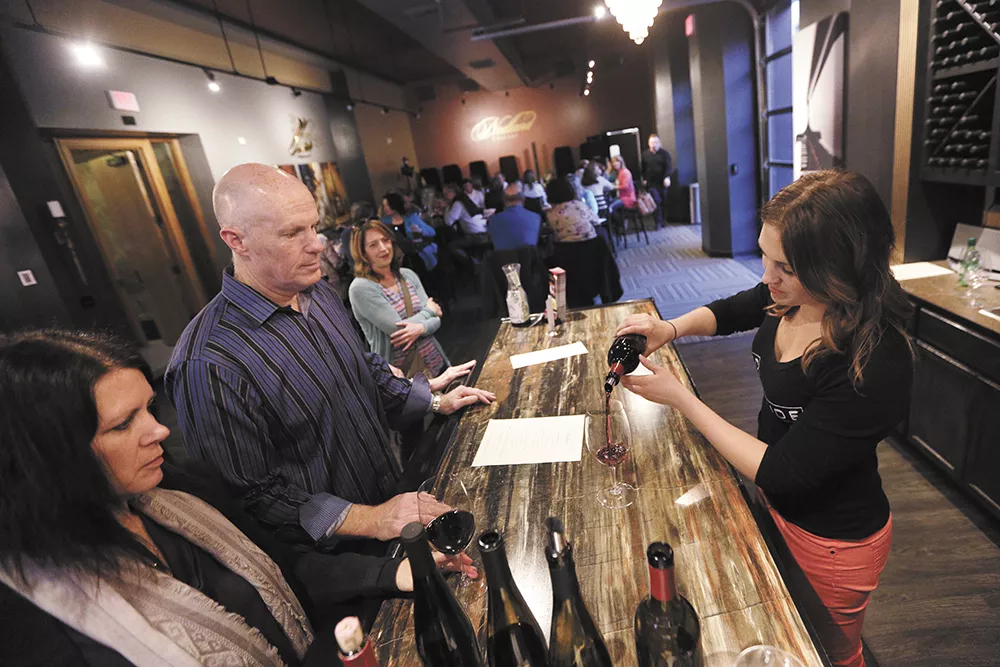 On the ground floor of the historic Chronicle Building in downtown Spokane, a new winery tasting room combines elegance with modernity. To the left, bright lights showcase jazz musicians. To the right, chandeliers hang above people sipping wine up at the bar.
Nodland Cellars owner Tim Nodland wanted to create two entirely different atmospheres when opening the downtown tasting room for his winery — both a live music venue and a traditional wine tasting room. And he's not new to bringing together music and wine in a way that makes sense; he's been doing it for almost 18 years.
After touring as a rock musician in the '80s and managing 18 glam bands as a talent agent, Nodland achieved his childhood dream of becoming a lawyer after graduating from Gonzaga Law School. He thought that working to become an A&R rep was the perfect way to bring together law and music in his life, but while he was in school, Seattle grunge changed the music industry and his bands became irrelevant practically overnight.
"After graduating from law school and becoming a personal injury attorney, I felt creatively starved without music. And that's when I was introduced to wine," says Nodland.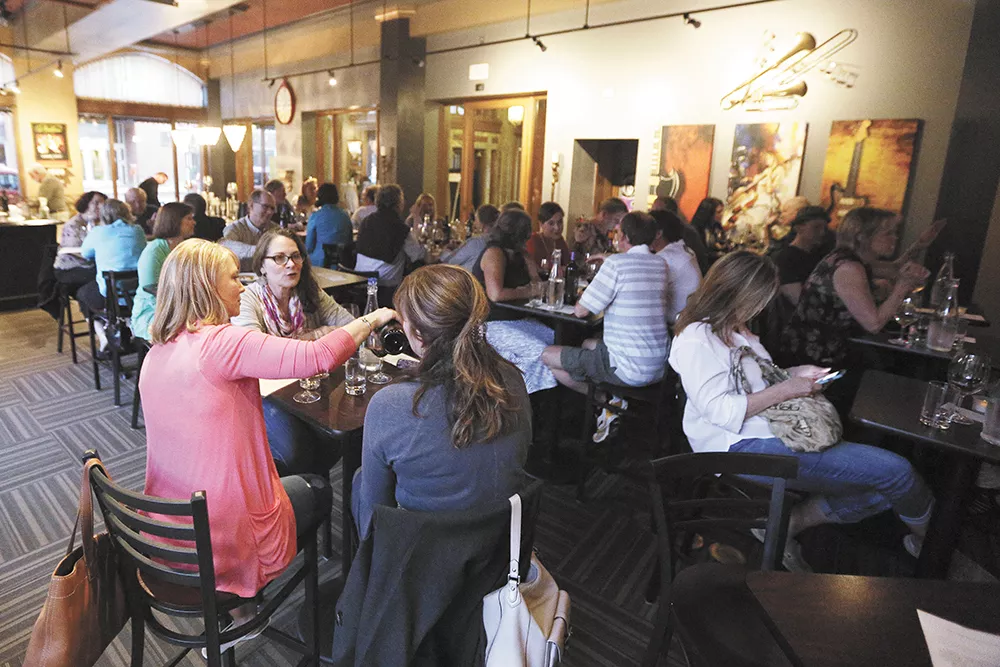 His love for wine grew with the more wine he tasted and more books he read. He converted his garage into a wine lab, but after a hose pumping wine into barrels in his basement detached and soaked the carpet in 5 gallons of dark wine, he moved production to its current location in Spokane Valley.
Nodland found success as an amateur winemaker up against commercial wineries, so he decided to go commercial himself by opening Nodland Cellars in 2005.
"I couldn't find a pre-1870 Bordeaux-style wine with all six grape varieties in it, so I had to make it," he says.
The sixth grape variety, Carménère, was thought to be extinct for more than a century until improved DNA testing in the 1980s confirmed its existence in Chile. Nodland gets Carménère grapes from Walla Walla, and uses traditional methods to do almost every aspect of his winemaking by hand.
The new tasting room pours Nodland's six wines — Bebop Dry Riesling, the red Bad Attitude, Carmenere, a red Private Blend, Reserve Cab and a cabernet-merlot blend, Frassy — with a $5 tasting fee refunded with the purchase of any wine bottle.
The tasting room's food menu lists cheese and charcuterie, caprese salad, hummus with toasted naan and a sweet plate with a selection of chocolate miracles and miniature biscotti. Nodland plans to create a more detailed food menu soon.
The new tasting room hosts live jazz music Wednesday through Saturday nights, featuring both local and national talent. The Eclectic Electric Fusion Rock Show — Nodland and Riley Gray playing jazzed-up rock tunes together — also occasionally plays.
Nodland's Wine Club, which is free to join, waives the $5 cover on Friday and Saturday night jazz, helps members gain access to vintages before they sell out and provides discounts.
Other events in the tasting room include classes teaching how to pair wines with chocolates and cheeses, and the option to rent the space for private parties. The Great Table — a large table covered with candles — is also available for large groups to sip wine together.
"The wines are just going to become scarcer and scarcer," Nodland says, "because I want to continue making the wines by hand with the same high quality, not increase production."
The tasting room will soon include outdoor seating in the Chronicle building courtyard currently under construction.
"Opening Nodland Cellars has kind of been like starting a band," says Nodland. "The world doesn't need another band, really, but then a band comes out and they're unique and they sound different. Now that's something the world needs." ♦
Nodland Cellars Downtown Tasting Room • 926 W. Sprague • Open Wed, noon-7 pm; Thu-Sat, noon-9 pm; Sun, noon-5 pm • nodlandcellars.com • 927-7770