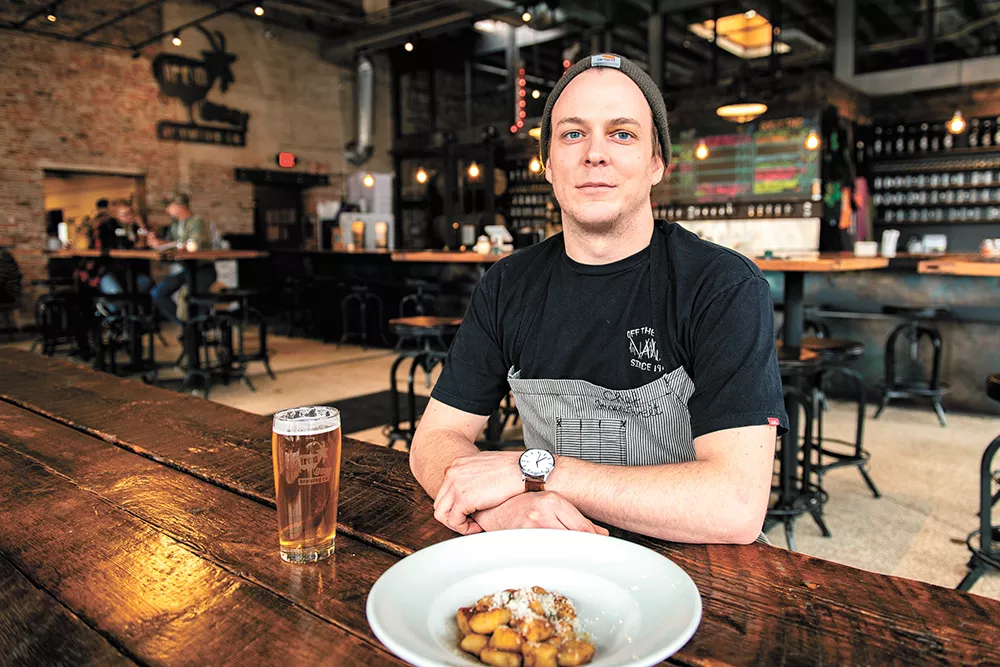 Travis Tveit heads the kitchen at Iron Goat Brewing Co.'s downtown Spokane taproom. The 29-year-old rising chef graduated from the Oregon Culinary Institute in 2010 and went on to work at kitchens in Portland before coming home to Spokane. He was recently crowned champion of Chef Battle Spokane, part of a national culinary competition, and will travel to California in late 2019 to compete in the West Coast regional finals. In his spare time, Tveit is the drummer for rock duo Indian Goat. The Inlander recently sat down with the chef to learn more about his cooking philosophy, future plans and more.
INLANDER: When did you know you wanted to become a chef?
TVEIT: I've always had a cooking or restaurant job, whether it was Subway or a sit-down restaurant. When I lived in Portland and was doing a firefighting program — I thought I wanted to do that — and I did an agility test, I almost passed out. Then I was like, "This sucks, I don't want to work a job where I could die doing it." I was really into [Portland's] food scene and was really exposed to it. I wanted to be around that and have access to the nicest food and know chefs around town and know I could always eat and never be hungry.
What's your favorite guilty pleasure boxed, frozen or fast food dish?
I love ramen noodles, like instant ramen noodles. I know that's a cop-out thing because there is a stereotype that [chefs] cook good food for people all day and go home and eat PB&J and go to bed. But even before that, I remember cooking those as a kid with my little brother and seeing who could make them spicier. I still eat them. I have some at my house right now.
Name one restaurant in the Inland Northwest you return to over and over again.
Park Lodge is my favorite, they do an excellent job. All around, I think it's the best restaurant in Spokane. They have great service, food, staff, excellent drinks and an excellent space.
What's your favorite kitchen gadget?
An immersion blender is pretty helpful. You can do a lot with an immersion blender.
Finish this sentence: "You can never have too much ____."
Butter.
What's next for you, five to 10 years down the line?
Oh, absolutely owning my own restaurant in Spokane and being a creative force of the culinary scene.
What's your favorite thing to eat off your own menu, currently?
I have a sage and brown butter gnocchi right now that I have to really talk myself into not eating, because we need to sell it. It is so good and there is so much butter, and the sage is so nice and there is a bunch of cheese on it. And any time someone orders it I have to tell them that it's my favorite thing on the menu.
What's the hardest thing about your job?
Getting a group that all works very well together and nobody has problems and everyone stays. Kitchens always have a pretty high turnover, and in the industry in Spokane, I mean everybody knows everybody, and it's a small community of workers, so it's pretty hard to get a really solid crew. But I am fortunate enough to have a small enough crew that everyone back there right now is good. It's hard to get to that point where you are all working together like a well-oiled machine, as they say. ♦