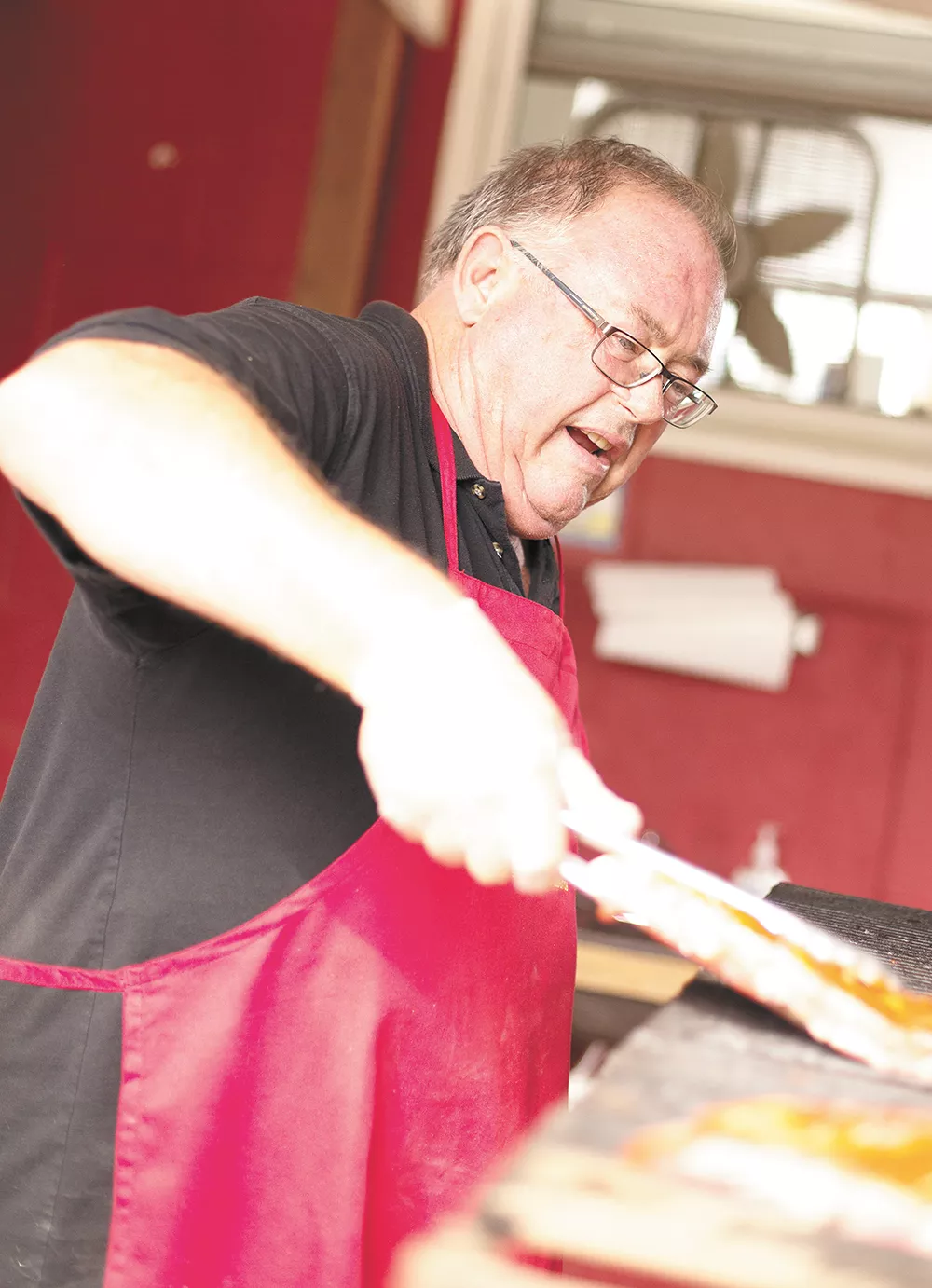 Day one: Get your meat ready. Prep. Trim. Inject. Season. Everyone makes the same four meats — brisket, pulled pork, ribs and chicken. When midnight strikes, plop the first round of cuts on the smoker and settle in for a lengthy wait.
"At midnight, you sit up all night long babysitting, spraying your meat, checking the temperatures, turning it around," says LeRoy Payne, who recently opened Uncle LeRoy's BBQ in Spokane Valley. "It's quiet, but it's extremely intensive, everybody taking care of their stuff. It's real secretive. Nobody wants to let you to see what they're doing. The next morning, it hits the fan."
On day two, you have only a 10-minute window to turn in your entry to the judges; better have timed your 10 to 12 hours of barbecue time just right and arranged your clamshell box precisely, using tweezers and Q-tips to make the meat and lettuce garnish presentable. No foreign objects in the box or you're disqualified. If you're one second late — disqualified.
"The competitive barbecue world is a huge group of people that are extremely serious about their barbecue," Payne says.
That's the world Payne was part of for three years when he traveled around the country doing barbecue competitions with his wife, Donna, after they spent seven years as traveling cookware salespeople. He's cooked against barbecue big shots like Guy Fieri, Johnny Trigg and Chris Lilly and come away with a stash of ribbons and trophies, a grand champion win at the Cheney Jubilee BBQ Competition, and a tie for second place for his brisket at the Jack Daniel's World Championship Invitational Barbecue in Lynchburg, Tennessee.
After a while, Payne decided to start feeding his barbecue to the public.
"Everybody in my family was getting sick of my barbecue because I was doing it every day, practicing, so I thought maybe I should open a little public market," he says.
The couple settled down in Spokane to be near their son and grandkids and opened Uncle LeRoy's BBQ to the lunch crowd in the Spokane Public Market.
"It took off. It exploded for me," says Payne. "It did really, really well." After the public market closed down earlier this year, Payne decided to open his own place, this time serving both lunch and dinner.
The restaurant — still called Uncle LeRoy's BBQ — opened last month in a house-like structure on South Pines Road in Spokane Valley, with a large lot out front where Payne hosts a farmers market and swap meet for vendors on Saturdays and Sundays through September. Out back, there's plenty of room for him to teach his monthly barbecue class (last Sunday of the month, starting Aug. 31) and do all his barbecuing outside on his smoker that can cook 50 slabs of ribs at a time.
Similar to his process for competitions (he still competes occasionally), Payne spends the night before a business day cutting, trimming and seasoning the meat with his own rub and lets it set in the cooler overnight. Instead of midnight, he starts up the smoker at 5 am, cooks the meat four to 10 hours before lunchtime and starts a second round a little later for the dinner crowd. Unlike grilling, which is done directly over flame, barbecue is slow, low and indirect heat, says Payne.
Despite the strict "there ain't no shigging [recipe-stealing] allowed" rule at competitions, Payne is willing to reveal one of his secrets.
"The connective tissues in the barbecue don't break down until it hits 197," he says. "That's one of the biggest mistakes people make. They'll cook their barbecue [and say], 'Oh, it's done. It's 175 degrees.' It's done, you're right, but it's not tender."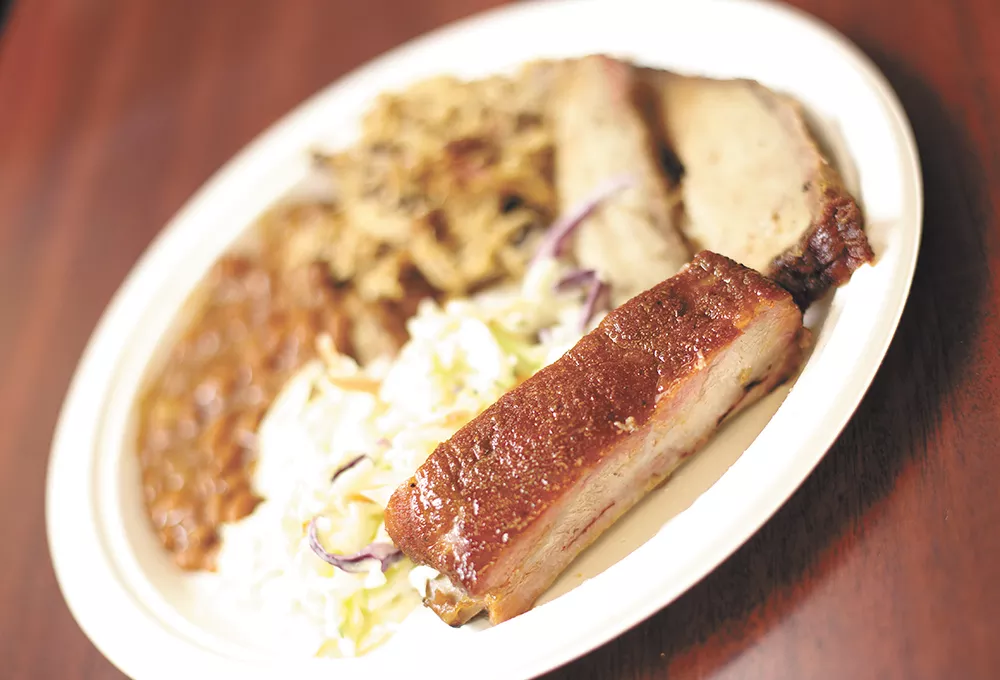 "I think the best barbecue is cooked fresh," says Payne. "It has to have an absolute balance of spices, seasoning and smoke."
For him, the flavor needs to be able to stand on its own. When you order pulled pork, brisket, ribs or German sausage from the menu (chicken is coming soon), no barbecue sauce comes on it. And of course there are sides, like housemade tangy cornbread muffins, barbecue beans, coleslaw and peach cobbler, to make it a meal.
Bottles of sauce line the counter should you choose to douse your meat, but the sauce is just a condiment, says Payne, because real barbecue doesn't need sauce to taste good. ♦
Uncle LeRoy's BBQ • 205 S. Pines Rd. • Open Tue-Sun, 11 am-8 pm • 443-3540