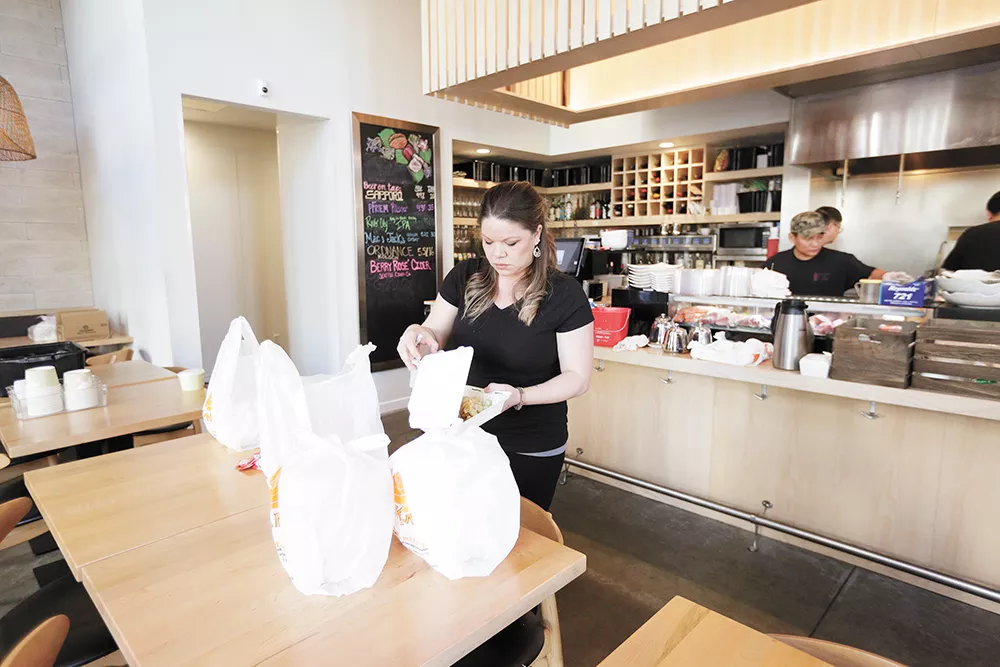 Until very recently, chef and restaurateur Adam Hegsted employed about 175 people across his company Eat Good Group's 10 spots throughout Spokane and North Idaho.
Last Friday, he was down to just 30 employees.
The picture is just as bleak for other restaurants and bars in the Inland Northwest following state and local measures banning in-person service at restaurants and bars in an effort to slow the coronavirus' spread.
"I'm just really, in general, worried about what we don't know," Hegsted says. "We don't know when this is going to end. Especially if you have a new restaurant or were just barely getting by, the margins were already super thin."
When the coronavirus threat finally does pass, he predicts, we may see permanent closures of up to one-quarter of restaurants nationwide.
While many restaurants are barely keeping the lights on with take-out and delivery-only service, others have closed temporarily, hoping instead to wait out the worst and reopen when the pandemic has passed.
Some of Hegsted's restaurants, like the Yards Bruncheon and Incrediburger and Eggs, are doing OK without dine-in customers, even though both are still down to about 30 percent of regular business. Days into the dine-in ban, he had to drastically cut operating hours for others, like the Wandering Table and Gilded Unicorn. Eat Good Group's catering services took one of the biggest hits when event cancellations led to more than $50,000 worth of catering contracts being lost.
Meanwhile, Idaho Gov. Brad Little issued a statewide stay-at-home order on Wednesday, which includes a ban on dine-in service at restaurants and bars, but allows take-out and delivery. Many North Idaho restaurant owners, however, had already closed their dining rooms out of concern for public safety. Local officials in Coeur d'Alene, Post Falls and other North Idaho cities also issued emergency bans on dine-in service days before the governor's order.

Collectively, these restaurant owners hope the sooner such widespread actions are made, the sooner the threat passes and they can reopen.

"Get the federal closure done for whatever period of time, and then rip the Band-Aid off so we can move toward normal functions," Hegsted says. "We're slowly bleeding out money, and all our employees are living off unemployment and without full-time jobs, so let's just get the [closures] done sooner than later."
For another local restaurant group, the story is much the same. Nearly 90 percent of staff for the Goodwin Group's six Spokane restaurants have been temporarily laid off, says Food and Beverage Director Jory Hustad.
Because neither serves food, Volstead Act and Press bar are both temporarily closed, though the company's four other ventures — Backyard Public House, Brick West Brewing, Remedy and Barnwood Social Kitchen & Tavern — all remain open for to-go orders.
Business at those four in the days following Washington Gov. Jay Inlee's dine-in service ban, however, far surpassed company expectations.
"It has been humbling. The community has been overly supportive," Hustad says. "Customers have been doing whatever they can to make sure we'll still be here when this blows over."
He says each still-operating restaurant has been busy enough to keep about five people on the schedule each night during the dinner rush.
Last Wednesday, for example, he says Brick West had more than $1,000 worth of beer and food sales, with Backyard and Remedy averaging about $800 each in to-go orders.
"I think for every business in Spokane, especially in the service industry, you have to plan for the worst and hope for the best," Hustad reflects. "We went into this planning for the absolute worst, but these last few days have been full of good news."
Those positive moments include more than $1,000 in gift card sales company-wide, catering orders from corporate customers and making meals for Ronald McDonald House Charities of the Inland Northwest.
"We're in a time of crisis, yes, and we're being selfish trying to make sure our business stays open, but also looking to give back to the community that's given us job opportunities," Hustad says. "If any food would be going to waste, we're cooking it to give to first responders or anyone who needs help."
To that end, Goodwin Group is also serving free meals twice a week to its laid-off employees and their families.
The Spokane metropolitan area has more than 24,000 workers in the hospitality sector, which counts hotels, restaurants and bars. Add to that several thousand more in North Idaho. Based on estimates from most restaurants we've talked to, it's a fair projection to say the majority of these workers literally lost their jobs overnight.
Hospitality relief nonprofit Big Table is ready as requests for aid come pouring in.
Since 2009, Big Table has been helping crisis-affected workers in the often precarious restaurant industry through a vetted referral system. Chefs, owners, managers and others can directly request support for a struggling employee, while the nonprofit can prioritize the most pressing needs of individual requests. Big Table was founded in Spokane, and also operates in Seattle and San Diego.
"Right now, with this unprecedented situation, what we're trying to triage is gifts that focus on housing stability and food security for families," says Executive Director Kevin Finch. "One thing we've also done well is collaborate and partner; we don't want to duplicate services that someone else does better than we do."
A massive influx of requests to Big Table's Seattle branch — at one point so many they had to put a temporary hold on new referrals — has allowed the team here to anticipate incoming needs in the Spokane area. As soon as donations come in, Big Table fulfills another request, Finch says.
In addition to making a direct donation to Big Table (big-table.com), the organization developed a list of alternative ways to support hospitality workers. Top on the list is to order food from restaurants that remain open to carry out. The nonprofit suggests simple acts like checking in with your neighbors, or volunteering at local food banks if you're healthy and able.
"It's a gift that we've had 11 years of caring for folks in the industry under our belts," reflects Finch. "Even though we're in triage mode, we know what we're doing and how to do it well." ♦