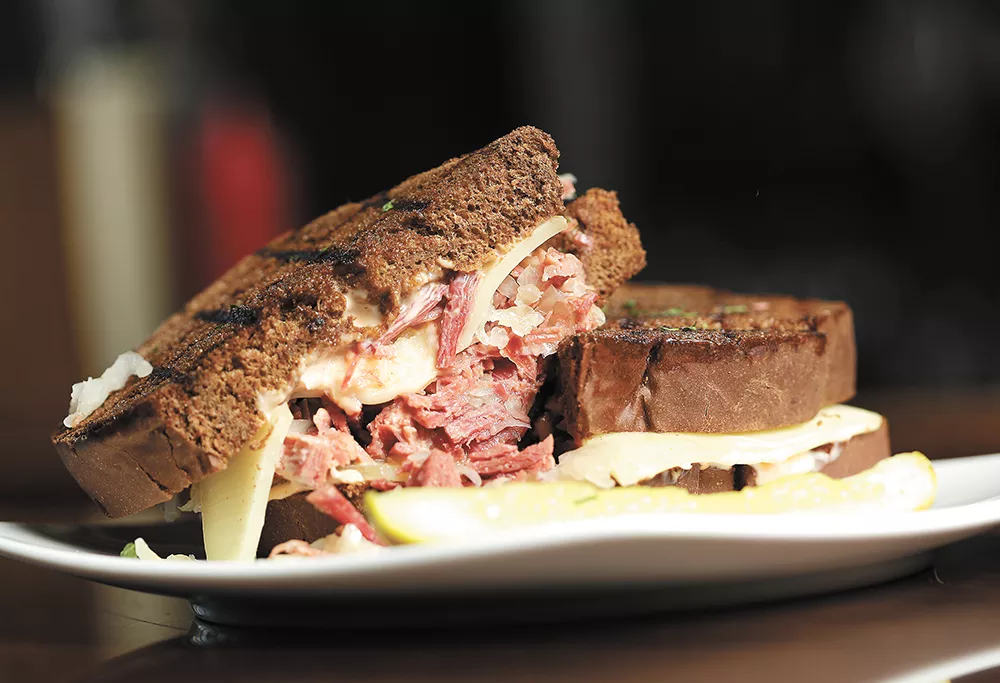 The Reuben sandwich — that famous combination of corned beef, sauerkraut, Swiss cheese, rye bread and Thousand Island dressing — wasn't invented in Ireland, nor by an Irish cook, according to the most prevalent accounts (one credits a hotel in Omaha, Nebraska; another a deli in New York City). Even so, the sandwich so regularly attributed to the Emerald Isle indeed has lasting ties to Irish culture in its two main ingredients: corned beef and cabbage. How corned beef became synonymous with Irish cuisine — thanks to British influence and the economics of salt taxes — is a long story for another day. (Read more in "Is Corned Beef Really Irish?" at smithsonianmag.com.)
Like many American food favorites, the Reuben is a mashup of cultural influences, and its modern flavor is largely due to Jewish cooking practices. Around the turn of the 19th century, Irish and Jewish immigrants had settled together in pockets of New York City, where the Irish bought salt-cured beef brisket from Jewish kosher delis that often threw in cabbage and potatoes with the meat. This popular trio didn't make it back home until more recently; in Ireland the traditional St. Patrick's Day meal is lamb or bacon.
In the end, the Reuben is an American invention, thanks to our country's long history as a melting pot for people from around the world. Just in time for everyone's favorite Irish holiday, our team rounds up some worthy locally made Reuben sandwiches to sink your teeth into. (CHEY SCOTT)
Suffolk Reuben ($9)
O'Shay's Irish Pub & Eatery, 313 Coeur d'Alene Lake Dr., Coeur d'Alene
You needn't wait until St. Patrick's Day to celebrate Irish cuisine at O'Shay's Irish Pub & Eatery, a fixture of Coeur d'Alene's East Sherman district for nearly 15 years. Of course the restaurant also serves fish and chips, shepherd's pie and corned beef and cabbage, plus a few Irished-up dishes, like Irish nachos with potatoes instead of chips.
O'Shay's Suffolk Reuben is a wee variation on the classic combination of corned beef, melted Swiss cheese, Thousand Island dressing and grilled rye bread. In lieu of mustard, the restaurant uses horseradish sauce for a nice kick without the mustardy tang, and their scratch-made corned beef is lean and not too salty. It's not the biggest Reuben you'll find in the Lake City, yet its year-round availability and hearty pub environment make it a local fave, made all the better by the likelihood of hearing the local firefighter Pipe and Drum band come that special day in March. (CARRIE SCOZZARO)
Hooligan & Hannigan ($13)
O'Doherty's Irish Grille, 525 W. Spokane Falls Blvd.
It's no surprise an Irish pub would serve what is arguably the best Reuben in the Inland Northwest. Somehow the flavors of this sandwich are enhanced when accompanied by a properly poured Guinness (patience, people!) and the sound of Celtic tunes or loud customers cheering on Notre Dame in whatever sport.
All the ambience and libations don't mean anything, though, if the Reuben doesn't deliver. O'Doherty's does, particularly in its traditional "Hooligan & Hannigan" version. They also do a "New York Style" Reuben (no Thousand Island dressing or sauerkraut) and a spicy chicken Reuben, but I'm a traditional guy. The Hooligan & Hannigan features plenty of the tender corned beef required by any good Reuben, balanced perfectly by its sauerkraut and Swiss cheese. And while I'm a fan of a marble rye, the toasted dark rye bread favored by O'Doherty's certainly makes the red corned beef pop for the eye, and has plenty of great flavor, too. You can get a half-sandwich version ($10), but you won't want to after you try it. (DAN NAILEN)
Traditional Reuben ($13)
The Two Seven, 2727 S. Mt. Vernon St.
You want salty, moist and delicious meat? You want soft rye bread? You want house-made sauerkraut, Thousand Island and melted Swiss all blending together? Well, then you want the Reuben from The Two Seven (or The Elk).
Reubens, when they're done wrong, can be too dry — both in taste and in texture. But this Reuben avoids that mistake. The corned beef is cooked slowly, and each bite of it reminds you of a thickly cut slice of bacon that somehow falls apart in your mouth. It can get messy with the sauce and the cheese, but it's welcomed chaos, and the thick slices of bread can handle it. The sauerkraut gives it a subtle flavor, giving more room for the strengths of the sandwich — the meat and sauce — to breathe. If you've never had a Reuben, this sandwich will leave you wanting to come back for more. (WILSON CRISCIONE)
The Rude-Ben, aka, Reuben's Drunk Uncle ($12.50)
Bruncheonette, 1011 W. Broadway Ave.
I first encountered this beautiful sandwich outside of Perry Street Brewing, served up from the Couple of Chefs food truck, whose owners went on to open this brick-and-mortar location in 2016 in the shadow of the county courthouse. That tasty first impression made me all too happy to take this assignment.
The genius of this drunken Reuben is just how juicy the shredded corned beef is; it alone would make one swoon. But add in a little sweetness (with caramelized onions), a little sour (with Guinness-braised sauerkraut), a little sauce and a little cheese (Dubliner Irish cheddar) and you'll hold in your hands a sandwich worth remembering. Side options include house salad, a potato medley, fries and, as I opted, tater tots, served hot and heaping in a large bowl. (JACOB H. FRIES)
Guinness Braised Reuben ($13)
True Legends Grill, 1803 N. Harvard Rd., Liberty Lake
Here's the setup: Juicy corned beef is braised with Guiness beer and sliced while still warm. Meanwhile, the marble rye bread is toasted. Piled on top of the salty meat goes a mound of sauerkraut and True Legends' housemade Thousand Island dressing. Melted Swiss cheese envelops the whole thing.
"It's our most popular sandwich," says True Legends' chef Kyle Barbieri. "We developed the rescipe in house to bring out the flavor in the corned beef."
You're sure to lose some of the sauerkraut and juices with each bite — this is a three-to-four-napkin sandwich that comes with fries: steak cut, sweet potato or tater tots. For St. Paddy's Day this weekend, you can also order Irish stew as a side.
"It goes great with a glass of Guinness," he says. (MITCH RYALS) ♦
---
OTHER TASTY REUBENS
Herbie's Famous Reuben, $8.25
Herbie's Deli, 4055 N. Government Way, Hayden
What's special: Pick corned beef, pastrami or both
Stack House Reuben, $16
Steam Plant, 151 S. Lincoln
What's special: Made with short-rib pastrami marinated, brined and smoked for seven days
Reuben Sandwich (lunch menu only), $14
Safari Room Fresh Grill & Bar, 111 S. Post
What's special: Comes with the Davenport's signature Louis dressing in lieu of Thousand Island
Ultimate Reuben, $16
1898 Public House, 2010 W. Waikiki Rd.
What's special: Sauerkraut with balsamic and Thousand Island with horseradish
Reuben, $8
Main Market Co-Op, 44 W. Main
What's special: You can't always get it, but when you can, it's a cheap version of a classic take.