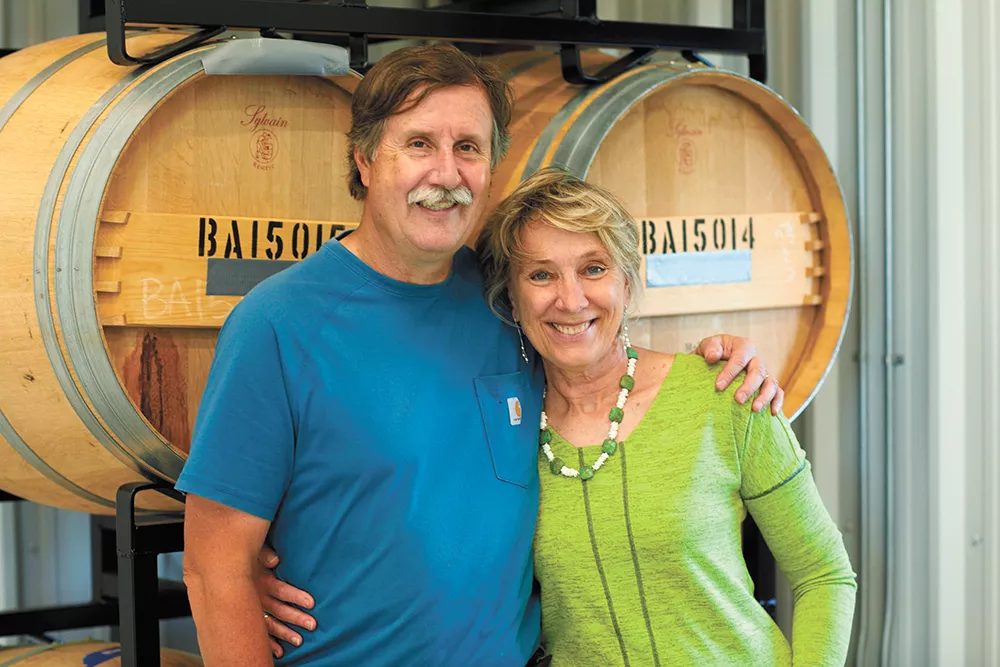 Washington State University continues to produce talented winemakers who've graduated from its Viticulture and Enology program launched less than a decade ago. Yet it's a couple of WSU alumni medical professors and their scientifically minded son who are creating the most recent buzz with their newly opened Spokane winery Winescape.
Patricia and Phillip Butterfield — both with doctorate degrees in health science fields and teaching at WSU's Elson S. Floyd College of Medicine — founded the winery with their son, Tristan Butterfield, who earned a physics degree at Notre Dame, but has pursued winemaking since 2010.
Phillip, an associate research professor with a dual background in engineering and microbiology, and Patricia, a professor and associate dean of research education, were on vacation in Australia when they became curious enough about winemaking for Phillip to try his hand at the ancient craft. Not long after, Tristan informed his parents he was going to pursue winemaking, interning at Wenatchee's Chateau Faire Le Pont winery, then landing a job at Hogue Cellars and eventually Kiona Vineyards and Winery, where he continues to work as an enologist.
"We're the poster children for squandering our life savings in our 60s," jokes Patricia, who continues teaching at WSU, although Phillip plans to retire in June.
"I'll be down to only one full-time job then," he says, laughing.
Winescape gained steam in 2015, when the Butterfields purchased a 14-acre farm in Glenrose, a mostly rural area southwest of Spokane. Leaving behind their beloved Tudor revival home on the South Hill, the Butterfields moved into an 800-square-foot house overlooking an old red barn on the Glenrose acreage.
Renowned Seattle-based architect and Spokane native Tom Kundig designed Winescape's 4,000-square-foot production facility to emulate the historic barn next to it. Kundig, whose repertoire includes designing winery production and tasting facilities in Washington and Canada, used to play in the Glenrose area as a youngster, say the Butterfields, who met the architect through a friend of a friend.
Winescape's facility houses a tasting room, featuring custom furniture by Dare Designs' Bart Templeman, which currently is one of only two places to try Winescape's current wines (the other is Petunias Market in Spokane). The tasting room opened its doors in November 2017.
In addition to a Columbia Valley chardonnay and a lovely gewürztraminer called Harvest Moon, Winescape produced both a 2014 syrah and a 2015 cabernet sauvignon using Red Mountain American Viticultural Area grapes grown near Benton City, Washington.
"You have to start with iconic wines," says Phillip, noting that their four initial wines are all from grapes they knew and liked. Their 2016 chardonnay, for example, features Sunnyside Vineyard grapes their son worked with while at Hogue Cellars.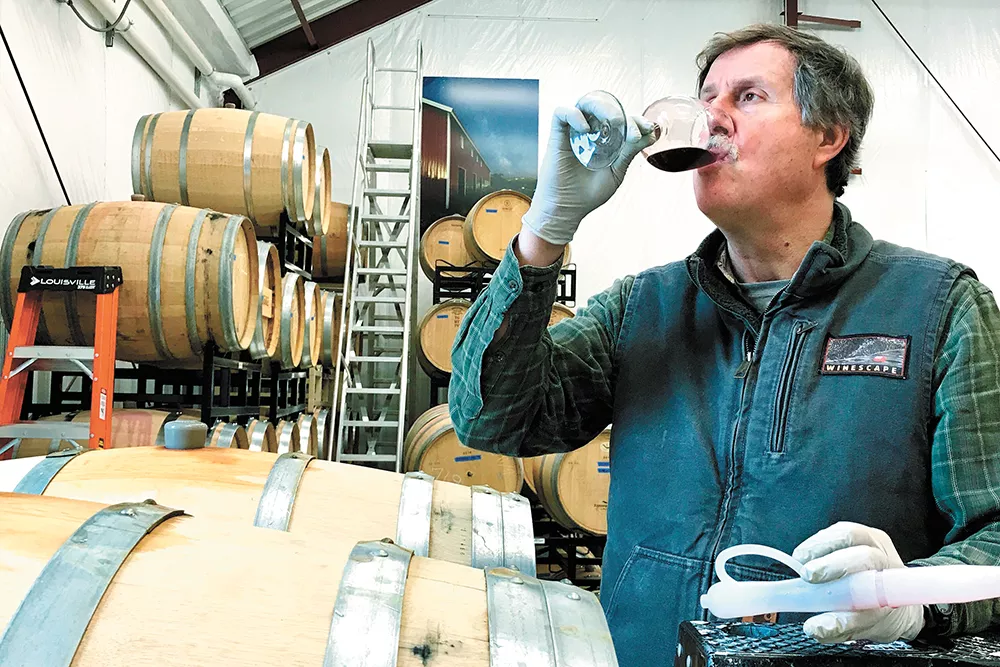 "At Winescape, the folks managing the vineyard are a big factor in determining where we get grapes," says Tristan, who's worked as an enologist at Kiona Vineyards since 2014.
Winescape wines are the result of collaborations with several vineyards, says Tristan, who is busy selecting the grapes for upcoming releases. He's working with Heart of the Hill Vineyard to produce cabernet sauvignon, merlot, petit verdot, mourvèdre and carménère, as well as Ranch at the End of the Road Vineyard for Winescape's syrah and gewürztraminer. Winescape is also working with Sagemoor Vineyard's Dionysus and Bacchus vineyards for its cabernet sauvignon and petit verdot, as well as Oasis Farms for a grenache and a growing list of others.
"We think the relationship between the winemaker and vineyard manager can have a big influence on the final product," Tristan explains.
"All the Red Mountain vineyards are within a 10-minute walk of my office at [Kiona]. Seeing the vintage unfold each day really informs our winemaking and I'm able to communicate things I see in the vineyard to the rest of the Winescape team up in Spokane." ♦
Winescape • 6011 E. 32nd Ave. • Open Fri-Sun 1-6 pm • winescapewine.com • 474-0150