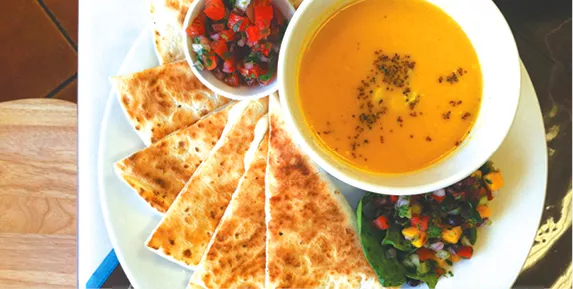 Fresh, bright, tropical and yet prominent throughout Latin America, the carambola fruit is the inspiration for the Coeur d'Alene cafe of the same name. Run by Colomba Zavala-Aguilar, her father Juan and husband Carlos, Cafe Carambola serves lunch-only crowds in a cozy storefront along Northwest Boulevard.
Cafe Carambola's menu features salads, soups, drinks, quesadillas and tortas (sandwiches) that reflect chef Colomba's fusion cooking style. From-scratch French bread, for example, reflects French influences on Central Mexican cuisine, while the contents of Carambola's sandwiches run the cultural gamut from the El Cubanito (pulled pork and pineapple salsa) to El Argentino (with chimichurri).
Recipes blend travel experiences, family get-togethers, and Colomba's classic training at San Francisco's Le Cordon Bleu and its affiliate, the California Culinary Academy. Look for daily soup specials like the zesty sweet potato, as well as seasonally changing, Mexican-style fresh fruit coolers.