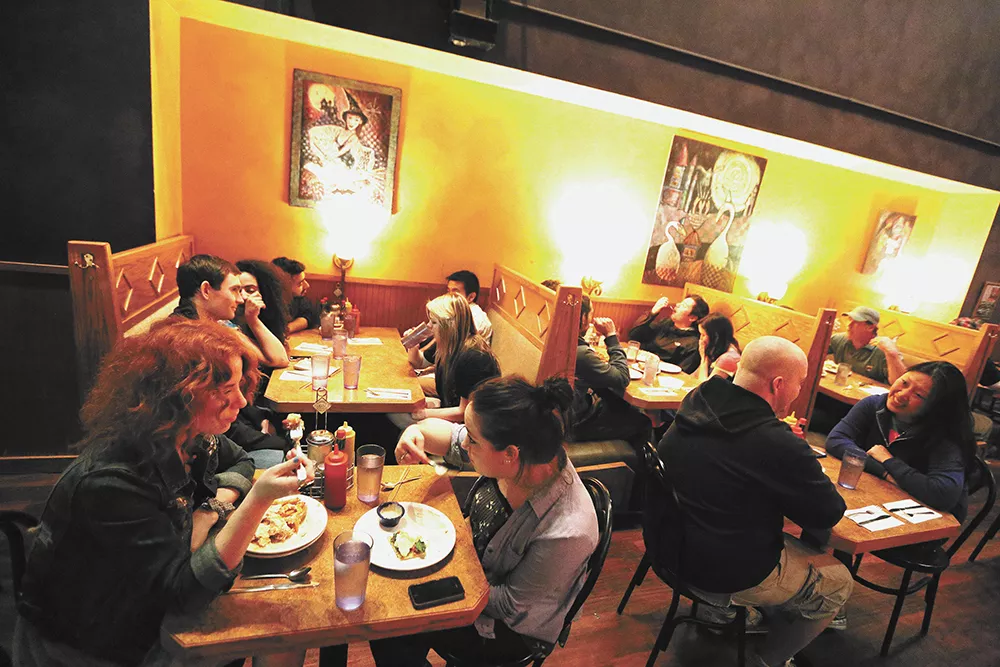 It's 5:30 am on a cold Tuesday morning, and stars are still visible in the sky that's yet to blush pink along the eastern horizon. Even now, traffic on Interstate 90 is steady, especially heading into Spokane. Many drivers are on their way to jobs with "normal" hours more akin to Dolly Parton's "9 to 5." Some, however, are just ending their shift, and are among the 15 percent of American workers whose jobs start or end in the wee hours between dusk and dawn. For them, finding a meal after work can be a challenge.
"The Satellite [Diner] is kind of the obvious choice for late night dining," says Holly Lodoen, a geology student at Eastern Washington University and bass guitarist for local band Light in Mirrors. "It's small and diner-like but with that downtown, hole-in-the wall, hipster feel."
Playing in a band might mean ending your shift as the venue closes, and typically well after most kitchens are closed. That's one reason the diner stays open until 4 am, says Satellite owner Colleen Freeman, "so that the folks closing the bars can get some good comfort food to soak up the evening fun and also so the industry people have a place to go for a meal after closing."
"Popular late-night orders are the scrambles, breakfast burritos and loaded fries," Freeman adds. "Also biscuits and gravy."
Besides the Satellite, Lodoen likes Atilano's Mexican Food downtown, which stays open until 3 am (hours vary at other locations, including Coeur d'Alene's, which closes at 2 am).
"It's burritos and Mexican food, better than Taco Bell. You can sit down in the lobby area and they have a little salsa bar," says Lodoen, adding that the Zips on Division keeps their lobby open 24 hours.
"It gets interesting in there around 3 am!"
For many in the service industry — hospitality and health care, but also police officers, road crews and utility workers — convenience stores, fast food and chain restaurants provide the scant dining options available. All Inland Northwest Jack in the Box locations, for example, are open 24 hours, as are WinCo Foods and WalMart, both of which have reasonable grab-and-go sections.
Many convenience stores are also open 24 hours, so although Millwood Grocery & Spirits can only sell liquor from 6 am to 2 am, you can microwave something or get a hot dog any time of the day or night.
When we polled social media users on Reddit and Facebook to get their picks, three distinct groups emerged: Places open until at least 11 pm (and later on weekends), including late night happy hours; early morning places whose doors might open well before sunrise; and 24-hour joints, of which there are very few.
In North Idaho, Pepé Caldo's Pizzeria, Kaiju Sushi and Spirits and the Oval Office were diners' top recommendations for late night eats, while Spokane locations tended towards taverns and pubs. Cascadia Public House, Gilded Unicorn, Pentagon Bistro (Liberty Lake), Remedy and the Onion all stay open until around 11 pm (and later on weekends), as does Crave in downtown Spokane and Goodtymes Bar and Grill in Spokane Valley.
Downtown spots Durkin's Liquor Bar and Hogwash Whiskey Den are both open past midnight and have received rave reviews for their food, as did Max at Mirabeau in Spokane Valley. Max's late night happy hour, from 9 pm-1 am, was especially popular with respondents for its reduced drink prices and half-off appetizers, like the cheese fries ($3.45) and coconut chicken satay ($4.45).
Many people, meanwhile, also favored national chain locations like Shari's Café, which is open 24 hours, as well as IHOP, Perkins and Applebee's.
These and locally owned diners are also typically open early, offering graveyard workers several dine-in breakfast options. In Spokane, Molly's Family Restaurant, Dolly's Café, Kalico Kitchen and Frank's Diner all open at 6 am. Some bars, like Dave's Bar and Grill in Spokane Valley, and many hotels, like the Davenport's Safari Room and Palm Court Grill, not only open at 6 am for brekkie, but will also serve you an adult beverage if you're so inclined.
The early bird award goes to Frankie Doodle's on East Third, which currently opens at 5 am (though it used to be open 24 hours).
Steve Brendemihl remembers those days, having cooked at Frankie Doodle's until 1991 when he left to join the Broadway Flying J Travel Plaza. Run by the Alsaker family since 1963, the plaza's Broadway Diner is open 24 hours, catering to a fleet of familiar faces as well as many a long-haul truck driver.
Broadway Diner used to be much busier in the wee hours with more factory shift workers and the like, says Brendemihl, who now runs food services for the Broadway Group, which manages the Spokane and several other Northwest Flying J locations.
He wonders if more stringent DUI laws encourage fewer on-site diners as customers are wisely choosing not to drive. He notes that the diner, which works with Uber Eats, Grubhub and DoorDash, has seen a steady increase in phone-in and online orders.
"In this day and age people are more likely to be on their app," says Brendemihl.
For other guests, says Brendemihl, Broadway Diner offers a complete menu — breakfast includes the popular chicken fried steak, served all day — and a place for peace and quiet, but also for a little socializing.
"Part of a night server's job is to try to read that," he notes.
For regulars like Tom Nilles, who's been coming there for more than 30 years, the Broadway Diner offers both a quiet respite and an opportunity to be amongst friends.
Sitting in his usual spot at one of two counters inside the modest eatery, Nilles has barely taken a sip of his coffee before someone passes by to refill his mug. He jokes good-naturedly with his server, glancing occasionally at the big-screen TV overhead. It's tuned to the news, but the sound is off; not that it could be heard over the steady bustle of the kitchen, background music and the friendly patter of servers, many of whom have worked at the diner for decades.
Nilles is used to getting up early. His old shift in waste management started at 5 am for the 26 years he was in that industry. Long since retired, the Broadway Diner is now just part of his routine. At 5:30 am on any given morning, Niles is already on the road heading over for his first cup of Broadway Diner coffee. ♦