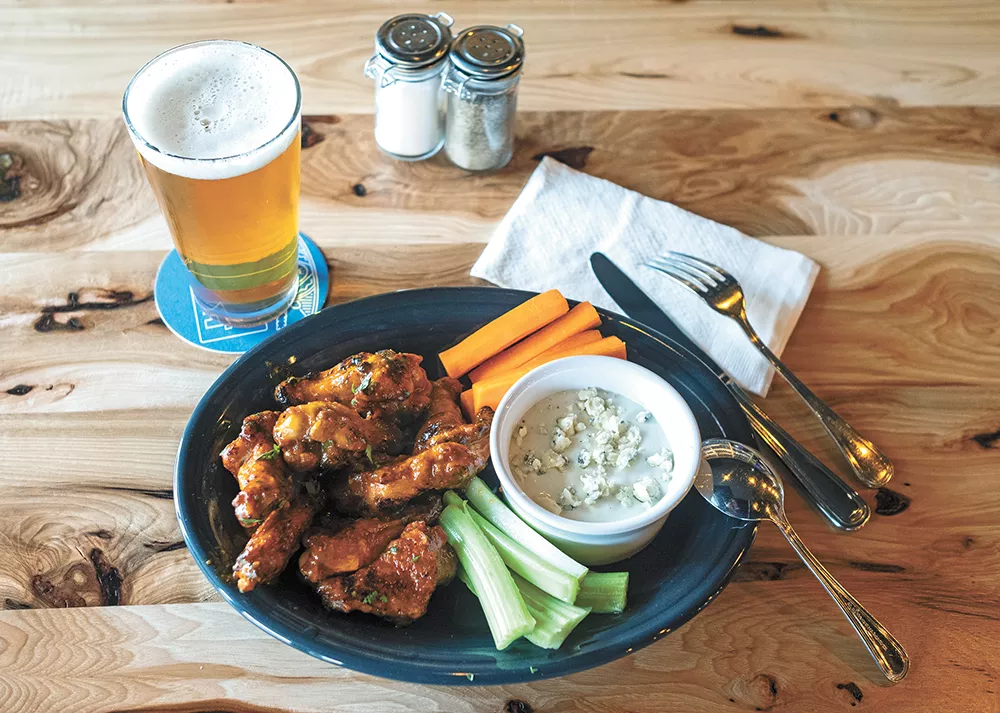 Latah Bistro on Spokane's west end has a new sibling. Wine & Taps opened earlier this winter next door to the longtime fine-dining spot, both under new ownership.
More casual than its restaurant counterpart, the bar's offerings go beyond its namesake of wine and beer. There's a full food menu of pub fare and a full bar serving craft cocktails.
New owner Susan Readel bought the 15-year-old Latah Bistro from its original owners in April last year, and decided to also open the adjacent bar as the space was newly available. Readel also owns the nearby drive-thru coffee stand Latah Latte; all three businesses are located in a commercial area along Cheney Spokane Road that's anchored by a Yoke's Fresh Market.
"It was something that I thought this area could use; a casual bar to come get a pint and watch a game," Readel says.
The bar has already proven a draw to loyal customers of the bistro and residents of the numerous housing developments spread across the Latah Valley and the Highway 195 corridor.
"The menu is totally different from Latah. We have sliders, wings, bison chili and we have a charcuterie board, cheeseburger and nachos and salads and a special cocktail list," Readel says.
The bar serves six rotating craft beers on tap, and a full wine list separate from the bistro's, although customers can order bottles of wine from next door if a favorite is omitted. Wine & Taps' food menu was a collaborative effort amongst Readel's culinary team and front-of-house staff at both the bistro and bar.
"Their creativity is behind this," she notes.
Shareable snacks include pretzel pops ($8) which are served on skewers with stone-ground mustard beer cheese sauce for dipping. The "King Wings" ($13.50) are coated in a scratch-made, Memphis-style barbecue sauce. The epitome of indulgence is a "sinful" pint of bacon served with a whiskey maple syrup dip ($13).
Popular dishes so far at Wine & Taps are its vegetarian nachos ($12.50; add shredded chicken or beef if desired for $3-$4 extra) and the Mississippi roast sliders ($15), topped with a Cajun spiced aioli and pepperoncinis.
Readel also points out the popular staff-created dish, a Caesar salad topped with chili-lime roasted chicken ($15), nicknamed the "crack salad."
"It's a long-time employee favorite; they have been making that [off-menu] since the bistro started in the back of the house, so now we brought it out in the light."
Wine & Taps is decorated in a rustic, Western-meets-contemporary vibe. The bartop is a giant piece of knotty hickory wood, and vintage black-and-white photos of rodeo riders hang on the walls.
"There used to be a cattle ranch where this bar stands, so some [photos] were taken in the exact spot," Readel says. "It's a blast from the past."
With the arrival of warmer weather come spring, Wine & Taps will introduce outdoor seating off to the side of its front entrance. The patio will have a separate bar, and a roll-up garage door that can be opened to connect it to the indoor space.
"It's crazy, I've been at Yoke's and had strangers come up and say 'thank you so much' for putting in a sports bar type place," Readel says. "A ton of folks from Eagle Ridge [development] are very grateful. They call it their local pub." ♦
Wine & Taps • 4241 S. Cheney Spokane Rd. • Open Mon-Thu, 3-10 pm, and Fri-Sun, 2-10 pm • Facebook: Wine & Taps • 413-1629