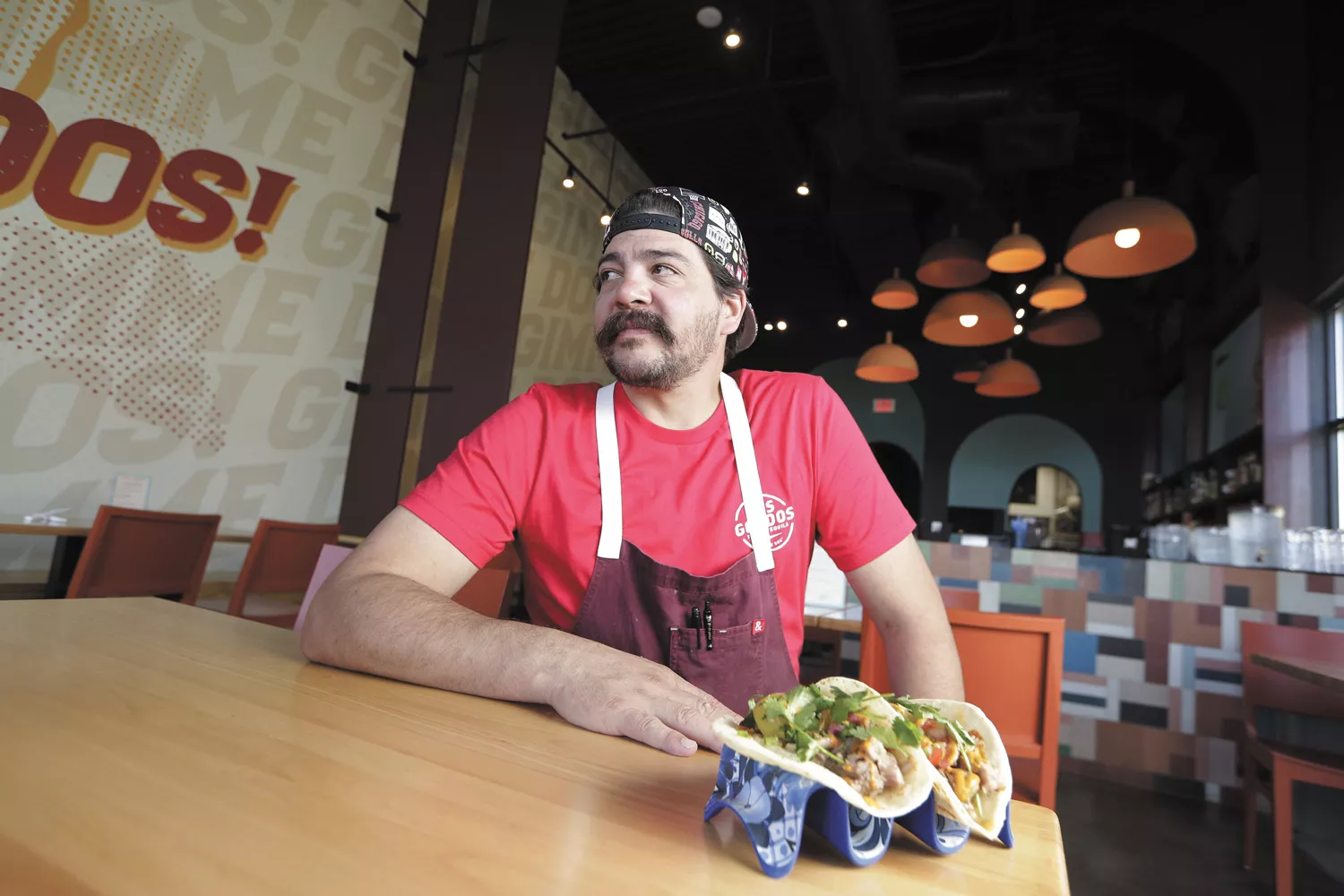 Chef CJ Callahan's first specialty was cinnamon toast. He was 9 years old, cooking for his sisters while his mom served tables at a seafood restaurant in Arkansas.
Take a piece of white bread. Spread evenly with butter. Layer carefully with sugar first, then cinnamon (never mixed). Put it under the broiler. Watch out because the back burns hot — rotate the toast after four minutes to ensure it browns evenly. Make every piece look the same. Make your sisters very happy.
Though his repertoire has expanded, Callahan never lost his meticulous, almost obsessive, care for food and people. Previously the executive chef at Hogwash Whiskey Den in downtown Spokane, Callahan now heads Dos Gordos Tacos and Tequila, a Mexican-esque destination for carnitas and margaritas in Spokane's northern Wandermere neighborhood. His mission is simple: Get people to "eat for joy."
"Some people just eat to survive," Callahan says. "Very few people taste their food and think about it. So much blandness exists, [but] when they experience real flavor, they don't want anything else."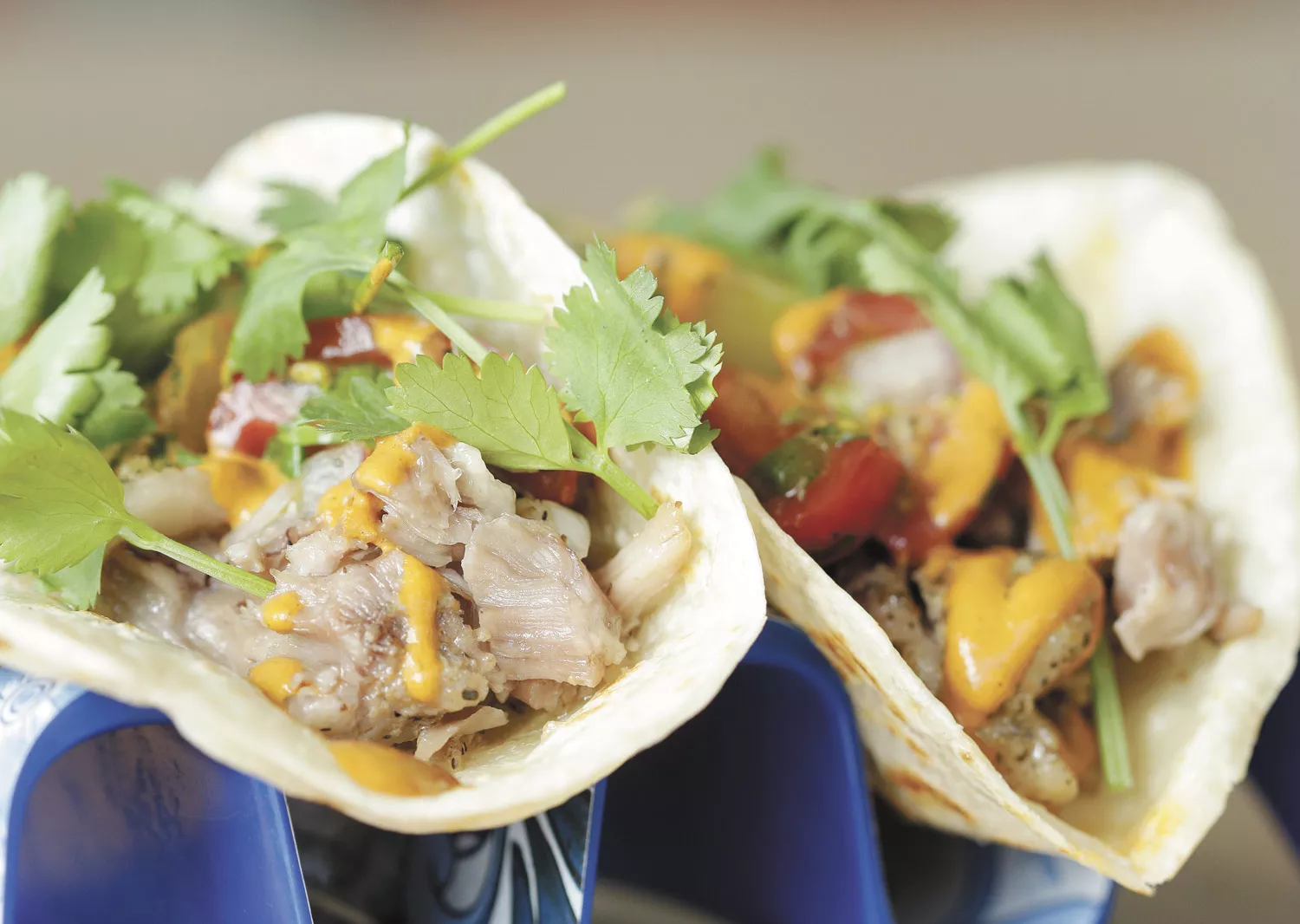 Callahan is Mexican and Irish, an Arkansas native with over a decade of experience in downtown Chicago, trained to cook at a Holiday Inn buffet and a premier Belgian-inspired kitchen.
When One Tree Hard Cider decided to open Dos Gordos, they asked Callahan to design its menu around tacos. The chef promised the food would be just as deliciously confused as he is.
In a brick strip mall between a tanning salon and a physical therapy clinic, Callahan is cooking up a whole new experience. Fried chicken in a tortilla. Tens of bottles of top shelf tequila and mezcal, but also a kids' menu. Carnitas, chorizo and pico de gallo, but also rendered duck fat, roasted fingerling potatoes, and mushroom conserva (a type of pickled mushrooms).
"There's so many ways to lean into the flavors and the cuisine that are nontraditional but motherf—-ing delicious," he says. "In the South, we have comfort food. No matter what techniques you use, the food makes you satisfied."
For Callahan, the best way to make food satisfying is to satisfy the people making it.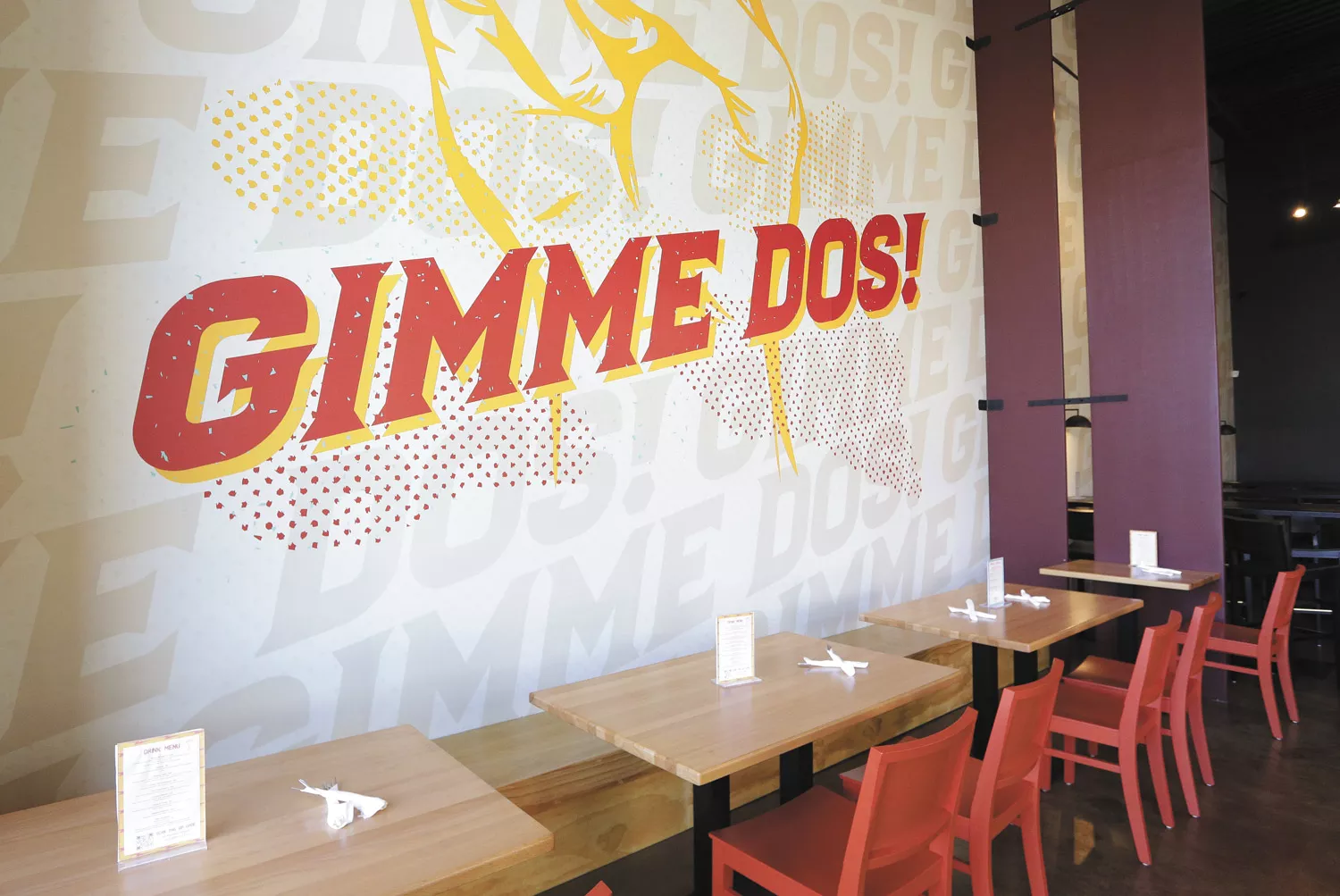 "It translates to people for me, because I've lived away from my family for so long," he says. "There's no substitute for family, but I sought family within the workplace. My kitchen staff is always the tightest knit group I can form. I want them to know that when they come to work — work is a way to get away from this bullshit life."
Someone who is well cared for will care about their job. They'll take the extra time to dredge the fried chicken by hand. They won't serve burnt elotes, the famous Mexican street corn. They'll stay in the kitchen to make sure the french fries are prepped, the tomatoes are fresh, and the pork shoulder is marinated long enough.
Eating at Dos Gordos is an opportunity to experience what caring about others tastes like. But be careful: Actually tasting your food can change your life.
"I don't know how to teach someone to taste food," Callahan says. "I think you just have to have something good enough that you're like, 'Oh, man.' I've seen people eat food that I've made. I've watched their first bite. And I've seen that look where they go..."
Callahan mimics an ecstatic moment, glancing upward then closing his eyes, shaking his head, and leaning forward on his hands like a moment of prayer.
Most people who eat for joy have had a conversion experience like this. Callahan's was as that 9-year-old boy in Arkansas, who took a break from cinnamon toast when his mom brought home dinner from the restaurant.
"My mom let me eat steak and shrimp," he says. "But she wouldn't let me cook it over medium. She's like, 'It has to be medium or less — all the flavor is lost when you cook it.' At the time, I was like, 'I don't know why but OK.' It was juicy. It was delicious. She gave me what in Arkansas was probably a bougie palate for a 9-year-old."
Callahan's mom would also bring home food from a local Mexican place called Chiquitas. His favorite dish was the "Chiquita Chilada," a soft tortilla enchilada smothered in cheese sauce and childhood nostalgia.
I want that comfort, that feeling to be expressed on the menu.

tweet this
"To this day, when I go to Arkansas, I eat there three times every trip," Callahan says. "I want that comfort, that feeling to be expressed on a menu."
So far, it seems like people are starting to feel the love. Despite the new concept and the funky location, Callahan is already recognizing regulars in his dining room.
"That means a lot," he says. "It means that people are recognizing the quality, recognizing the care or recognizing what we're doing. And they want to be a part of it. They want to come in and support us and eat a really good meal."