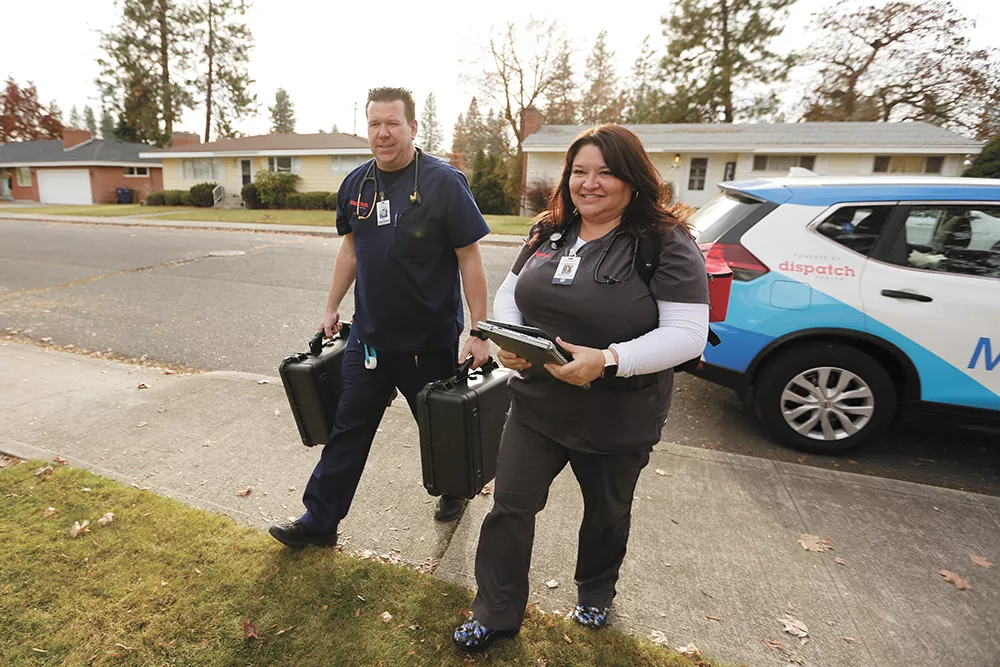 It's a surprisingly icy and snowy morning in Spokane Valley — especially when considering that it's early October. And Christina Duncan, a nurse practitioner for DispatchHealth, an on-demand mobile medical service that makes house calls, bringing urgent care services right into people's homes, is preparing to start the workday. She and an EMT are loading up a small, brightly marked car with medical supplies and equipment, such as a portable $10,000 machine that can do instant on-site blood tests.
Their job? Respond to requests for service for issues ranging from the common cold to fractures and respiratory issues. Patients can request a visit through a phone app, the company's website, or with a phone call. It's like Uber, but for in-home urgent care.
"We call them 'rovers,'" Duncan says of the cars. "We come pretty prepared. We go into the patient's home and treat them."
"There's more stuff in here than there is an ambulance," EMT Aaron Guehrn adds in reference to the 'rovers.'
The company, DispatchHealth, which started five years ago and has now expanded to 16 markets, is reflective of the current trend in the medical industry toward remote health care that utilizes modern technology to deliver services with precision and efficiency. The general goal? Reduce patient travel time, expenses and possible exposures related to crowded waiting rooms with other sick people. But at its core, the home service is a stab at improving the quality of patient care.
"We're kind of bringing back the old-fashioned doctor call," Duncan says. "I mean why not? Amazon delivers stuff. You [can] get your prescriptions mailed to your house. I think it's kind of the way of the future."
Mobile Medical Units
Clinics on wheels, or mobile medical units, have existed for quite some time — particularly for services targeted at serving patients who live in remote communities, says Jim Zimmerman, vice dean of administration, accreditation and finance at the Washington State University Elson S. Floyd College of Medicine.
"Mobile health units have been around for a long time because they have a really important place in serving rural and underserved communities," he says. "In my experience anyway, it's almost been 15 years that we've been aware of that kind of service."
Philanthropy and grant funding, in particular, have always had a soft spot for remote medical units, Zimmerman adds.
DispatchHealth isn't the only game in town. WSU announced its own mobile health care unit as part of a nonprofit academic health network intended to bring care — including screening for diabetes, cholesterol, pregnancy, STDs and asthma — to Washington's rural areas beginning in January 2020.
"There is a mega trend, if you will, in the industry, to deliver all different kinds of health care to where people actually are," Zimmerman says. "There is a transition in the industry, away from in-hospital care — in fact, away from bricks and mortar facility care — and moving toward in-community or in-home care."
The advantages to mobile health care are numerous, proponents argue: Mobile units are highly configurable, and can pack a lot of different equipment, technology, and services into a single unit. They can get to patients in rural areas or reach elderly individuals who have trouble getting to a brick-and-mortar medical facility. The mobile services also may reduce costs when compared to operating and maintaining a bustling physical facility.
"Rather than forgoing care due to distance or a lack of transportation, time being taken away from work — those issues are mitigated if the care can be brought to the individual in their home," Zimmerman says. In addition, "The aging of our population is providing a demand for these types of services in-home because those folks tend to be more infirm, less mobile."
Some patient groups find travel to a clinic setting especially difficult. Guehrn notes that for some patients with dementia, leaving the familiar environment of their homes to go to a hospital can be highly aggravating. Home visits are actually superior to a clinic visit in these cases, he says, "because their care providers can stay next to them and... keep them in a calm state of mind as opposed to eventually getting agitated — sometimes they can get violent, sometimes they can get withdrawn."
Then there is the risk of being exposed to other sick patients at a clinic, particularly for elderly patients or young infants.
"Sitting around in the ER with people — some of them are having chest pain that's not contagious — but you may have people in there with the flu or bacterial pneumonia," Guehrn says. "It can be a killer for somebody who is 80 if they catch that."
"Why expose people to a meeting room full of other sick people?" Duncan adds. "[The mobile medical unit] is for the busy mom who has got like four kids and is like 'I don't want to go sit in the urgent care with all four of my kids and get everyone else sick.'"
Wide Range of Care
So what kind of care does the mobile unit offer? A surprisingly wide variety. In addition to running basic blood tests, "We can actually prescribe medication, we can actually treat things, just like as if you were to go to a stand-alone urgent care center," Duncan says.
The team can also request mobile X-ray and ultrasound services so that patients don't have to leave home for those tests.
During one house call, Duncan and Guehrn visited an 82-year-old man who had been having respiratory issues. A previous visit by a DispatchHealth team had determined he didn't have pneumonia, but a dispatcher recommended a follow-up visit. In his home, Duncan and Guehrn check in with him, take his vitals, and set-up a makeshift doctor's office complete with a mobile printer for paperwork.
"It reminds me of 1964," the patient says. "It reminds me of house calls."
"Not having to go out and be in an ER around people with colds and everything else is very good," Guehrn adds.
DispatchHealth takes both Medicare and Medicaid, and the company's promotional materials indicate that visits cost between $5 and $50 after insurance. Otherwise, it's a flat $275 fee per visit for those without any kind of coverage. In contrast, emergency room visits can cost thousands of dollars.
"In-hospital or in-ER type care is certainly the highest cost per episode," Zimmerman says. "To the extent that services can be provided in lower cost environments, that's certainly for the better."
The company also holds a policy that each unit sees no more than seven patients per day, allowing roughly 45 minutes per person. When call requests start mounting up, the company sends out more cars to meet demand.
"We can actually spend 45 minutes with a patient which is unheard of," Duncan says.
---
ONLINE OBSTACLES
Mobile medical units have the potential to augment tele-health services, creating a bridge between patients and remote specialists. "Remote monitoring instruments are becoming very portable and linkable through technologies like Bluetooth and broadband," says Jim Zimmerman, vice dean of administration, accreditation and finance at WSU's Elson S. Floyd College of Medicine. "Mobile units can get out into more remote and underserved communities and use advances in technology and telemedicine to link patients in their home with certain kinds of instruments in the urban centers where specialists might be."
While tele-health services, independently or when combined with mobile medical units, have opened up new ways to treat patients situated far from medical centers, internet connectivity poses some limitations. The Federal Communications Commission estimates that 53 percent of rural Americans (or 22 million people) lack access to basic broadband services, while internet infrastructure on American Indian reservations is severely lacking, according to a 2016 report from the U.S. Department of Health and Human Services.
"Gaps in access to affordable broadband may constrain deployment of tele-health," the report reads. "Some areas still lack access to... speeds that may be required for advanced tele-health applications."