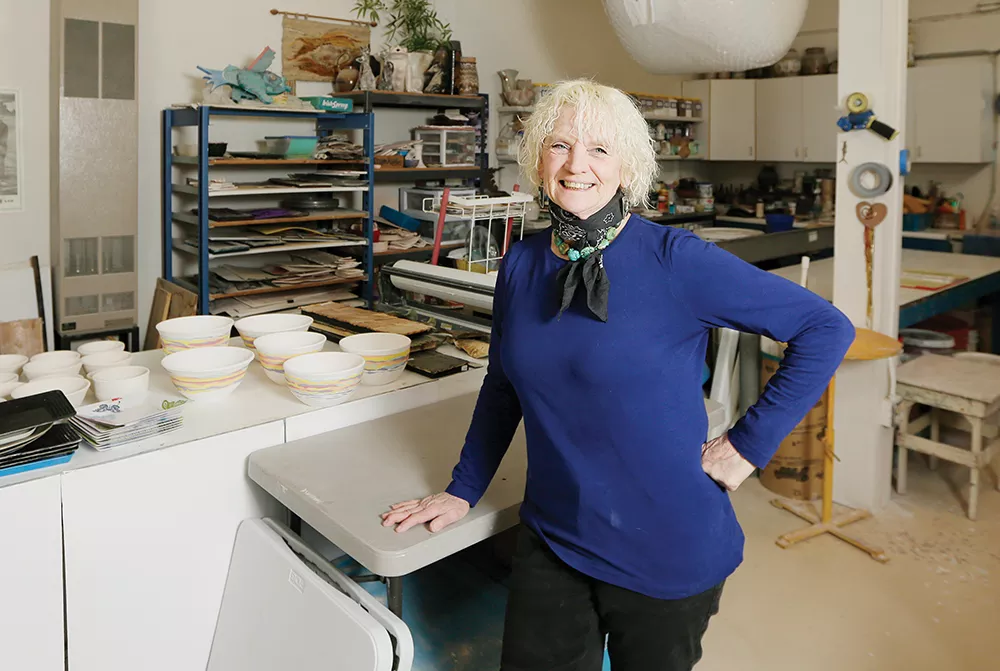 What do Arabian horses, women veterans, ceramics and the food industry have in common? They're all things Jill Ann Smith has built businesses around.
"I've always been a niche marketer," says Smith, who lives in the Little Spokane River area in an older home with a newer shop surrounded by funky outdoor sculptures and a garden. From the road, a unique metal fence reads like a biography of Smith's life with cutouts of things like leaves and horses.
Cutouts of Air Force jets relate to her husband, Doug, whom she met while on the westside, where she grew up and earned her art degree at the University of Puget Sound. Fairchild Air Force base brought the couple to Spokane.
Smith likes to tell the story about a trip to Serbia she and her husband took to secure contracts for EarthGoods, one of many ventures she has run or created in her 50 years as a self-styled entrepreneur.
"In Serbia," explains Smith, "business is done over drinking." Only one person spoke English and none had ever dealt with an American nor a woman. Through hand gestures and smiles, they persisted, with Smith pointing to her husband as the "designated drinker," so as not to offend their hosts.
"My husband drank the Serbs under the table," says Smith, laughing.
Her husband also gave Smith her first horse, opening the floodgates, she calls it. Although she never rode a real one as a child — she made do with stick ponies and stories of the Black Stallion — Smith was especially enamored of Arabians.
She eventually purchased an Arabian, then taught herself about breeding, showing and racing. At one time, her darling "Fulfilled Dream" was the top 4-year-old in the country, racing and winning at Spokane's Playfair.
Smith's love of horses led to Krisean Performance Horses, where she focuses on breeding Arabian race and endurance horses, including Commander, Smith's uniquely colored perlino with pinkish skin and pale blue eyes whom she often writes about in amusing stories about life on the ranch.
The ranch is a 70-acre expanse near Green Bluff, which served as the catalyst for another of Smith's projects: Cowgirls and women warriors.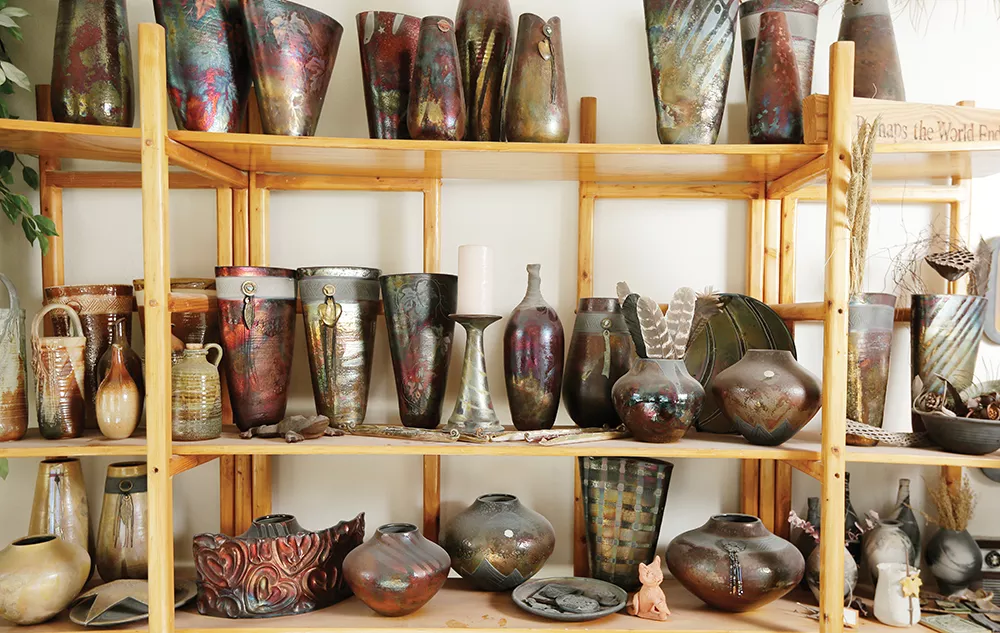 Recognizing a dearth in events specifically for female ex-military, Smith and partners Shannon Morse and Lou Radcliffe created the nonprofit 10 years ago. The free weekend retreat allows participants to camp, cook, and kick up their heels, with activities that range from horse riding to art.
"There is such a need for this," says Smith.
Recognizing a need for things and knowing good fortune when she experiences it are key to Smith's continuing success. In 1983, for example, Smith and a friend marveled at the lack of good food options with simple, wholesome ingredients so they pooled $500 each and started Buckeye Beans.
"I really grew up with that culture of food, nourishing body and soul," says Smith.
Like something out of Jack and the Beanstalk, the little business grew and grew, garnering local and national media attention.
"I have this theory: If you want to put something out there, you start at the top," says Smith, who was the first woman to receive Eastern Washington University's School of Business Entrepreneur of the Year award in 1995.
Now she's launching Cowgirls Cookin' seasoning packets, featuring local artist's work (Gordon Wilson, Debbie McCulley) and with a custom logo component to allow others to use the packets for fundraising.
Her business savvy started well before Buckeye Beans, however. In the '70s, although she taught art at Whitworth University, where she also earned her master's in art education that enabled her to teach K-12, Smith realized she could make more money building her pottery business.
"My kids grew up at art fairs," says Smith, who is represented by galleries throughout the Northwest and three years ago started teaching classes out of her ClayFox Pottery studio.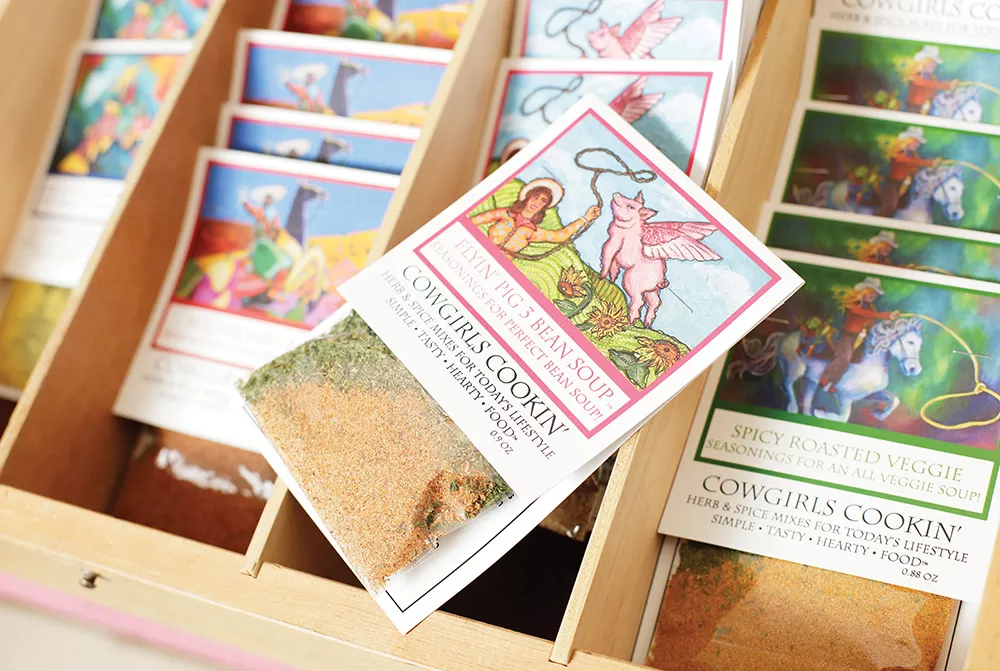 With its distinctive turquoise and purple paint job and view of the nearby river, the studio is a popular stop on the annual Little Spokane River artist studio tour, which Smith co-founded. That's also where she continues to mentor Mead and Mount Spokane high school pottery students with a one-day raku firing session, collaborate with other artists — she's been working on a series of equine-related art — and experiments with new art forms and techniques.
Lately, she's been exploring encaustics, fueled by her love of history, a trip to Greece and the realization that there are few artists, if any, doing encaustics on clay.
Of all the things she's done, clay has been a constant, something to which she keeps returning.
"When I talk to business people they say 'I go to work,'" says Smith. "When you're an artist, you say, 'Do you want to see my work?'" She smiles. "We live our work."