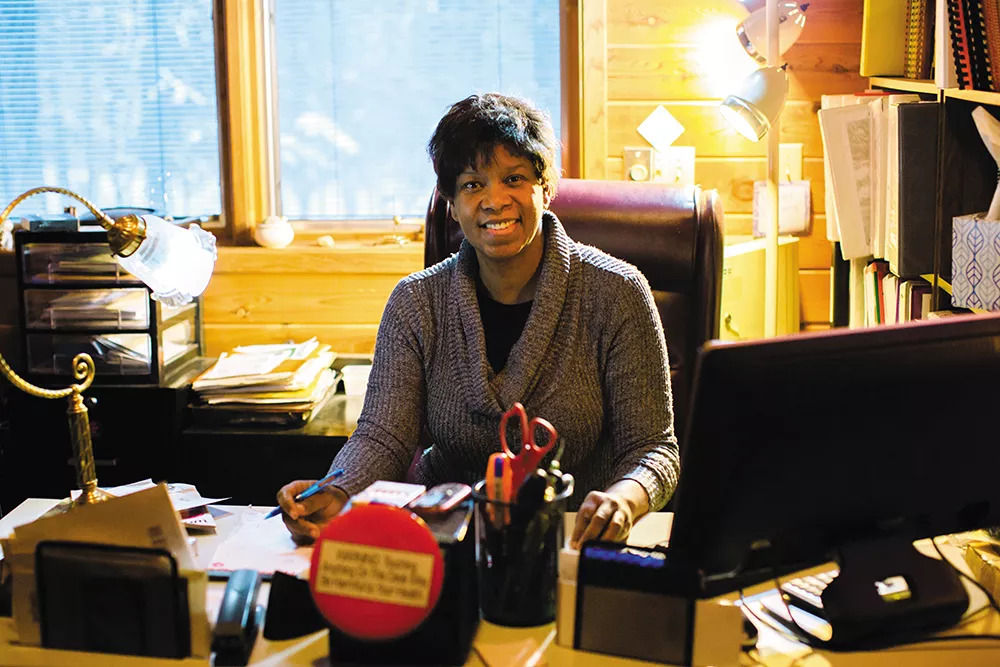 Helping other women heal has long been Mable Dunbar's calling. As the founder of the Spokane-based nonprofit Women's Healing and Empowerment Network (WHEN), Dunbar has over the years supported hundreds of women trying to break free from the cycle of domestic violence and abuse.
WHEN stands apart from other local groups supporting battered women because of its mission as a nondenominational, faith-based nonprofit focused on serving clients who identify as Christian. Dunbar explains that these women of faith are more likely than non-religious people to justify the abuse they're receiving because of their beliefs.
"In my experience, religion has been one of the greatest perpetrators of domestic violence," she says. "I have seen women beaten and stabbed by their Christian husbands... I believed, and I felt strongly, there needed to be an organization that let these women know that the God they serve doesn't condone this abuse."
Often, she says, Christian abusers hide behind misinterpretations or out-of-context phrases from the Bible's scripture to justify their abusive behavior, and to hold power over the victim.
In turn, abused women of faith are more likely to stay in an abusive relationship because they've been misled to believe it's their duty as a good Christian wife and/or mother to obey and accept the mental or physical abuse from their partner. Some of these women also are fearful of the moral repercussions of breaking up a marriage or a family, Dunbar says.
"We use the same Bible to show women that the text is not interpreted correctly, or is being partially quoted, and we show them where God says that he really loves them, and wants them to be in an environment where they are safe and can worship freely," Dunbar says of the healing process.
Founded in Spokane in 2008, WHEN offers a shelter and recovery center for women from the Inland Northwest, and even outside of the region, to come and stay a minimum of two months to recover and heal. There, they participate in daily counseling sessions and workshops, in groups or individually. Mothers are able to bring their children; girls of any age and boys under the age of 10. Some of the women work or attend school while staying at the healing center, which has space for five families. Women in the community who choose to stay in their homes but need additional support and advice can also attend support group sessions at the center.
Because of its designation as a faith-based nonprofit, WHEN is solely supported by donations, rather than federally funded grants, and the healing center is staffed by an all-volunteer staff.
Dunbar first was called to the cause of aiding domestic violence victims while fulfilling internship requirements for her master's degree by working at a domestic violence shelter in Michigan.
"We were sheltering Christian women, and I realized there was a need to have a shelter that catered to that population," she says.
Dunbar first opened a healing center in Michigan after a wealthy donor offered a rural property to be used as a shelter facility. WHEN moved to Spokane in 2008 when Dunbar's husband, Colin, was asked to work as a pastor here.
Most women learn of WHEN's services by word of mouth, from their church or friends. The nonprofit also partners with the YWCA and other community organizations for client referrals; women must first apply to the healing center because of limited space.
Continuing WHEN's work to aid abused women is close to Dunbar's heart for another reason.
"Prior to doing that internship at the shelter, as I was learning about domestic violence, I had to look at my own background. My mother was raped by a Christian, and when I understood what was happening, I realized that my mother had to deal with that traumatic situation," she says, continuing, "I realized how that could have impacted me, and I had to go through my own healing... dealing with the ideology of being a product of rape."
Though she's not been a victim of domestic abuse herself, Dunbar says she often shares this story with her clients to help find common ground.
Of the women served by WHEN, Dunbar estimates that as many as 65 percent are able to break the cycle of abuse, either by leaving their abuser or working with their partner to overcome underlying issues leading to harmful behavior. Other women, however, do choose to go back to their partners and allow themselves to be victimized again.
"We don't force a woman to leave her abuser. If she decides to go back, we support her, but we let her know the dangers. If we have space available, she can come back and repeat the program," Dunbar says.
Although WHEN's main focus is supporting women who have been abused, the organization also hosts an annual conference in the fall that offers workshops to support male domestic violence victims, and to educate male abusers who are aware of their ways and seek to make a change.
Though domestic violence touches all social and cultural demographics, Dunbar believes such abuse is much worse in religious communities than the general population.
"It's not only a cultural or community thing — it's combined with religious beliefs, and that's dangerous. Most people who are religious, that is their life, and that's why as a community, we need to take a deeper look at the role religion plays in perpetuating abuse, domestic or sexual." ♦
For more information on the Women's Healing and Empowerment Network, visit whenetwork.com.