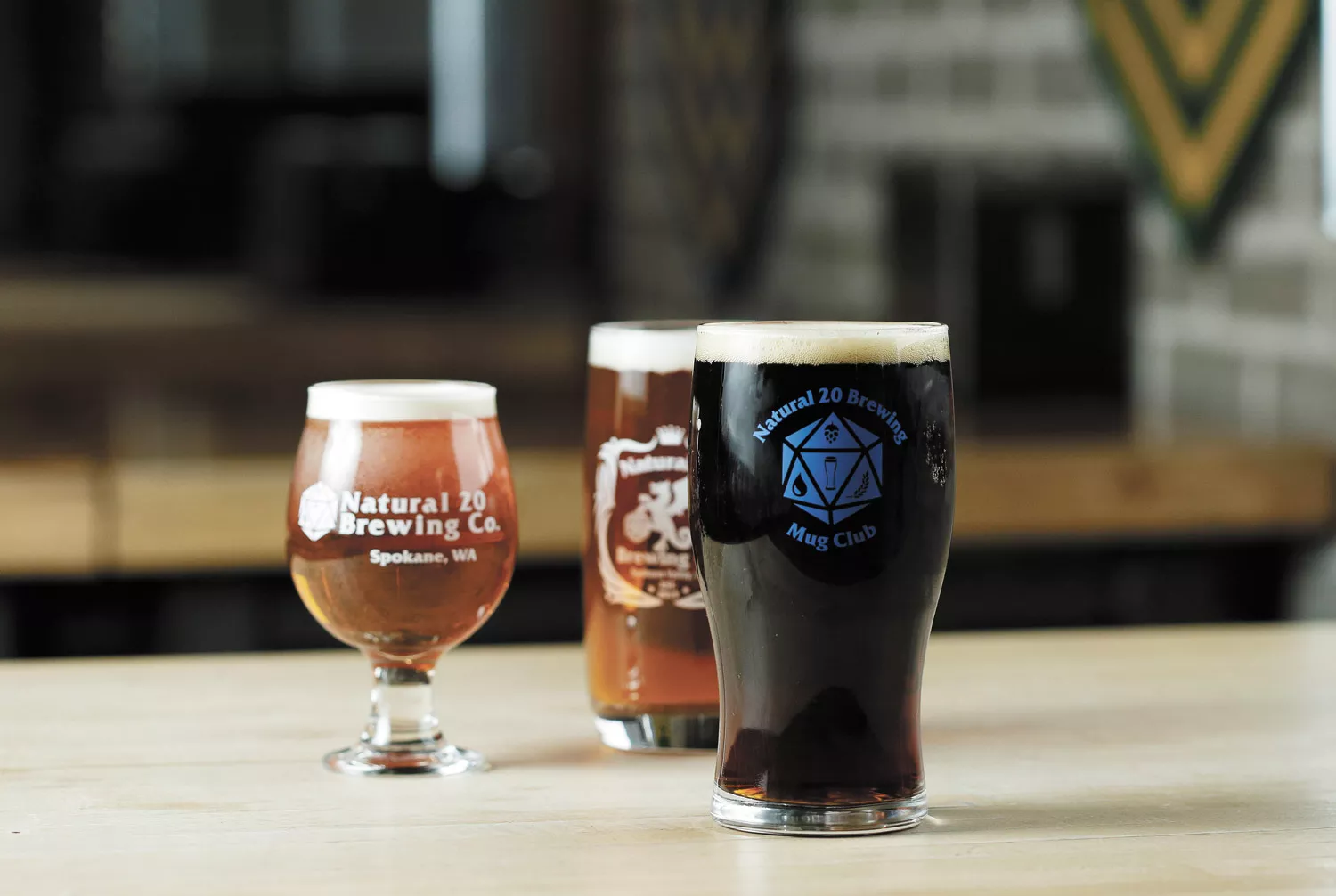 For as long as Reece Carlson can remember, he's been something of a nerd. He says the same of his wife, Jackie. Together, they own Natural 20 Brewing Co. — the name is a reference to the best possible roll a Dungeons and Dragons player can have with a 20-sided die. The two realized their shared passion almost immediately upon first meeting, while out with a group of mutual friends for a night at the movies.
"We were the only two single people, and we ended up sitting next to each other in the theater," Reece recalls. "The trailer for The Hobbit came on, and she leaned over and she's like, 'Have you ever played D&D?' It kind of just went from there."
The couple met in Seattle, where Jackie is from and Reece was working after college. They soon moved back to Reece's hometown of Spokane and married a few years later. They fell in love in part thanks to their love of gaming and then fell in love again on their honeymoon to the British Isles. This time, though, they fell in love with pub culture.
Upon returning home, they put together a five-year plan: open a brewery serving the beers of England and Ireland while catering to their fellow nerds. Maybe it was some lingering luck of the Irish because their five-year plan needed almost no time at all.
"About three months into that five-year plan, a friend of ours who owned English Setter Brewing was like, 'Hey, we don't really want to own the brewery anymore, do you guys want to buy it?' So, our five-year plan quickly became a three-month plan, and we just took off," Reece says.
From their start at the former English Setter location, in an industrial area off Sullivan Road in Spokane Valley back in 2019, Natural 20 has expanded twice. First to a more customer-friendly location at 13216 E. Sprague Ave., and then again this past summer with the opening of their second taproom just north of downtown Spokane at the corner of Washington and Sharp.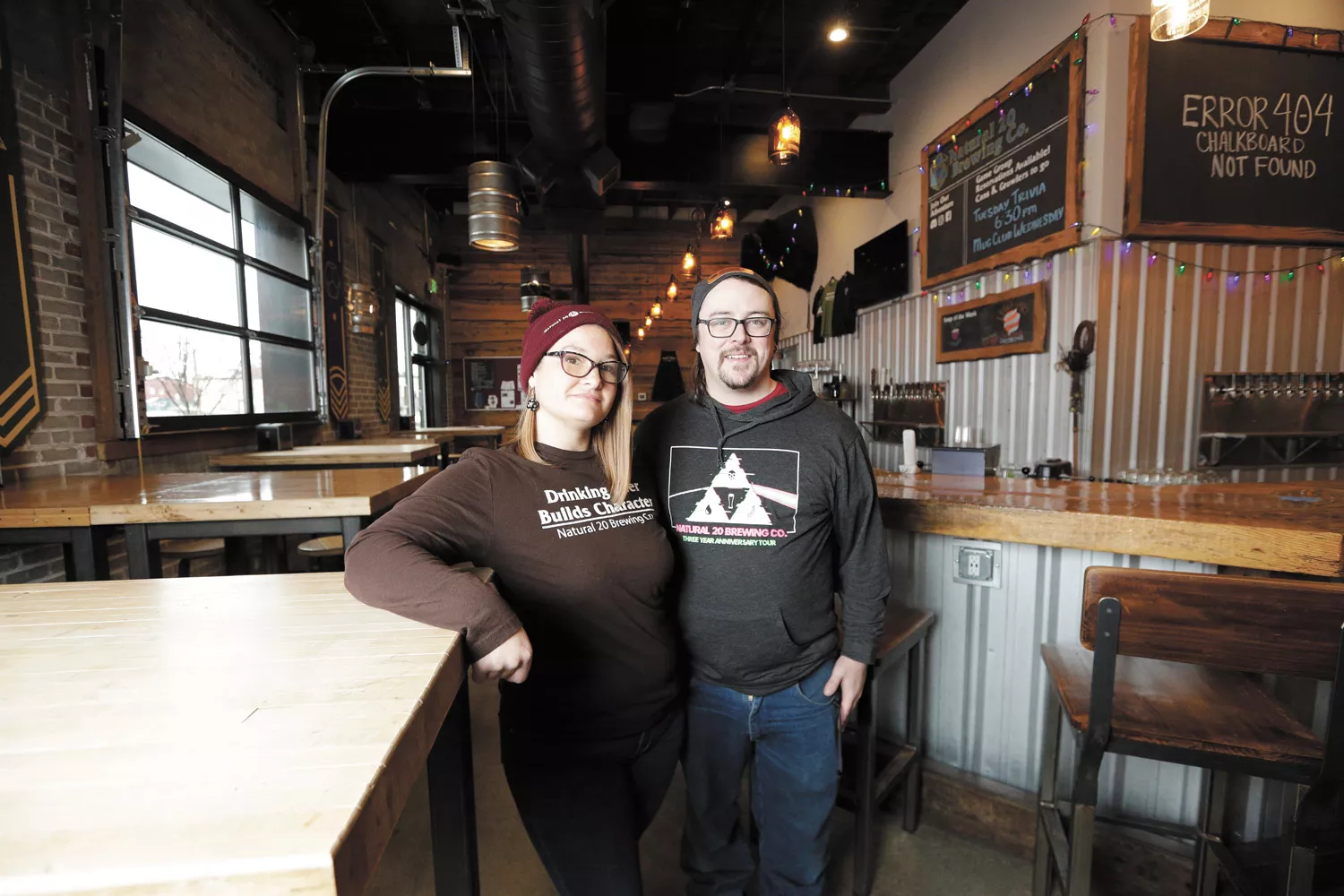 Natural 20's new taproom is located at the former home of Hidden Mother Brewery, and the interior retains much of the aesthetic of the previous tenant. On first glance, the place looks like any old craft brewery. Upon closer inspection, the stacks of board games in the corner, Twitch streams on the TVs, and pennants emblazoned with dice of all shapes and sizes make it clear this is a place not just for drinking, but for drinking and tabletop gaming.
"We get to be a downtown brewery that gets younger individuals who are really here for the beer experience and trying the cool creative things we're coming out with," says Reece. "We try to tread that line as carefully as we can. We lean into the nerd fandom as much as we possibly can without alienating other people. That's kind of our big thing is just trying to be as inclusive as we possibly can with everybody."
Their philosophy is that everyone is a nerd about something.
Of the downtown taproom's 24 taps, 21 are reserved for Natural 20's brews, most of which are sessionable at between 4 and 6 percent alcohol.
"That's what we really attach to more than anything is the ability to sit down, have a few pints, and still be able to have your wits about you while playing," Reece says.
The "Silent Cartographer" New England IPA references the video game Halo. The aptly named "Critical Hit" properly conveys the potency of their English barley wine. Popular during warmer months is their "Multi Pass" shandy made straight from the tap by combining their homemade lemonade with the "Fhloston Paradise" fruit beer — both names reference the 1997 sci-fi film The Fifth Element.
Food and beverage pairings are in the works with the taproom expanding its food menu from mostly salads and finger food to more varied fare.
The Carlsons have built a committed customer base who come to drink beer, hang out and play tabletop games. They're also working to bring new gamers into the fold. Their one-shot D&D events allow novice gamers to play through an entire campaign in just four hours, giving them a chance to roll a natural 20 of their own.