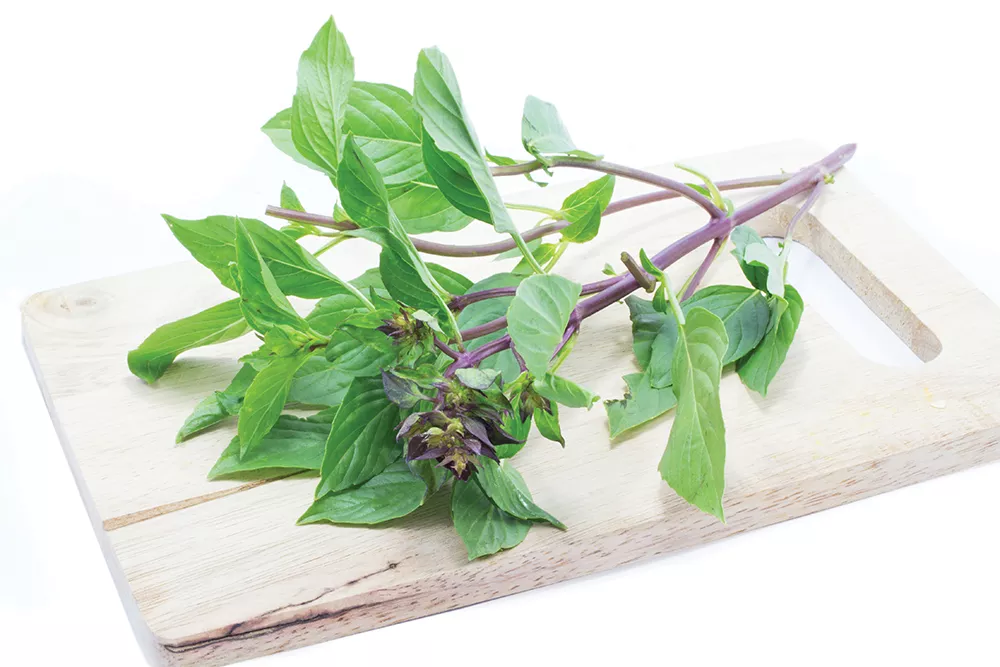 Miang Goong
Miang is the Thai version of lettuce wraps, in this case featuring goong, or shrimp. You can either serve the ingredients on a plate for people to make their own, or make the wraps and serve preassembled with extra sauce. Most items can be found in better grocery stores, as well as Asian markets.
8 ounces thin rice noodles
2 tablespoons lime juice (fresh squeezed is best)
2 tablespoons fish sauce
1 tablespoon palm sugar
4 garlic cloves, crushed
1 Thai chili, cut into small pieces
2 tablespoons fresh Thai basil, whole or torn apart in large pieces
1/4 cup coarse ground peanuts
1 pound medium-size shrimp, peeled and deveined
1 head red or green leaf lettuce, rinsed and dried and separated into largest leaves
4 tablespoons cilantro, chopped
1. Soak the rice noodles in a bowl with enough cold water to cover for 30 minutes.
2. Blend lime juice, fish sauce, palm sugar, garlic, Thai chili and basil together in a blender. Add 2 tablespoons of the ground peanuts to sauce and stir.
3. Boil 2 cups water and cook shrimp 2 minutes precisely. Turn off heat and remove shrimp immediately. Keep warm and cut in half lengthwise.
4. Do not discard hot water. Instead, drain noodles from cold water and gently slide into hot shrimp water to heat them 1 minute, stirring to ensure they don't stick. Drain.
5. For each wrap, place a small amount of noodles onto the lettuce, then add shrimp and top with sauce. Garnish with chopped cilantro.
Ho Muk Pla
Also known as ho mok pla or hor mok pla, this Thai comfort food traditionally involves steaming fish in banana leaves to ensure just-tender fish in a healthy, fragrant custard. For this recipe, a sturdy iron pan works well. Most ingredients are available in your supermarket specialty aisle, although some items like the kaffir lime leaves are best obtained at an Asian grocer.
13.5-ounce can coconut milk
1 tablespoon red curry paste (add or reduce amount, depending on spice tolerance)
1 tablespoon fish sauce
1 teaspoon palm sugar (you can substitute brown sugar, although palm sugar has a richer flavor)
3 each, fresh kaffir lime leaves, sliced very thin
2 eggs, beaten
Cooking oil
2 tablespoons Thai basil
1/2 cup green cabbage, chopped medium
8 ounces catfish (or similar fish, such as tilapia), cut into 1-ounce bites
1/2 red bell pepper, sliced in thin rings
1. Preheat oven to 325.
2. In a wok or deep sauté pan, mix together 3/4 of the can of coconut milk, red curry paste, fish sauce, palm sugar and 2 of the sliced lime leaves. Bring to a simmer, not a boil.
3. Remove from heat and add beaten egg and stir.
4. Warm cast iron pan on low heat with a little bit of oil and add cabbage and Thai basil to the cast iron pan.
5. Add catfish and coconut curry sauce to the pan. Don't stir! You want it to set up, similar to a souffle.
6. Bake at 325 degrees for 10-15 minutes until fish is fully cooked and coconut mixture is firm (fish temperature should be 135 degrees).
7. Top ho muk pla with remaining coconut milk, red bell pepper rings, and remaining lime leaf.
This easily feeds two to three people and is fine on its own, although it's typically served over brown or black rice.
—Recipes shared by May Burgess, Thai Bamboo
---

SPECIAL INGREDIENT
Thai Basil
Some herbs can be used in their dried form with little noticeable difference. Not so Thai basil, which is also known as purple Thai basil (and might even sometimes be called cinnamon basil, although this is actually a separate cultivar).
"Purple Thai basil is unique from the other types of basil due to the sweetness, light licorice taste, and light spiciness followed by floral notes," says Thai Bamboo's corporate chef, Alex Santos-Cucalon.
A staple in many Asian dishes, it gets enveloped into spring rolls, incorporated into soups or used as an essential garnish in main dishes.
A member of the mint family that also includes thyme, oregano and marjoram, Thai basil has a squared stem that can appear reddish-purple, slightly serrated leaves, and distinct purple flowers. Do not mistake it for actual purple basil (also known as opal basil or by its Latin name ocimum basilicum); Thai basil is of a slightly different variety (Latin name thyrsiflora) but more readily identifiable from its distinct aroma of anise when you bruise the leaves.
Unlike mint, however, which can grow unchecked and is hearty enough to withstand northwest winters, Thai basil prefers warm climates. Thus even if you're fortunate enough to grow it this summer, come cool weather you'll need to look for it in the produce section.