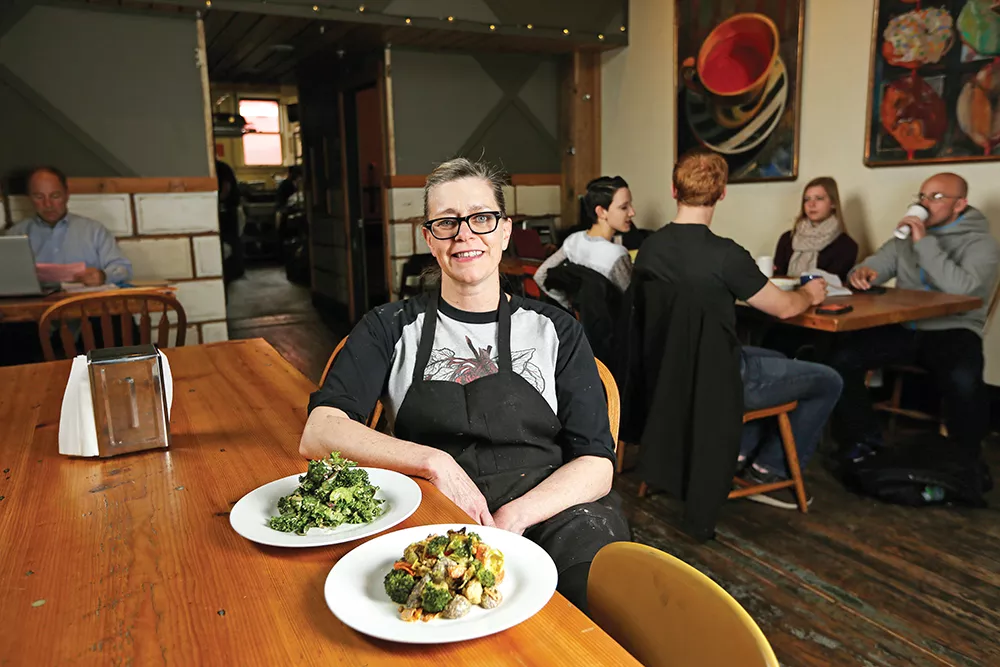 Nutritional yeast is one vegan staple that would benefit from a marketing makeover, sounding more like a component of baking or brewing than an essential source of dairy-free protein with a cheesy flavor. Unlike the ingredient used in bread making, however, nutritional yeast is inactive, and it has been dried to form fine flakes or powder that dissolve easily. It's best used as a flavoring additive and to create a creaminess more commonly reserved for cheese, butter and cream.
Bon Appétit affectionately refers to nutritional yeast as "Cheeto dust," and suggests you use it like you would grated cheese: sprinkled over salads, vegetables or popcorn, or incorporated into dishes such as risotto or mashed potatoes.
Spokane's Boots Bakery adds nutritional yeast to soups, enchilada pie and their savory macaroni and cheese, and uses it in salad dressings, says owner Alison Collins: "A, it's a great flavor booster, and B, it's nutritionally good for you."
"It seems like a really good opportunity to add protein into your diet," says Lenna Ahlers, RDN, LD and a WIC dietitian at the Panhandle Health District, as well as a graduate of the University of Idaho Dietetic program.
Nutritional yeast provides 3 to 6 grams of complete protein per tablespoon, depending on the brand. In addition, it may be fortified with iron and more often with B vitamins, many of which are only available from eating meat or dairy. Unlike cheese, it is low in fat and calories, and has a fair amount of fiber.
Nutritional yeast is an important ingredient in Collins' repertoire. "My very favorite thing to do is de-glutenize and veganize 'regular recipes,'" says Collins, whose baking experience providing deserts for Mizuna (they still serve her vegan carrot cake), coupled with her interest in vegan cooking, led her to open Boots in 2012.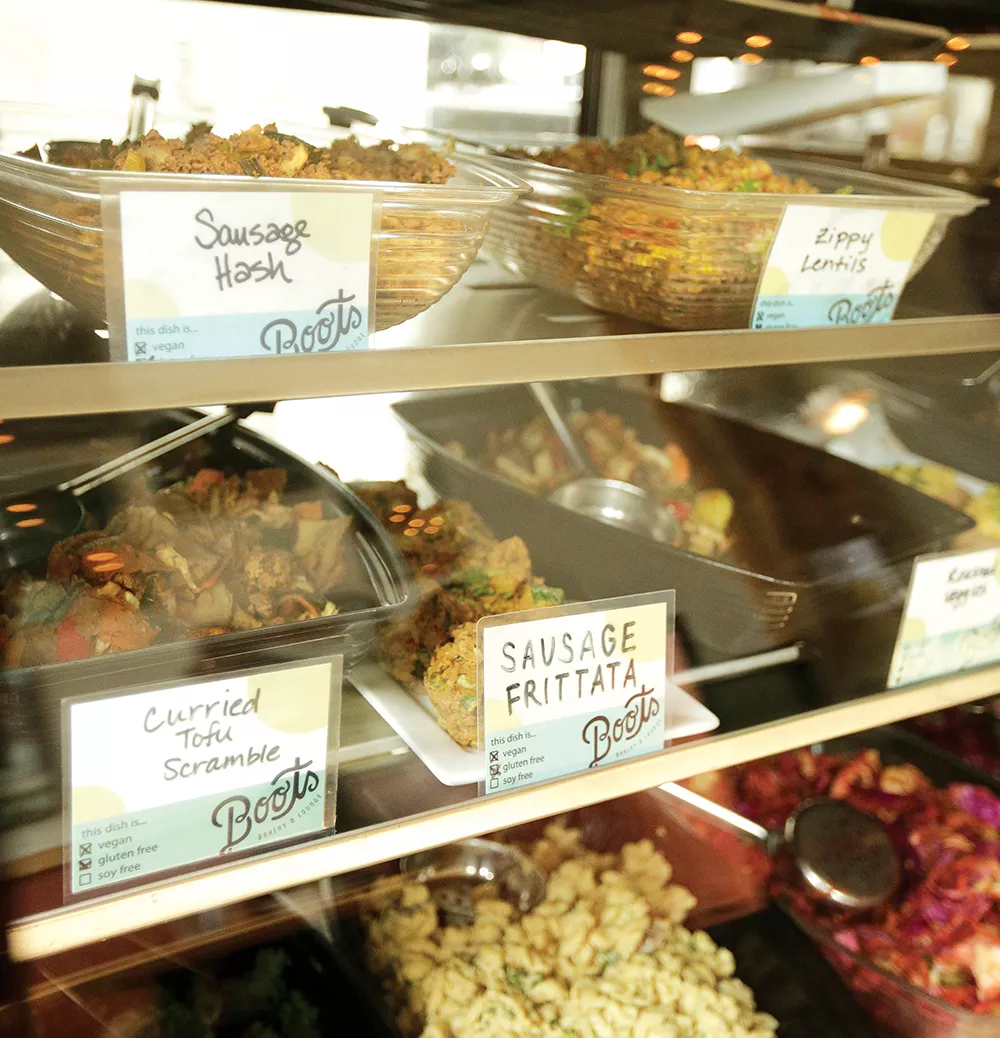 With its distinctive teal entryway in the historic Longbotham Building next to Main Street Market, Boots is a mecca for vegans, vegetarians and those in search of good gluten-free food. On any given day, the main dish offering might include sausage frittata, crispy tofu fish sticks, coconut curry chickpeas or roasted beets, while the dessert case features cupcakes, rice pudding, no-bake cookies, fruit and cream cheese bars, and the ever-popular boozy brownies.
Not only did Boots not start out to be gluten-free, says Collins, they also didn't plan to offer as much food as they currently do. Concern about cross-contamination led her to go completely gluten-free in the kitchen (their carrot cake is the only non-gluten-free item, and it's made on separate equipment when no one else is in the kitchen). Customer support prompted Collins and her tight-knit staff to expand beyond baked goods, coffee and alcohol, establishing them as a preferred go-to in the east-end neighborhood known for its eclectic shops, restaurants and proximity to arts and cultural hangouts like the Magic Lantern and Saranac Art Projects gallery.
"What has happened here, which I think to some degree needs to happen for businesses to be successful, is it just naturally evolves," says Collins. ♦
---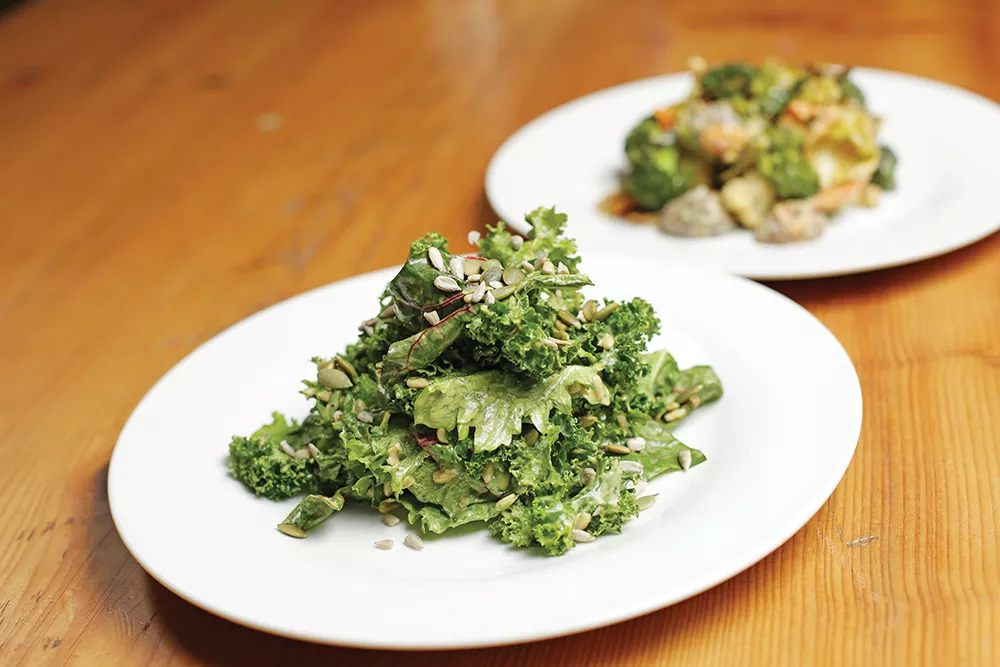 Power Salad Dressing
Boots Bakery serves this tangy dressing over mixed greens — kale, chard, mustard — topped with sunflower and pumpkin seeds.
Ingredients
1 cup lemon juice
1 cup nutritional yeast
2 teaspoons granulated garlic
1 teaspoon salt
1 teaspoon pepper
½ cup oil (your choice)
Directions:
Combine all ingredients excluding oil in food processor or blender.
Slowly drizzle oil in to emulsify.
Store in refrigerator for up to two weeks.
---
Versatile Vegan Cheesy Sauce
Top roasted veggies with this rich yet healthy sauce add the sauce to casseroles, or use it to make an amazing vegan macaroni and cheese.
Ingredients
1 one-pound package organic silken tofu
1 cup nutritional yeast
2 teaspoons salt
2 teaspoons granulated garlic or cooked, chopped garlic
1 teaspoon pepper
¾ cup water
Directions:
Combine all ingredients in food processor or blender.
Store 4 to 5 days in the refrigerator. Can be microwaved or warmed in a pan over low heat as needed.