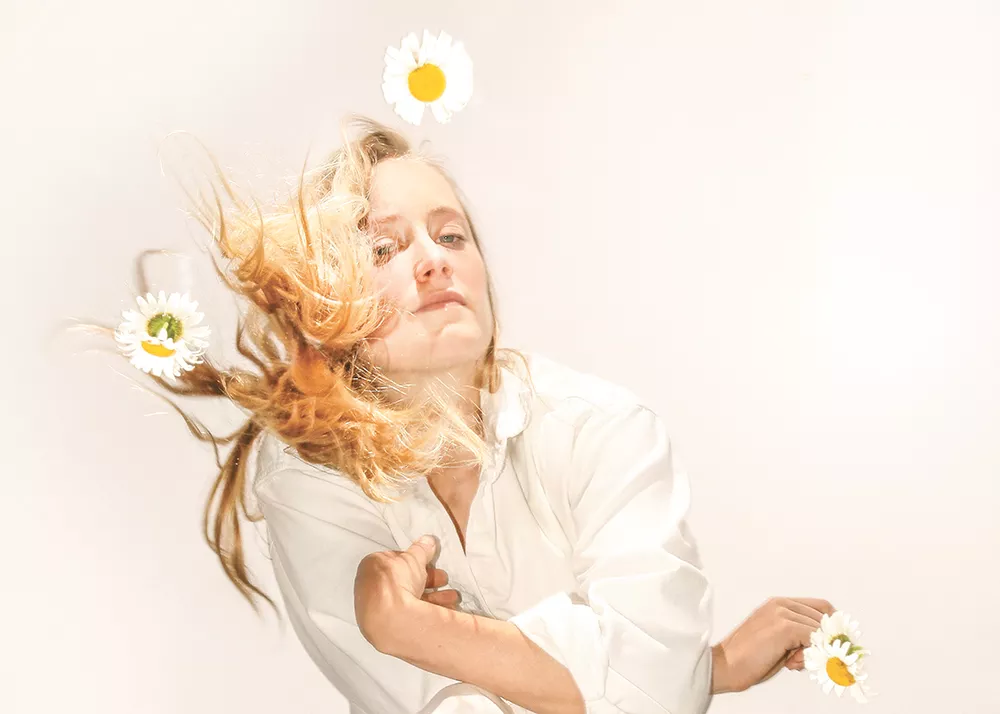 "I'll tell ya what freedom is to me," says the iconoclastic chanteuse Nina Simone in a 1968 New York public television interview. "No fear. I mean, really, no fear!" She calls it simply a feeling, something as inexplicable and rare as love, "like a new way of seeing."
In Tamara Lindeman of Toronto, who records and performs as the Weather Station, Simone (had she won her battle with breast cancer) would have found a kindred spirit. As Lindeman admitted to Canadian radio host Tom Power on his CBC show Q, her latest LP, released in early October, is a paean to "staring down things you're afraid of and choosing to be reckless." It's revealingly self-titled The Weather Station, and though it shares little sonic affinity with anything by "the high priestess of soul," it's in essence a soul record in the folk tradition and lineage of trailblazing women — defiant, emphatic and in search of that elusive muse, freedom.
"There's always this element of fear or shame in what I've revealed in a song," says Lindeman, whose nuanced lyrics are often blushingly intimate, like a private poem or love letter. But, she continues, "I think that's the thing that can make a song powerful," the vulnerability in naked honesty, in accepting one's face. It's certainly, suggests the singer-songwriter and multi-instrumentalist, what has made The Weather Station feel "like a fresh start," however thrilling or terrifying.
After collaborating with producer Afie Jurvanen, better known as indie folk artist Bahamas, on her previous record, 2015's Loyalty (and previously with another Canadian musician, Daniel Romano, on 2011's All of It Was Mine), this time Lindeman assumed the role of "decision maker." She found a new determination to see her vision through, and a new confidence in ignoring the dissenting opinions and hesitations of other (mostly male) voices in the studio, not to mention her own.
"It was a matter of being like, 'I want to do this and I'm just going to do it,'" she says matter-of-factly. "I felt less protective of myself, and less afraid. This record is what I wanted to do now."
Nowhere on The Weather Station is that sense of urgency more explicit than on the standout single "Thirty." Tethered to a driving krautrock pulse, Lindeman unleashes a torrent of words and images (including an unexpected F-bomb, a first in her discography, that slaughters a sacred cow of folk music) in a Kerouac-esque stream-of-consciousness rant that feels like both a bite-sized, personalized Goodbye to All That and an ode to the generational malaise of her contemporaries, the thirty-somethings of a new Age of Anxiety. Gone is the hushed vocal delivery and soft-as-falling-snow acoustic accompaniment of Loyalty. Gone, too, is a kind of smallness that, in the case of All of It Was Mine, once confined an entire record — in story — to the same house, the same street.
Good riddance, says Lindeman.
"It just felt good to let loose in all ways," she admits. "It felt like gentleness just wasn't something that was speaking to me [anymore]. Moving away from it made me feel really empowered."
Still, Lindeman balks at the suggestion that her music has ever been prototypically gentle.
"I felt like [the songs on Loyalty] were kind of intense songs," she argues, "and I was saying kind of intense things." Indeed, her feather-light fingerpicking belied a kind of weight in her lyrics of loss (on the crushingly mournful "Tapes") and plaintive resignation (on the hopeful but tempered "Way It Is, Way It Could Be").
The shift, then, to a "rock 'n' roll" palette on The Weather Station, given the context of her past records, is a striking evolution for Lindeman, a kind of bold step forward not unlike the fabled night in July 1965 when Bob Dylan "went electric" at the Newport Folk Festival. It sounds "like a child in a strange new body," as she sings on "Kept It All to Myself," simultaneously unapologetic and embryonic, and brimming with sincerity and an infectious energy. It sounds like catharsis, like she has finally and belatedly granted herself permission to face up to confrontation, within and without.
"Having made [the record] and put it out," she says, "I feel lighter."
It also sounds like a kind of freedom, something that in her recent live performances, she reveals, has been revelatory.
"Even if you're playing for 10 people," says Lindeman, "it is a very intense thing to stand in front of them and ask for their time, to be like, 'I'm here.' I guess it is this aspect of allowing yourself to own that situation and be OK with it, to recognize that people want your confidence, and that allowing yourself to take up space in that way is empowering, for everyone." ♦
UPDATE: The Weather Station show was cancelled after publication.